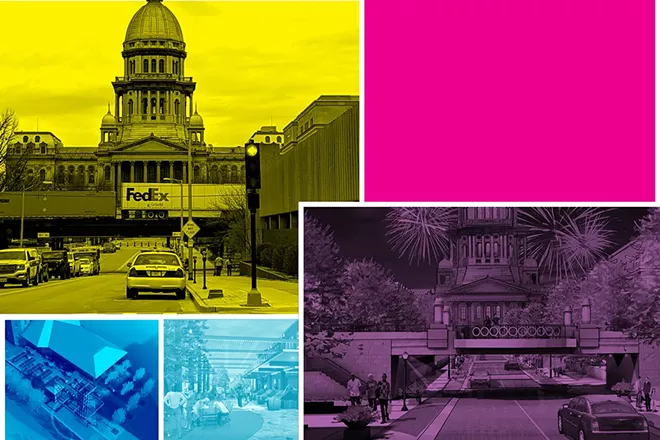 Jim Moll may not be the smartest man in Springfield, but the Hanson Professional Services engineer sounded like it during a public meeting held last week to discuss progress on a rail line under construction along 10th Street.
The new line will replace tracks along Third Street. Moll's been in charge of the $353 million project for more than a decade, and he says it's on time and on budget. The feds gave the green light in 2012 and have paid millions of dollars since then to make it happen – there remains a $60 million gap, Moll says, but he's confident that the money will come. He seems to know every detail, from construction costs to whether charging stations for electric vehicles will be included in a planned transportation center adjacent to the Sangamon County courthouse on Ninth Street.
No, intercity buses won't stop at the transportation center – Greyhound wants stations close to freeways – and don't worry: Wall-mounted information panels about the 1908 race riot inside the center won't supplant a memorial planned where remnants of burned houses were found during construction at Carpenter Street, Moll says in response to questions from the audience.
There is one question, unasked during last week's virtual meeting, that Moll can't answer: What will become of the Third Street rail corridor once tracks are gone? There has been talk of a greenbelt through downtown that would feature a bicycle path, but nothing is firm. No one knows what removing tracks will cost, and no money has been budgeted. Future stewardship of the corridor, now controlled by Union Pacific, hasn't been decided.
Trains, Moll predicts, will be gone from downtown by the end of 2025, an almost-there reality that's been a dream for more than a century. "We're going to get it done," he says. "There's no doubt in my mind about it."
Vachel Lindsay in 1920 wrote that downtown trains would disappear by 2018. In 1924, a plan authored by city planner Myron West, who lived in Chicago, foretold Moll's one-stop-shop transit center, with airships, perhaps, docking at the same place where trolleys and trains would stop. West had big ideas for downtown, espousing a widened Capitol Avenue and proposing a nine-acre historic campus around Lincoln's home that might include Abraham Lincoln University, an institution of higher learning that never came to be.
West's was an ambitious plan not fully embraced by politicians of his time. "Mayor Bullard disclaimed any desire on his part or the part of other city officials to dictate what should be done in the city, saying that rather he and his associates are desirous of ascertaining the will of the people in the matter," the Illinois State Register reported in a 1924 story about West's vision. "The opinion was expressed that the removal of the railroad from Third Street could be cared for through negotiations."
Nearly a century later, Mayor Jim Langfelder in 2017 wrote that Springfield doesn't need another Myron West. "Though I am often told that the city needs a planner, I have a firm belief that a city's vision should never rest on one person," the mayor wrote in an opening statement to the city's comprehensive plan that is supposed to serve as a philosophy underpinning development decisions through 2037. "The plan for a city should come from its residents and that is why I am proud to present to you the city of Springfield's comprehensive plan."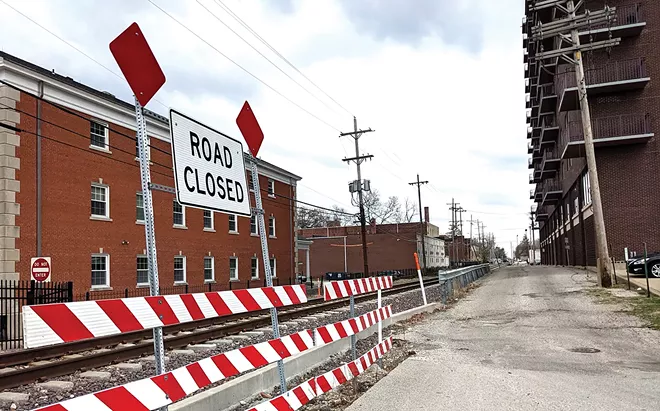 As a philosophical statement intended to help guide zoning decisions, the city plan approved four years ago is short on details. What's the long-term vision? "An attractive, connected and growing city that maintains and builds upon its unique and special past, while providing a proud new legacy for current and future residents," planners offer in the 80-page document, which recommends that downtown, like Pillsbury Mill, should have its own plan.
"The vacant office buildings in downtown should be repurposed with mixed uses designed to attract new residences and businesses to the city core," the planners wrote. A "linear park" should replace Third Street tracks, and redevelopment should be encouraged alongside it. That's it for specifics. But there are plenty of folks eager to fill in blanks.
click to enlarge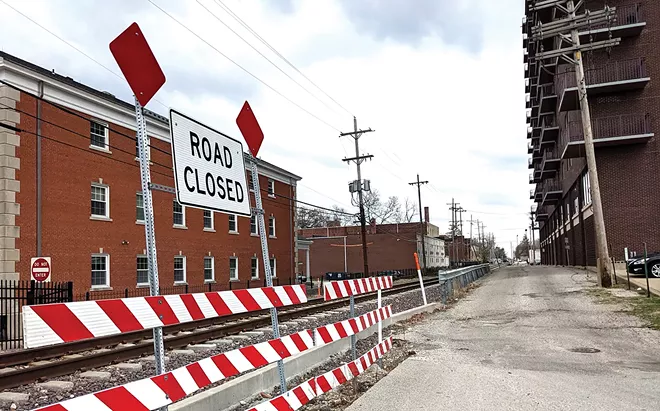 "It's going to change everything"
Stephen Morrison and his son Seth have acquired at least five houses and vacant parcels along Third Street tracks during the past decade, but they don't see themselves as speculators.
Thirty-five years after going into the Springfield residential rental business, the proprietors of Morrison Properties have found a niche. There is a solid market, the Morrisons say, for downtown apartments and rental houses, places where young couples and single folk can live for $600 or so per month.
The Morrisons favor brick buildings, they say their vacancy rate is near zero and they want to preserve what they've worked for. In recent years, they've acquired property along Third Street for as little as $1,000, near what they already owned. "I didn't want to see some Section 8 cowboy come in and run the whole area down," Stephen Morrison explains.
Pushing 70, the elder Morrison has spent half his life in the real estate game, buying downtown properties for cheap, fixing them up and renting them out. His strategy didn't change when the railroad relocation project began gathering steam a decade ago. "I kind of figured my granddaughter would see it happen, but it's coming along faster than I thought," he says.
No matter what, the Morrisons stand to gain when, if, trains move from Third Street. It is, after all, easier to rent an apartment without trains next to it than an apartment adjacent to tracks where a dozen or so locomotives rumble through on any given day, at any given hour, horns blaring. The prospect of trains disappearing in four years has sparked ideas for fenced-off land traversed by tracks.
"I would like to not see them walk away from it, just pull up the tracks and walk away – I hope they do something with it," Stephen Morrison says. "I'd like to see it put to some kind of public use." His son sounds bullish. "It's going to change everything," Seth Morrison says. "I've thought about it a lot."
Maybe, Stephen Morrison says, tiny houses, perhaps fashioned from shipping containers, could spring up on small lots that now lie fallow. "I hope what will happen is, once the last train goes down Third Street, they take the tracks up, at least through the downtown area and create a bike path," says his son, who envisions coffee shops and cozy watering holes where bicyclists and pedestrians could gather. The hoped-for bicycle path would run through downtown's tax-increment financing district. "Is there any better use for TIF money?" Seth Morrison asks. "If you look at what makes a city or a town or a neighborhood cool, it's walkability and being able to get around on a bike."
The right entrepreneur, Seth Morrison says, could expect a fair deal on lots that he and his father bought on the Third Street corridor so that vacant land didn't fall into the wrong hands. "The reason we bought those lots was asset protection," Seth Morrison says. "Of course, if it was something cool, it would be 'Yeah! You take this vacant lot and make it cool and you'll make money and my customers would benefit and the world goes 'round.' I'm building a community, essentially, in this little area. If you put a lot of cool people in a cool area, cool things happen. You can have it for a little bit more than I bought it for and do your thing and I hope you succeed."
Seth Morrison says that he can hear Third Street trains from his home near Washington Park. "We've been monitoring this for the last 15 years – we're ecstatic that it's going to go through," he says. "I think a revitalization of downtown will happen. People who work downtown will be pulled back downtown."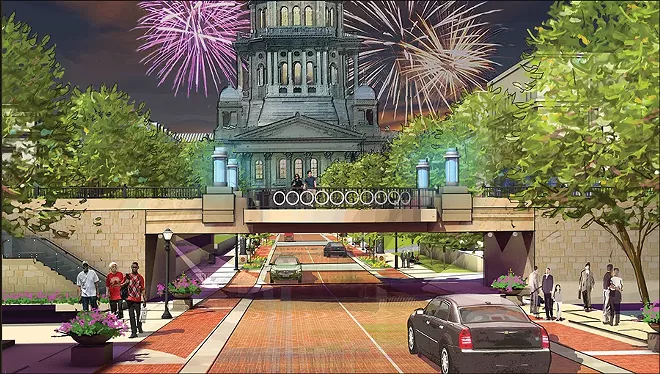 A decade ago, before required federal approval was granted so construction co uld begin on the 10th Street corridor, local railway planners hired a design firm to come up with ideas for Third Street once trains moved. Drawings show an area transformed, with townhomes and cafes alongside a paved thoroughfare shared by cyclists and pedestrians. Outside the downtown core, near Carpenter Street, the route goes back to nature, with a 10-foot-wide path bordered by native grasses and plants. Closer to the heart of downtown, the path becomes a pedestrian mall, with shoppers sauntering through an outdoor market offering fruits and vegetables. Above Capitol Avenue on what is now a train trestle, designers envisioned an elevated round plaza dubbed Capitol Landing that would offer views of the Capitol. A drawing shows fireworks decorating the sky behind the dome.
"It could be our river walk," says John Stremsterfer, president and CEO of the Community Foundation for the Land of Lincoln. So far, it's back-of-cocktail-napkin stuff.
"Nobody has honed in on this as the answer – it's a vision," Moll says. "A lot of people have talked about it, but nobody's picked it up and done anything with it."
With trains expected to depart downtown in four years, the city is in negotiations with Union Pacific over control of the right-of-way once trains leave. A trunkline for internet and telecommunications services runs along the route, says Sangamon County Board Chairman Andy Van Meter, and the railroad, once trains are gone, has an interest in continuing to receive payments for use of the line.
"They lease space to Verizon," Van Meter says. "These are major communication lines. You can still do things over and above and around them."
Salvage operations for tracks, once trains are gone, also are an issue in talks between the city and railroad, says Nate Bottom, city public works director. Bottom said he believes that state money will be available to convert the Third Street corridor into something other than railroad tracks. "We're still four or five years out," Bottom says. "I do believe we can act pretty quickly. That's funding dependent. We are beginning to discuss the conceptual plans. We need to negotiate everything with Union Pacific and figure out what we're doing with the land first."
Steve Myers, who owns land on Madison Street where a New York developer has proposed an apartment complex with as many as 150 units, says the planned path will join the new YMCA as a catalyst for neighborhood revival. "This is a keynote project to help spark that," Myers told the city council last month when council members approved a rezone for the proposed apartments. "Five years from now, the bike trail will be a block west of the border of this property. The trains are gone."
Downtown boosters don't want to see the ribbon of land lie fallow.
"When the conversion gets finished in 2025, we don't want to wait another five years to reclaim the Third Street tracks," says Lisa Clemmons Stott, executive director of Downtown Springfield Inc. "We don't want to be caught flat-footed on this. We need to get a plan together so we're ready to roll in five years."
Drawings, Stott says, are not enough.
"We need to start thinking about it in more depth than just a beautiful rendering," she said. "It's a huge opportunity for downtown. It will be a huge statement about how downtown is evolving and different and not stagnating and creating the kinds of amenities that people search for today."
Regina Albanese, executive director of the Dana-Thomas House Foundation headquartered at the historic site alongside Third Street, figures the Third Street corridor hasn't been front burner because the relocation project has taken so many years. "I don't think we talk about it much because it's been such a long project coming," she says. Even if the bicycle path isn't built, reopening streets that now dead-end at the tracks will improve traffic flow, she said.
"Whatever happens, whether it's a bike path or a road, it will be an improvement for the area," Albanese said.
"We need an overall strategy"
Retired architect Larry Quenette doesn't stop at bicycles or Third Street.
Echoing what Langfelder has suggested, a trolley line between North Grand and South Grand avenues should be built alongside a bicycle path on the corridor once trains are gone, Quenette says. The city, he adds, also should close Adams Street to cars and establish an east-west trolley line between Springfield High School and Ninth Street.
The goal is to get people out of cars and rid downtown of buses. After parking, tourists and shoppers and bar hoppers could walk or ride electric trolleys between attractions; downtown residents, Quenette says, could ride trolleys to work in the medical district or Capitol complex.
"I think it would be a boon to boutique-type retail places, says Quenette, who owns apartments and commercial space on Adams Street. "The more pedestrian traffic you have downtown, the better it is for hotels and restaurants."
Then again, there are folks like Mark Kessler, who owns Recycled Records on Adams Street and likes parking spaces outside his used vinyl shop. "I want people to be able to unload boxes of albums in my store," Kessler said.
There are lots of other ideas big and small for downtown. Developer Chris Stone suggests a casino in the Wyndham Springfield City Centre hotel. Backers of downtown space for University of Illinois Springfield and perhaps Southern Illinois University say that they haven't given up on a plan that prompted backlash in 2019 when property owners, caught by surprise, said they didn't want buildings demolished to make room for what is now being called an innovation hub where researchers and entrepreneurs would toil. "The process this time is much more collaborative," says Ryan McCrady, president and CEO of the Springfield Sangamon Growth Alliance, an economic development corporation funded in part with city and county money. "I feel good about how it's progressing." No site has been identified and no money has been found, but backers are counting on the state.
"It's not dead," Van Meter said. "The governor is very patiently waiting for the community to unite behind a proposal. It's really on the community's plate."
Stremsterfer said that he was pleasantly surprised when more than 500 suggestions were posted to an online bulletin board the community foundation set up last fall to gather ideas for making Springfield a better place. "There were so many ideas for an improved downtown," Stremsterfer says. "It was amazing to me. I was very pleased with the civility. It didn't develop into a Facebook argument or anything."
Suggestions included better parking garages, more al fresco dining spots, covered walking areas, a park or maybe a fountain and perhaps a playground. How to tie all that and more together? Stremsterfer, Quenette, Stott, Van Meter and McCrady agree: Downtown Springfield needs a master plan that details what sorts of development should go where. Such a plan, Stott says, could help downtown coalesce around a transformed Third Street corridor. "The time is right," she says. "We need an overall strategy."
Stremsterfer says that his staff has discussed creating a plan, but no funding proposal has been presented to the community foundation board.
"We definitely need one," he said.
Contact Bruce Rushton at brushton@illinoistimes.com.