Nearly everyone loves an immigrant success story. For five years, one successful immigrant has been working to inspire the young people of Sangamon County to become involved in the economic development of their community. Sitting at a corner table inside Pease's at Bunn Gourmet, Nabih Elhajj shares the journey that brought him from the country of Lebanon to Springfield, Illinois. Nabih is a prime example of how stirring such a story can be, and his experience sheds light on the route that many immigrants take in pursuit of the American Dream. Nabih grew from a young man who barely spoke English to an American entrepreneur and educator intent on
improving his community.

Away from home


Nabih, 32, was born during the Lebanese civil war, which killed over 120,000 people. In the late 1970s, the war escalated in his hometown, and his father fled south to Byblos, one of the oldest cities in the world. There, Nabih was born in 1987. He was raised in Beirut, where he attended a French Catholic school. English was taught once a week.

While in high school, Nabih discovered his first inclination toward community involvement. He participated in rallies and demonstrations during what came to be known as the Cedar Revolution. After the Lebanese prime minister and other civic leaders were assassinated, Nabih's parents decided he would be safer and have access to better opportunities in the United States. So, they decided to send him to college abroad. Initially, he opposed the idea. Nabih loved his family and his country, and leaving them behind was difficult. Reluctantly, he got a student visa and landed at Illinois Central College in Peoria in 2006.

Nabih remembers how difficult the decision to leave Lebanon for the U.S. was for him and his family, but he acknowledges how troubling things were, and are, in his homeland: "I come from a country that today is in bad shape; it's been in bad shape. I was born during a civil war, and the circumstances that caused those conditions have not changed. So, I had to go."

Like many people away at college, Nabih felt a longing for home. However, during his second year of college, his father died of cancer. Suddenly, home became a painful memory, and his true journey of self-discovery and assimilation began. Nabih recalls this period of his life when, for his first two years in America, he wanted to go back home; then when his father died, he lost that desire. The thought of home brought him sadness. So, to escape this feeling, he became fully present in his new home in Illinois. He reflects, "At some point home became a sentimental place – nostalgia for a past that no longer existed."


Now he is thankful he stayed. He heard from a friend at Eureka College, a liberal arts school in the Illinois town of Eureka, pop. 5,295. He decided to go on a student tour. He met a member of the faculty who convinced him to attend the college. Eventually, this man became Nabih's adviser, mentor and the person who would impact his life the most: Arthur Greenberg.


Ronald Reagan's alma mater

"When you are younger," Nabih says. "You have these blinders around your eyes – you have that tunnel vision. I try to encourage my students to do a little bit of this (mimics taking blinders off) and see what's around you. It took a teacher to convey that message to me. It makes you feel like you're living in a different world – a better one, really."

Nabih learned that life-changing lesson at Ronald Reagan's alma mater. While studying sociology and criminal justice, Nabih found himself under the wing of Arthur Greenberg, retired Illinois Supreme Court justice. Greenberg's way of articulating his thoughts made Nabih want to improve himself (and his English) and open up to the opportunities available to him. It was then he began to think of himself as American.

"Throughout life, we meet many intelligent and remarkable people, but seldom do we meet a wise person," Nabih reflects. "Judge Greenberg was a wise person. He impacted my life the most in that he made me love life in a new way. He taught me how to truly consume it, aspire for greatness and have deep connections with 'life moments.' He used to paraphrase a quote to me: 'If we do not reach for what is beyond our grasp, then what's a heaven for?' I understood that it was in my control to pursue my wildest dreams. So, as Greenberg inspired me, he made me fall in love with America and the English language."

Nabih acknowledges that his transition from identifying as Lebanese to becoming American was gradual, but the process began at Eureka College. He sums it up: "At some point, you have a shift. You start thinking of 'home,' and it's no longer where you grew up."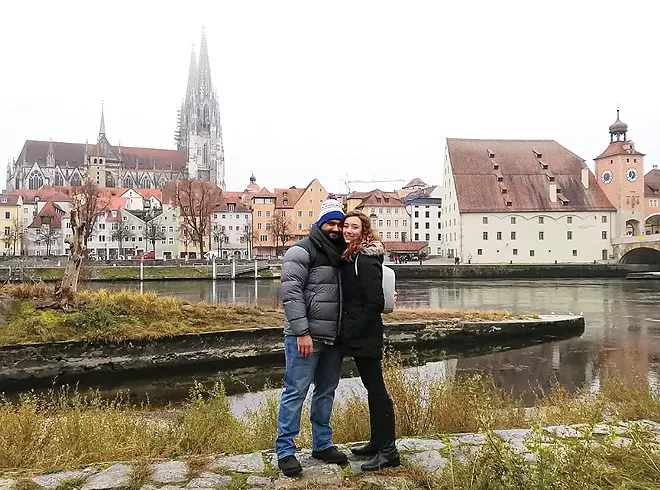 Continuing education


During his senior year at Eureka, Nabih moved to Florida to intern at Disney's Boardwalk Resort. There he was introduced to management and business for the first time and decided to pursue it as a career. He returned to Illinois and moved to Springfield to acquire a Master of Public Administration degree from University of Illinois Springfield in 2012, and later, a Master of Business Administration degree from Purdue University.

While at UIS, he studied entrepreneurship under Bruce Sommer, who is now the director of economic development for UIS. Nabih knew that he was interested in business, but he needed an extra push. Again, someone in the educational system provided him with necessary support and guidance.

"While Judge Greenberg developed my thoughts and ideals," Nabih says, "Bruce Sommer helped me find a path to exercise this 'new me.' He opened doors for me in the entrepreneurial world, introduced me to startups, and showed me that people who change the world aren't different from me."

Nabih enrolled in the graduate-level entrepreneurship course at UIS as an elective. This class would put him on track to eventually become the lead facilitator of the Sangamon CEO program, an entrepreneurship program for high school seniors. Bruce Sommer, a co-founder of the program, saw potential in Nabih and introduced him to the other founders and board members. Eventually, Nabih interviewed for the
teacher position. That sped up his trajectory.

Entrepreneurship


Now much of Nabih's time and talent is spent teaching and inspiring entrepreneurship. Asked to define the term, he says the entrepreneur, "observes a problem and asks, 'How can I fix it?' They are observant people who ask questions like, 'What if?' and 'Why not?' and use the findings to add value to the lives of others."

Teaching entrepreneurship, in his opinion, involves two main aspects: entrepreneurship skills and entrepreneurial drive. "When teaching skills, we focus on creativity, analytics, marketing strategy, business plans, business pitching, software skills (Excel and PowerPoint), finance, etc.," he says. "When developing entrepreneurial drive, we focus on finding purpose and the things that get them fired up."

Asked if he considers himself an entrepreneur, Nabih says, "I consider myself an entrepreneur. I don't believe that I was born one, but I was inspired by others to become one. This is why I believe I can inspire others, just like I was inspired."



Sangamon CEO program


Nabih has been busy since his college graduations. He is an adjunct instructor of entrepreneurship at UIS, executive director of the educational nonprofit iVenturED, and lead facilitator of Sangamon CEO (Creating Entrepreneurial Opportunities). In all these roles, Nabih strives to educate and motivate Springfield's future entrepreneurs and community leaders. From his perspective, what motivates him is the knowledge that he helps young people change their lives and develop the skills and mindsets needed to make the business world a better place. Of all the roles he plays, he is most fulfilled by teaching the Sangamon CEO class.

There are 45 students in the CEO program who meet 7:30-9 a.m. weekdays. Throughout the year they host around 120 speakers and visit over 50 local businesses for education and inspiration. The class takes place early in the morning during zero and first hour for the students, so the students have to be motivated early risers.
"The idea behind the Sangamon CEO program is that somehow, I get to inspire students to do something," Nabih says. "Now, what's that 'something?' It's defined by them. In a general sense, we want the students to reach for something they see as 'great.'" While, on the surface, the program appears to be all business, Nabih explains that there is more to it: "There are many opportunities in Springfield, and that's why the focus is not just on business skills and entrepreneurship. It's also about leadership – about them being inspired and, at some point, it's about their love of their city, their town, their home."

He continues, "We want them not only to be entrepreneurs, we want intrapreneurs – those who innovate from within an existing business. Let's say I'm a family businessperson about to retire in seven years and am looking for someone to take over. I need a succession plan. Well, here are the talented people we can connect you with. Bring them through an apprenticeship program. Let them work for you for a few years before you elevate them." The program's goal is bigger than just creating new businesses; it strives to fortify the existing central Illinois business community.
Sangamon CEO touches on the idea of social responsibility. One thing Nabih tries to emphasize is the idea of being proactive. He tells his students, "You are not a bystander. Your community gets better quicker when you work to make it better." Of utmost importance in his mind is to avoid living passively. "I hope that my students feel empowered to advocate for the things they feel strongly about. They are crucial in bringing the value and the skills and the talent that this community needs to grow beyond what it is today."

In class, students focus primarily on project work, such as business simulations, case studies and stock market competitions. They work on start-ups and pitch ideas. They discuss the various trajectories a person's life can take in the professional world and, when appropriate, speakers come in to help fill the gaps. In this way, students receive instruction and life lessons from business owners and entrepreneurs from their own community.

The capstone of Sangamon CEO is a "Shark Tank"-style competition called CEOs vs. Sharks, in which students pitch their start-up ideas to a group of professionals. To be held this year at Erin's Pavilion on April 30, the ticketed event is an exciting opportunity to see the fruits of the students' labor over the course of the year.
In its seven years of operation, Sangamon CEO has graduated 193 students, thanks to the support of nearly 100 investors and local businesses. "These people are giving money to the program with no return," Nabih says. "We don't have a product we're selling. They are donating their money because they have the same belief that we do – we can inspire these students to bring their talent back to their town."
Entrepreneurship education everywhere


Nabih is also the executive director of iVenturED, now the parent company of Sangamon CEO. Its goal is to, "spread entrepreneurship education everywhere," and help grow the community through business. By creating intrapreneurs and entrepreneurs, Nabih hopes to establish an ecosystem that creates leadership and business talent.

iVenturED continues to expand. This past August, it launched a Leadership and Innovation program in partnership with Springfield Public Schools District 186, in which junior-year students work with business teachers on entrepreneurship content in the classroom. "We hope to improve their entrepreneurial drive through this class and trigger their curiosity in entrepreneurship," Nabih explains. "Over the summer we had our first workshop with business teachers to share best practices on entrepreneurship education." So, in addition to senior-year students being trained through Nabih's efforts with Sangamon CEO, junior-year students now have access to an additional year of entrepreneurial education.

Having had people like Greenberg and Sommer impact his life makes Nabih want to pass that experience on to his students. For him, it's critical that students feel they do not have to go it alone. He explains, "Our success in life is because someone opened a door for us, lifted us up, taught us something meaningful or added value to our life. In turn, we should do the same for others. The outcome is better for the community as a whole."

Today, the United States finds itself in an internally contentious era. With immigration hovering near the forefront of much of the national debate, it is refreshing to hear stories that remind people of one of the myriad factors that make America great – the immigrants who help build and reinforce that greatness. The U.S. benefits by embracing people like Nabih Elhajj who leave areas rife with conflict in pursuit of a better life with better education and opportunities – people who invest themselves daily in strengthening the fabric of the community and society they call home. It's comforting to know that a kid born in war-torn Lebanon could emigrate to the United States, go to the same college Ronald Reagan attended and end up making a difference for hundreds of young people in Abraham Lincoln's hometown. That is America.

Jay Wheeler is a Springfield transplant from the Chicago suburbs. He is a freelance writer and bar manager. Contact him at jaywheeler882@gmail.com.
Information regarding iVenturED, Sharks vs. CEOs, and Sangamon CEO can be found at www.sangamonceo.com.