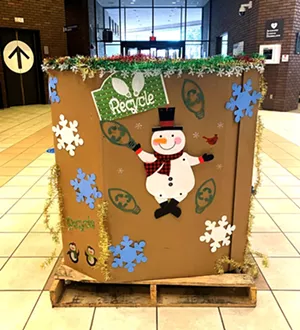 Twinkling lights brightening cities and neighborhoods are one of the joys of the holiday season. It's that time of year to drag out the boxes of holiday decorations from the attic or basement, untangle the strings of Christmas lights, plug them into the wall and hope they still work. Inevitably, some don't...or worse yet, only half of the string is lit. Don't throw them in the trash before heading to the hardware store for new lights.
Christmas light recycling boxes have already been installed throughout the area, thanks to a partnership with BLH Computers and several local communities. Collection boxes will remain well into the new year. You can take your burned-out Christmas lights to the Chatham Library, Rochester Village Hall/Library, Springfield Municipal Building, Springfield's Lincoln Public Library, City of Leland Grove office at 2000 Chatham Road and BLH Computers at 1832 Stevenson Drive.
Christmas lights contain many recyclable materials but require special processing. They are electronics and can't be placed in your household recycling bin. Metal, plastic, glass and PVC coating over copper wiring are just some of the materials. BLH Computers processes the recyclable components and donates the proceeds to the Rotary Club of Springfield Sunrise.
Every year far too many Christmas lights, holiday decorations and other recyclable materials end up in landfills. Check out the city of Springfield's website for more information and tips on waste reduction and recycling in the capital city https://www.springfield.il.us/Departments/PublicWorks/recycling.aspx