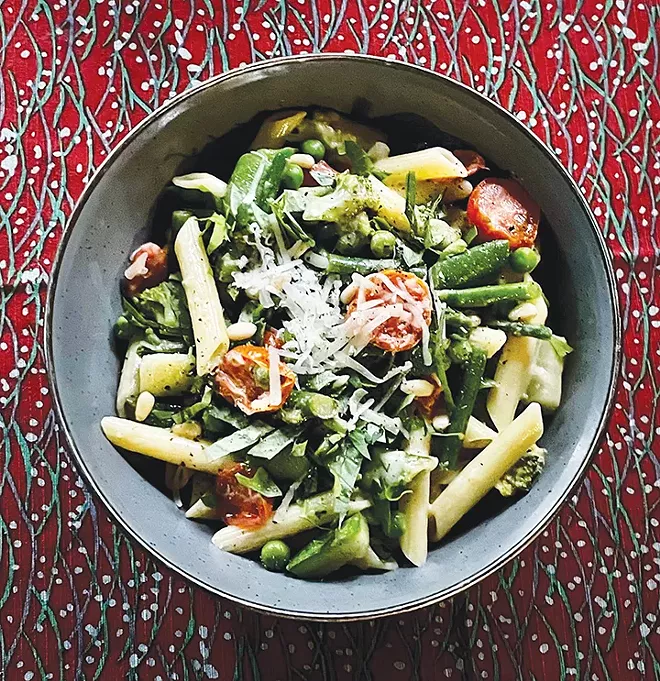 Primavera is the Italian word for spring – or, literally, first green. Pasta primavera is made with sautéed spring vegetables in a rich sauce of butter, cream and cheese. But pasta primavera isn't Italian. It was conceived in Nova Scotia in the early 1970s by vacationing New Yorkers. Italian cuisine has its own dishes that celebrate spring's bounty, but pasta primavera isn't one of them.
Le Cirque was once the most fashionable restaurant in New York City. It was opened in 1974 by the legendary Italian restaurateur, Sirio Maccioni. Its celebrity-studded clientele included the likes of Richard Nixon, Bill Clinton, Nancy and Ronald Regan, Frank Sinatra, Jackie Onassis, Pope John Paul II and Donald Trump. The future President Trump wrote the forward to Maccioni's 2004 memoir Sirio: The Story of my Life and Le Cirque: "Sirio Maccioni is the perfect maestro. He does it all – great food, great entertainment – and always with a room full of the best people. He's the only person I could ever imagine going into the restaurant business with."
Le Cirque's co-founder was Jean Vergnes, a classically trained French chef who was known for his obstinance. Because Maccioni was from Tuscany, people expected to see some pasta dishes on the menu. But Vergnes despised pasta because he considered it completely antithetical to his cuisine and was adamant about not making it, even when requested by high-profile guests.
In the summer of 1975, Maccioni and Vergnes went on a holiday to Nova Scotia with Craig Claiborne and Pierre Franey, food writers for the New York Times. They stayed at a mansion on a 270-acre estate owned by a billionaire friend of Maccioni. One afternoon they put together a makeshift meal with items they found in the refrigerator: spaghetti, pine nuts, tomatoes, green beans, frozen peas and broccoli. They made a sauce of butter, cream and cheese and dubbed their new dish "spaghetti primavera."
When they returned to New York, Maccioini wanted to put spaghetti primavera on the menu, but Vergnes refused, believing its very presence would "contaminate" the kitchen. He hated it so much that Maccioni had to offer it as an off-menu special and prepare it himself tableside. Soon spaghetti primavera was, as Craig Claiborne wrote: "the most talked-about dish in Manhattan." A table at Le Cirque became the most sought-after reservation in the city. Soon copycat "pasta" primavera began appearing on menus of Italian-American restaurants throughout the country.
Pasta primavera became one of the decade's premier food trends but, like most trends, its popularity eventually declined, as tastes shifted to lighter, healthier fare. The impact of food TV and celebrity chefs fostered a new generation of better-educated diners demanding greater cultural authenticity. Pasta primavera became considered old-fashioned, a relic of a less-enlightened time.
The deprivations of the pandemic have made us a bit nostalgic. What was old has become new again, and dishes that were once viewed as old-fashioned are now considered classics. Perhaps it's time to reconsider pasta primavera.
Pasta primavera
Serves 6
Special equipment:
6-8-quart stockpot
12-inch skillet
Long-handled strainer or spider
Ingredients:
Kosher salt
½ bunch asparagus, tough ends removed, stalks cut into 1-inch lengths
¼ pound green beans, ends trimmed, cut into 1-inch lengths
½ cup fresh or thawed frozen peas
¼ pound snap peas, strings removed, cut into 1/2-inch pieces
1 small zucchini, quartered lengthwise and cut in 1-inch strips
1 bunch broccoli or broccolini, tough stems removed, cut into bite-sized pieces
½ cup halved grape tomatoes
4 tablespoons unsalted butter
2 tablespoons extra-virgin olive oil, plus more for serving
2-4 garlic cloves, crushed and peeled
4 tablespoons pine nuts
1 pound penne, fusilli or gemelli pasta
¾ cup crème fraîche (or substitute heavy cream)
1 teaspoon lemon juice and 2 teaspoons zest
12 fresh basil leaves, chiffonade
¼ cup minced fresh parsley
1 cup freshly grated parmesan, plus more for serving
Freshly ground black pepper
Directions:
Bring a large pot of salted water to a boil and prepare an ice bath. Working with one vegetable at a time, blanch the asparagus, green beans, peas, snap peas, zucchini and broccoli/broccolini in boiling water until each vegetable is crisp-tender and transfer the ice bath to cool. Drain and lay out to dry on a towel.
Empty the pot, refill with fresh water, season generously with salt, and return to a boil.
In a large skillet, heat butter, olive oil, garlic and pine nuts over medium-low heat until pine nuts just start to brown. Turn off the burner, remove and discard the garlic, add tomatoes and blanched vegetables to the skillet and toss to coat.
When water reaches a boil, add the pasta and cook until almost al dente. Drain the pasta, reserving some of the cooking liquid. Add pasta into the skillet with vegetables and stir in the crème fraîche (or heavy cream), lemon juice and zest, and half the basil and parsley. Turn the burner up to high and stir or toss constantly, adding small amounts of the cooking liquid as needed, until reduced to a creamy sauce.
Remove skillet and stir in 1 cup of the grated parmesan and season to taste with salt and pepper.
Divide into warm bowls, drizzle with a little olive oil and a few grinds of black pepper, top with the remaining parsley and basil. Serve with the remaining grated parmesan on the side.
Peter Glatz is currently embarked on a 4,300-mile cross-country journey in Bertha Bus, exploring the regional food cultures of America's backroads and byways.