Untitled Document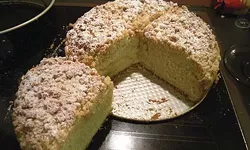 Jersey, New York, Philly, Baltimore — they all know about the crumb bun. A yeasty sweet roll with a streuselly topping, the crumb bun is a miniature version of the crumb cake (a.k.a.
Streuselkuchen
), a breakfast and late-morning coffee staple among East Coasters who grew up around diners, old-school bakeries, and second- and third-generation German immigrants.
My mother, whose ancestors were of Bavarian descent, fancied a crumb bun. We lived in a Welsh-sounding town outside Philadelphia with a bakery named Woehr's that made crumb buns. Sometimes after church Mom would putter along in her Pinto hatchback with me and my two brothers, and she'd pull into the parking lot, which was on a hill, and she'd let us come in and smell the magical perfume of powdered sugar.
She'd order a half-dozen from the lady behind the counter, who would cut six from a big tray and place them in a square white box tied with a string. I loved to carry the box. At home, Mom would cut us each a piece. Inevitably the powdered sugar that was packed on top of the cinnamony streusel like snow would coat our lips and maybe even get into our eyes, but we were stalwart, plowing through the dust storm until every last crumb was accounted for. The next day, the leftover buns would be hard as rocks, but that didn't deter my mother, who'd dunk a brick into her coffee until it was soft enough to eat.
A recent brunch at a neighborhood restaurant near my home, in Arlington, Va., brought these stored crumb-bun memories out of the vault. The chef, who grew up in a little town near Pittsburgh, leaves out the yeast of yesteryear and brings on the buttermilk, which yields a tender, cakey crumb on the bottom and a crunchy, streuselly crumb on top. It is one of the tastiest flashbacks I've had in a long time.
Culinary questions? Contact Kim O'Donnel at kim.odonnel@creativeloafing.com.
(Pennsylvania) Dutch Crumb Cake
Adapted from Liam Lacivita, executive chef, Liberty Tavern, Arlington, Va.
2 cups all-purpose flour
1/2 teaspoon baking powder
1/4 teaspoon salt
1 cup granulated sugar
1/2 teaspoon cinnamon
1/3 cup (5 1/3 tablespoons) butter or shortening
(I used Earth Balance shortening with success), diced
One egg, beaten
3/4 cup buttermilk
1/2 teaspoon baking soda
1 teaspoon vanilla (optional)
1/2 cup brown sugar
Preheat the oven to 350 degrees. Grease and flour an 8-inch round cake pan or similarly sized rectangular pan or baking dish.
In a large mixing bowl, combine the flour, baking powder, salt, sugar, and cinnamon. With the tips of your fingers, work the fat into the mixture until it is completely integrated. It's OK to see flakes of fat.
Reserve 1/2 cup of this mixture for the topping, to be used later.
In a separate mixing bowl, combine the egg, buttermilk, and baking soda. If you are using vanilla, add it now.
Using a rubber spatula, fold the wet ingredients into the dry until all are well combined.
In a small bowl, combine the brown sugar with the reserved flour mixture. Pour the batter into the pan. Top it with the crumb mixture and bake for about 45 minutes, or until a skewer inserted into the center comes out almost clean.
Note: Amounts may be doubled for two cakes.