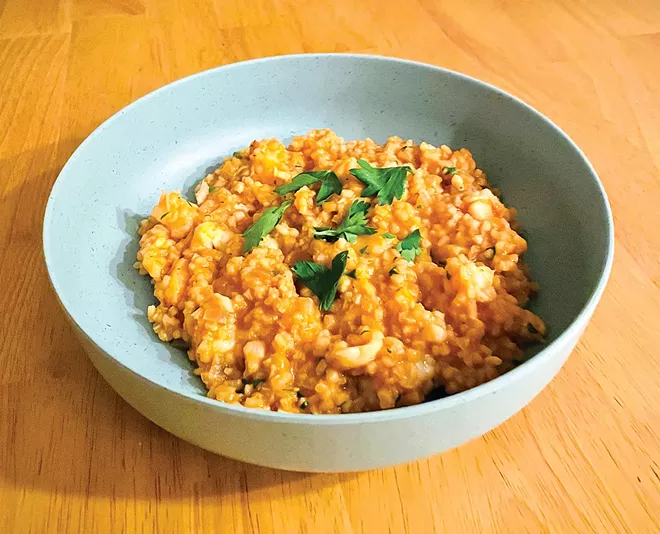 When my wife dropped me off for my first day of work at The Grey in Savannah, Georgia, and asked "How are ya feeling?" I replied, "Kinda like the first day of kindergarten." The Grey is one of the South's top restaurants, and its executive chef, Mashama Bailey, won the coveted James Beard Foundation's Best Chef Southeast award in 2019. I first heard about Chef Bailey and The Grey from the Netflix series "Chef's Table." On a whim, I sent them my resume and asked if I could spend a week staging (working as an apprentice) in their kitchen. With true Southern hospitality, they responded: "We'd be delighted to have you come and spend some time with us."
With butterflies in my stomach, I walked in through their back door.
I'm always nervous walking into my first day at a new restaurant. The young cooks usually look at me with skepticism. For many of them, I'm old enough to be their grandparent... or even great-grandparent. My day usually begins with a tour of the kitchen, showing me where everything is kept. It's important to pay attention, because soon I'd be handed a recipe and I would appear stupid if I kept asking for help finding ingredients. This was especially important at The Grey, which was retrofitted into a renovated 1930s Art Deco Greyhound bus station. The dry and cold storage areas are dispersed between its rooftop (a 48-step climb) and the outside backlot where the buses used to park. During my orientation, sous chef Billy warned me: "You really need to be organized here or you'll wear yourself out running around." His words rang true after my fifth trip up and down the staircase.
The Grey is a study in contrasts. In its years as a segregated bus station, it had separate white and "colored" entrances, waiting rooms and restrooms. It remained segregated until 1961. Its present incarnation as a fine dining establishment is a partnership between Johno Morisano, a white male media entrepreneur from Staten Island, and Chef Bailey, a black female chef from Queens. In the hospitality industry, female executive chefs are rare, and female executive chefs of color are even rarer.
The cliched "Southern hospitality" and inherent diversity of The Grey quickly made me feel at home and accepted. It was such a joy to be in an environment that appreciated my desire to learn. So let me tell you what I learned about grits. The grits I grew up eating in the Midwest were corn grits: coarsely ground corn. Along the southern Atlantic coast, however, rice is the predominant crop, and rice grits, also known as middlins, are what's served.
From the 1700s through the end of the Civil War, the Southern grain that created the initial wealth of this country was a long-grain rice variety called Carolina Gold. Carolina Gold Rice has a low tensile strength, which means it is especially prone to fracture. To prepare it for market, female slaves were tasked with the laborious job of pounding raw rice in a wooden mortar and screening it in a fanner basket. This tedious technique resulted in about 30 percent breakage of the grains. Since the brokens, or middlins, weren't suitable for export, they were given to the enslaved cooks and the technically flawed rice became a cornerstone of the region's cuisine. This broken rice had all the flavor attributes of the intact rice, but with a unique texture which, depending on how it was cooked, could range from risotto-like creaminess to a sticky congee-like porridge. The creamy texture of middlins is particularly suited for sopping up a rich sauce or gravy.
It has been said that Southern food is America's quintessential cuisine, but the Southern food we eat today tastes almost nothing like the dishes our ancestors enjoyed. With the rise of industrialized monoculture farming practices, most of the varied crops that originally defined this cuisine have largely disappeared. Thankfully a growing movement of chefs and farmers has been seeking to change this by recovering the rich flavor and diversity of Southern food. Anson Mills, a company dedicated to revitalizing heritage grains, sells freshly milled heirloom stone-ground organic ingredients. Their rice grits can be purchased online from ansonmills.com. Another buying option is Delta Blues Rice Grits, available from Amazon. Packaged without preservatives, these grains should be stored in the freezer to preserve freshness.
Low Country Shrimp Middlin
I save shrimp shells and freeze them in resealable bags for making shrimp stock.
Adapted from a recipe by Mashama Bailey
Serves 2
Ingredients
1/2 pound of shrimp in their shells
1/4 cup olive oil
1/2 cup celery, diced
1 cup onion, diced
2 cups Carolina Gold rice grits (rice middlins)
2 tablespoons tomato paste
1/4 teaspoon cayenne
1/2 cup dry white wine
1 1/2 quarts shrimp stock (from the reserved shrimp shells)
2 tablespoons unsalted butter
1/4 cup fresh parsley, chopped – plus extra for garnish
Preparation:
Peel and devein the shrimp. Reserve the shells. Roughly chop the shrimp, and put in the refrigerator until ready to use.
Make the shrimp stock: In a large pot, bring 3 quarts of water to a boil. Add the shrimp shells and boil until the water turns golden brown and the liquid is reduced by a third, about 40 minutes.
Strain the liquid and discard the shells. Return to the pan and keep warm over low heat.
In a wide-bottom saucepan, heat the olive oil over medium heat. Add the celery, onions and a pinch of salt. Cook until the vegetables are translucent and softened, about 5 minutes.
Add the rice grits to the saucepan with another pinch of salt. Stir the rice grits until incorporated with the oil and vegetables, and cook for about 5 minutes.
Add the tomato paste and cayenne and stir to combine.
Pour in the wine to deglaze the pan, scraping the bottom with a wooden spoon. Cook until the alcohol burns off and the aroma becomes sweet, about 5 minutes.
Begin adding the warm shrimp stock, a ladleful at a time. Adjust heat to a simmer and stir, adding more stock as it is absorbed into the rice grits. Continue until the rice grits are al dente or slightly underdone, about 20 to 30 minutes. If the grits begin to stick to the bottom of the pan after the stock is added, reduce the heat and add a little water. Add the shrimp and gently cook until they start to turn pink. Remove the pan from the heat.
Stir in the butter and parsley, and season with salt to taste.
To serve, spoon into bowls, and garnish with additional parsley.
For the next month, Peter will be embedded in restaurants up North, discovering new foods and recipes for Illinois Times readers.