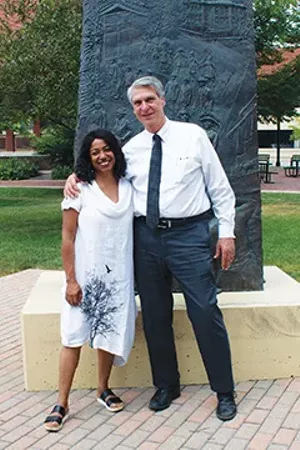 "I think we're more polarized now than we have been for a while as a society, especially when it comes to race," said Al Klunick, co-organizer of the upcoming Community Unity 2 On 2 Tournament, which aims to pit integrated basketball duos against each other in an attempt to bridge racial gaps.
Klunick coached high school basketball for years and is president of the U.S. Insurance Company of America in Springfield along with owning The Gym at 1823 Camp Lincoln Rd., where the tournament will take place. When describing his inspiration for the interracial tournament, Klunick mentioned an experience several years ago, when his son was playing high school basketball and traveling to participate in tournaments. Klunick noticed most of the teams were either all white or all black, which led to an uneasy feeling in the stands. "If you have a white team in the finals with a black team playing against them, all the people in the audience are rooting for their team, which always ends up seeming like it's a matter of one race against another – even though the outcome has nothing to do with that."

Klunick's co-organizer for the tournament, Letitia Dewith-Anderson – owner of Anderson Legal Consulting and one-time chief of staff for Springfield Mayor Tim Davlin – sees the racial breakdown in the region as a little more nuanced. "I think people are blind to the fact that there is a significant Latin American and Hispanic community in Springfield," she said. "People might be surprised but they are out there and they do play basketball," she said.
Efforts to promote the tournament uncovered a recurring problem in the difficulty of finding different-race partners for the two-on-two teams. "Out of all the players, black or white, I'd say a small percentage of them have a friend of a different race they can call up and invite to play alongside them in this tournament," Klunick said. "Our challenge has just been getting the teams together." Dewith-Anderson concurs. "When we were starting to get the word out, several people said to me that they didn't even know anybody outside of their race," she recalls, sounding somewhat aghast. "And this is supposed to be 2019, right? But it's not that these people have a hatred toward one another, they just don't know."
Another inspiration for the tournament was Klunick's discovery of a documentary about the 1908 Springfield race riot, which he found while surfing YouTube a few years back and which surprised and galvanized him. "Springfield had this race riot and because of it we were the impetus for the NAACP coming about – there's a lot of racial history in Springfield, some of it's good, some of it's not so good," he said, going on to describe the tournament as an opportunity to "have the races come together in a nice way, in a fun way, in a competitive way, by having 'em be teammates and not necessarily playing against each other but rather playing with each other."
While the public response to the idea of the tournament has been supportive, privately there has been some pushback from some of Klunick's family and friends. "There have been some people who've told me not to touch this topic [of race] at all, that I'm just going to have to worry about being politically correct and if I stumble on something it's going to blow up into a big, bad situation," he said. "But at my age, I don't care anymore. I just want to go forward and see what we can do to create a fun atmosphere where we're bringing folks together instead of dividing them. It's that simple."
"The mere fact that people are telling Al not to rock the boat is why we have to speak up and it's why our community has to come out for this," said Dewith-Anderson. "Even if you don't like basketball, but you do care about our community, show up – because that is what sends the message."
"This little event is not going to solve any world issues with regard to race," admitted Klunick. "But it's going to be a good time." The tournament will include two-on-two with no substitutions and the addition of a four-point shot. There will also be a hotshot and free-throw contest for the younger kids. Registration is $25 with all profits going to Compass for Kids and St. Martin de Porres Center. Sponsors are available to cover fees for players unable to afford them.
Community Unity 2 on 2 Tournament will take place Sat. and Sun., July 27-28 at 9 a.m. both days. For more information and to register, visit http://cu2on2tourney.com/
Scott Faingold can be reached at scottfaingold@gmail.com.