Retro style is in, and kids can't get enough of it, from cutting-edge clothing and accessories that recall the classics to thrift-shop home goods straight from grandma's attic.

A quest for individuality in a homogen -ized world is behind the vintage juggernaut, say trend watchers. So is a treacherous economy.

"I think the resurgence started with kids rummaging through thrift stores," says Bonnie VanKeersblick of Blue Flower Vintage, an online shop that specializes in vintage items. "Old movies help fuel the trend, and then the economic downturn and people wanting to be green justified it."

"I believe there is a desire to escape from mass manufacturing to things that are unique," she says. "The fashion industry has caught on to this and are making efforts to include vintage in their styling and editorials."

Whether you're shopping for a curious teen or a nostalgic grown-up, having an eye for the old this season will come in handy. Retro-themed products make for great gifts and fun shopping.


For him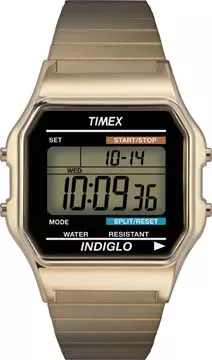 Thank Don Draper from AMC's popular series "Mad Men" for the resurgence in dapper formal wear for men. Draper's crisp suits and affinity for good whiskey ignited craving for both. Men looking for fashion inspiration will enjoy "Icons of Men's Style" by Josh Sims (Laurence King Publishers, 2011), a guide to iconic menswear. The British fashion writer chronicles prominent garments of the past and the men who made them notable, including stars like Gregory Peck and classic characters like James Bond.
Another way to bring a retro edge to men's formalwear is with pocket squares.
"[Pocket squares] are understated but stylish and not too far out of a guy's comfort zone," says Press. "You can go utilitarian with cotton or bold and bright in silk." Club Room, a Macy's clothing brand, sells pocket squares in everything from paisley to polka dot, and in colors like red, blue and black ($15, Macy's).
No man who carries a smart phone needs a watch – but many of them want one anyway. The Timex Digital watch ($40, department and specialty stores), boasts an INDIGLO night-light feature and digital number display, but a shiny stainless steel expansion band and water-resistance gives it contemporary utility.
For her
Classic style for women is about finding the perfect statement piece. Think bold jewelry or anything with an Art Deco edge.
"I love the idea of a great retro-print scarf," says Press. "Not only can you wear it in a myriad of ways, but they are being used in interior design as framed art or for custom pillows."
Look for scarf designs with blocky shapes and heavy colors with a sharp contrast (like black, lime green and red) to achieve a polished Art Deco look.
Vintage glass, tableware and cookware have great legs in the gift-giving world. VanKeersblick, a lifelong fan of vintage style, showcases a 1950s line of striped and lotus-patterned bowls designed by Grete Prytz Kittelsen for the Cathrineholm factory in Norway. Fresh contemporary takes on Scandinavian tableware abound, from Marimekko's bright classics to the retro retakes from Sagaform, created by a platoon of young Swedish designers.
Typewriters have seized the imagination of the Facebook generation. Search local antique stores and thrift shops for antique brands and restored classics. Women with a penchant for the sound of keystroke may enjoy a 1950s Royal portable typewriter in bright pink ($595,
mytypewriter.com
) or typewriter-inspired jewelry like a key bracelet ($85) or custom key earrings ($58).
For teens
Young people questing for fresh, individual style have led the way in refining the vintage aesthetic. To please a 20-something, though, a vintage gift must possess retro flair along with techno geewhizery.
Old-fashioned vinyl records are on a tear. A turntable would be a great gift for a young music fan fascinated by the crackling sounds of a spinning record. Crosley Radio, a classic brand dating to the earliest days of radio, offers a variety of models, including the Memory Master II ($400, department and specialty stores). This turntable, in black or paprika, plays vinyl, CDs and cassettes, has an AM/FM radio and a USB feature compatible with PCs and Macs for ripping and editing audio content.
Retro-style headphones also appeal to young music fans who appreciate both 1970s design and contemporary high fidelity. Eskuché's Control, an on-ear style headphone, comes in basic black, shrimp, salmon and gold ($60, specialty stores).
Teens also may enjoy capturing the moment on old-fashioned film with a Lomo LC-A, a cheap camera first designed in the Soviet era. Lomography U.S.A. rocketed to fame with this imperfect old camera (now produced in China) that produces unexpected distortions, such as light leaks and saturated colors that give photos a classic, artistic look. The Diana F is an update on a cheap 1960s camera known for delivering dreamy exposures ($89,
lomography.com
).