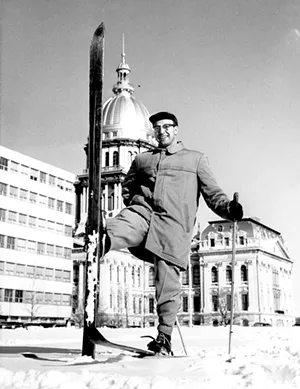 One of Ray Ackerman's favorite sayings was, "Never leave a game early – you could miss something terrific." Ray stayed in the game of life until it was fully played , one day short of his 101st birthday – aged in body, but not in spirit. The preface to his three-volume autobiography, playfully entitled Grandpa – The Boy, explains a lot about Ray: "The title refers to my lifetime as I try to retain the endearing traits of boyhood. Ever since Ponce de Leon, the search has been for the Fountain of Youth. Perhaps the best place to find it is within one's self."
Ray's family history was deeply rooted in Morton, Illinois, where his great-grandfather was a pioneer settler in the early 1800s. The Ackermans' farmhouse was graced with modern conveniences: electricity, indoor plumbing, a telephone. In the mid-1920s, the household became even more advanced – a radio. By the time he was 10, Ray was listening to Chicago Cubs games and becoming a "die-hard Cubs fan" for life.
Ray walked – and sometimes roller-skated – nearly a mile to the one-room Buckeye School. A daily highlight was playing baseball at recess. Young Ray kept a play-by-play account of the games, an early example of the fastidious record-keeping that was a defining part of his character.
Another key to Ray's character was loyalty – to his family, profession, church, sports teams, Triangle fraternity brothers, university. Ray graduated from the University of Illinois in 1943 with a degree in civil engineering. For 67 years, Ray and his classmates exchanged an annual letter. Ray's collected letters form a remarkable chronicle of his career, family life and the fortunes of U of I sports teams.
For an engineer, Ray was quite a writer. There were letters to the editor, reports, articles, reminiscences. I was among the many friends who delightedly received his "Sports Report" emails, in which he offered updates and wry commentary on Illini teams and the Cubs. As for that rival team in St. Louis, Ray wickedly called them "the Cardnulls."
From 1944 to 1946, Ray served in the U.S. Merchant Marine in both Atlantic and Pacific war zones. Despite their valor, Mariners were not recognized as veterans or offered the GI Bill. Ray joined the effort to gain recognition; a bill passed Congress in 1988. Ray was proud of his role in the Greatest Generation, a man shaped by both the Depression and World War II.
In 1948, Ray married Margaret Augustin, a young schoolteacher, his partner in life for the next 70 years. The Ackerman family moved from Morton to Springfield in 1963 with daughters Cinda and Karen and son Randall. Ray assumed a position in the Illinois Department of Transportation highway division. By then a professional engineer and land surveyor, his work involved engineering plans and designs for roads throughout the state, including the Interstate system. All told, Ray spent 30 years as an IDOT engineer.
Throughout his life, Ray enjoyed the outdoor activities of his childhood, especially fishing. As a skier, he made news in the Jan. 15, 1964, State Journal-Register. Determined to show up for work despite drifted snow, Ray strapped on skis and trekked two miles to the Stratton Building, then the home of IDOT. An SJ-R photographer photographed a grinning Ray with the Capitol in the background. At the age of 83, Ray water skied, to Margaret's dismay. Ray Ackerman was not ready to leave early from the skiing game.
Ray and Margaret saw much of the world on their travels – Machu Picchu, Egypt, Australia, the Amazon and more. You Belong to Me became "their" song; its lyrics – "See the pyramids along the Nile...." – renewed memories of amazing places.
In retirement, Ray went to bat for the Retired State Employees Association, serving as legislative chair for 10 years. It was not unusual to step into an elevator at the Capitol and find Ray Ackerman on his way to persuade legislators to support benefits for retired state workers.
Ray competed in Senior Olympics events. At 90, he won nine gold medals – four of them in swimming. True, no one else entered his age category, but Ray claimed he was competing with all the 90-year-olds who didn't show up. His last competition was in 2014, when he was 96.
Ray Ackerman leaves a rich and varied legacy. His work endures in well-engineered roads, bridges and interchanges throughout Illinois. His written account of his life will become more valuable as time goes on. All who knew him harbor memories of fun and friendship. His greatest legacy is the love he gave to his family – his wife and three remarkably accomplished children, who are passing on life lessons from Ray to their own children and grandchildren. We can all learn a lot from a centenarian with the heart of a boy.
Virginia Scott has been a friend of the Ackerman family for nearly 45 years. She and Ray shared a special bond as die-hard Cubs fans.