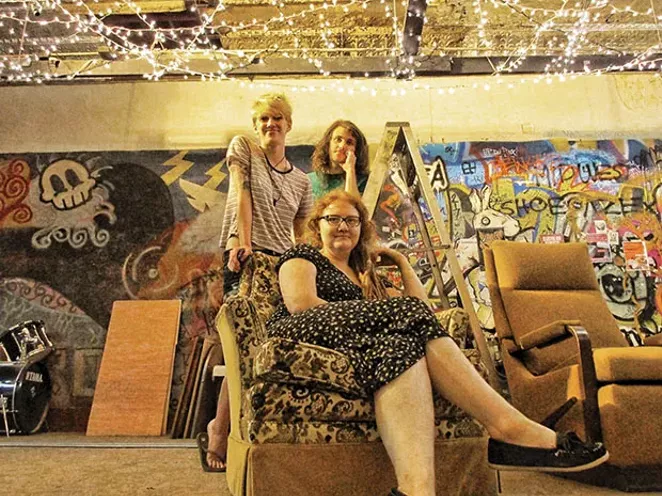 Self-described by founder and director Alex Martin as "DIY rogue theater," Springfield's Absurdist People's Theater Troupe would like nothing more than to shake things up in Springfield. "I went to Blackburn College and did theater for four years," Martin said. "When I came back here to my home community and looked around at the different theater projects that were happening, I noticed that there wasn't much of the kind of theater I'm interested in happening in the local theater community." Instead of passively waiting for Springfield's theater scene to change, Martin decided to create her own company. "I want to show people that there are other kinds of theater out there, instead of just the same musicals, the same plays again and again. I'd like to do plays that haven't ever been produced here, newer stuff by newer playwrights."
In late 2015, Martin mentioned her desire to start a theater troupe to her friend Jay Maxson and he responded by relocating to Springfield from St. Louis in order to help get it off the ground. "I originally brought the idea up that December," Martin recalls. "The troupe started to form in March, we had our first meeting in May and our first production went up in October."
That first production certainly set a precedent for audacity. The Absurdist People's Theater Troupe presented Who's Afraid of Virginia Woolf? on the stage of the Black Sheep Café, a music venue usually associated with punk rock concerts. Edward Albee's controversial, profane, emotionally draining and lengthy 1962 play would provide plentiful challenges to seasoned theater groups, let alone to a nascent company. Still, they managed to pull the difficult production off, with elements ranging from Maxson's clever production design to raw performances from the almost ridiculously young Keegan Otwell and Julia Mitchell – cast against type as the play's burned-out, middle-aged alcoholic protagonists – all contributed to its success.
"It's a very difficult play," Martin acknowledged. "I figured I would start at level 10 and from there every other play would just get easier. It was a whirlwind experience."
"It was really fun," recalled Mitchell of the production. "It was very intimate – we cried and we laughed and there was blood. It was our monster baby."
The troupe's second production is in the works and it is no less bold. Gem of the Ocean, the 2003 play by August Wilson, is the first in his "American Century" cycle, a 10-play series chronicling the black experience from 1900 to 2000." Martin, who is white, recruited an all-African-American cast, with experience levels ranging from 30-year stage veterans to first-timers and which includes Springfield poet and activist Johari Idusuyi (profiled in "
Young poet's society
" IT, Feb. 2).
Even more than the focus on surprising and challenging material, the "people's" aspect of the Absurdist People's Theater moniker is the company's guiding principle. "The first item in the troupe's mission statement is that this is first and foremost a learning experience for everyone involved," said Martin. "I feel like a lot of people would enjoy being involved in theater and just don't know how to get started," added Maxson. "This is usually the kind of thing you pick up while you're in high school or earlier – but if you're an adult, there's really nowhere to start. And that's part of being the People's Theater – it's an opportunity for anybody to join and have a learning experience."
Other plays the troupe would like to tackle after Gem of the Ocean (set to premiere at Black Sheep Café in May) include Marsha Norman's 'Night, Mother, Samuel Beckett's Waiting for Godot and the controversial Shopping and Fucking by Mark Ravenhill, which Martin anticipates will be "a bit of an earthquake for Springfield."
Contact Scott Faingold at sfaingold@illinoistimes.com.