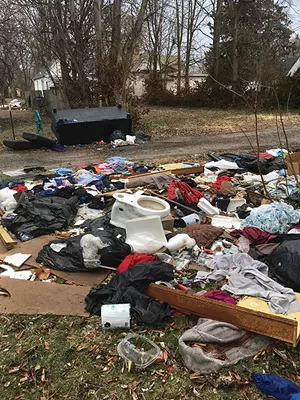 Springfield ICON (Inner City Older Neighborhoods) announced that most of the candidates in elections to be held April 4 share the organization's priorities for keeping the city neat and clean, and making government more responsive to the needs of Springfield citizens. That was the result of a questionnaire the group sent to the two candidates running for mayor and all of those in the aldermanic races. Mark Mahoney, ICON chair, said he was pleased that so many candidates were in general agreement with positions taken by ICON.
"Our survey consisted of 15 questions about policy positions that are important to us, and covered three broad areas: transparency and compliance, protection of older neighborhoods, and investment in infrastructure," Mahoney said. Seventeen out of the 19 candidates answered. There was unanimous agreement with four of ICON's policy positions, and on four more questions only one or two candidates disagreed.
The group wants the city to create a public database of city code violations, with agreement in the survey from 16 of 17 candidates. City candidates agreed unanimously that zoning hearings should be broadcast in the same manner that city council meetings are currently broadcast.
When owners of derelict properties are summoned to appear in front of administrative judges, ICON believes that members of the public should be allowed to speak at those hearings, with sufficient notice to prepare and attend. ICON also wants the city to create a census of vacant lots and structures in the city and a plan for addressing the problem. Both mayoral candidates agree with those positions.
ICON steering committee member and Harvard Park Neighborhood Association president Polly Poskin spoke about the need to improve waste collection in Springfield. She noted that while all residents must contract for garbage collection services, the lack of a database of residents who haven't done so makes enforcement problematic. "It's a complaint-based system, so the city is unaware of a problem unless someone calls in," she said. A database would solve that problem, according to Poskin. Buscher is in favor while Langfelder is opposed.
One reason that such a database is difficult to compile is because there are three companies in Springfield that provide residential garbage service – Waste Management, Republic and Lake Area – and they all operate in all parts of town. According to Poskin, since those companies are in competition and maintain their own customer lists, the city has no easy mechanism for identifying scofflaws. ICON has pushed to have garbage collection fees placed on CWLP bills, making it easy to identify residents who haven't paid.
Poskin is dismayed that in most of Springfield, garbage trucks from different companies are liable to pass by every day. "It's very frustrating to live in a city with such a chaotic waste collection system," she said. Having so many trucks plying the same streets and alleys "causes excessive wear and tear on our roads."
Steering committee member Kurt DeWeese also noted that expansion of large-item collections in the city, along with simplification of the process for arranging for pickup, would help resolve the problem of fly dumping. He said these piles of garbage tend to occur in already-distressed neighborhoods, making them appear more blighted. "These solutions aren't expensive," added Poskin, "they're just a matter of priorities." Buscher wants public service announcements about fly dumping; Langfelder says the problem should be better quantified and studied before any commitment of funds.
ICON was able to find unanimity among the city candidates on the need to fund Heartland Continuum of Care, a Springfield organization that advocates on behalf of the homeless, and the need for a long-term infrastructure plan to modernize roads, storm sewers, sidewalks, utility infrastructure, curbs and stoplights.
Poskin said that ICON intends to continue advocating for the issues identified in the survey. "Based upon these responses, I expect some movement soon after the election, especially on the transparency issues." The survey, along with candidates' responses, can be found at https://springfieldicon.org/springfield-il-municipal-candidates-election-april-4-2023/.
Don Howard is an intern at Illinois Times while completing his master's degree in Public Affairs Reporting at University of Illinois Springfield. He can be reached at dhoward@illinoistimes.com or 336-455-6966.