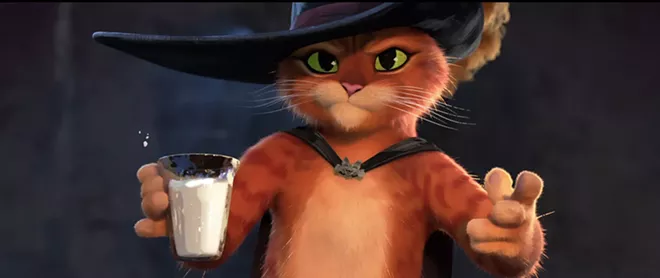 Charm and humor make for a delightful Wish
Anchored by a joyous voice performance from Antonio Banderas, Puss in Boots: The Last Wish proves to be the rare, animated feature that will appeal to anyone ages 5-95. Brimming with imagination and wit, its premise is a bit of genius, played to optimum effect.
The swashbuckling Puss has encountered a problem his swordplay and charm can't defeat. Seems he's used up eight of his nine lives and, out of an abundance of caution, retires to an old cat's home where he can live out his remaining years in peace and safety. However, his need for adventure makes for a short stay when he finds there's a fallen star in the middle of treacherous forest that will grant a wish to whomever finds it first.
Puss is out to get there first to wish for more lives, but he gets stiff competition from Little Jack Horner (John Mulaney), Goldilocks (Florence Pugh) and Kitty Softpaws (Selma Hayek), who all intend to get to the star first for their own reasons. Before they each realize they already have what they desire, double crosses, devastating puns and thrilling action take place, all making for a film that entertains far more than a certain multi-million-dollar, waterlogged epic in current release. In theaters.
Johnson's Onion a pointed satire
What with an intriguing mystery, an eccentric detective and a collection of self-absorbed suspects brought to life by an exceptional, veteran cast, Rian Johnson's Knives Out proved to be the biggest sleeper of 2019, an out-of-left-field delight that somehow managed to breathe new life into the hoary convention, the drawing room mystery. This is a hard act to follow, one that Johnson nearly pulls off with this follow-up Glass Onion, a movie that adheres to much the same formula as its predecessor and nearly succeeds in reaching its heights.
Daniel Craig returns as Benoit Blanc, the sleuth mistakenly invited to an island owned by tech giant Miles Bron (Edward Norton) who has summoned his closest friends for a relaxing getaway. However, when social media sensation Duke Cody (Dave Bautista) is killed, Blanc sets out to deduce which of the guests is a murderer. The credibility of the story is strained at times as Johnson resorts to some improbable twists and turns that are hard to swallow. And if these suspects may not be as charismatic as those in Knives, the entertainment factor remains high. Johnson takes great glee in deflating his buffoonish and arrogant characters, all of which bear more than a passing resemblance to various powerful, self-serving media darlings currently in the headlines. Streaming on Netflix.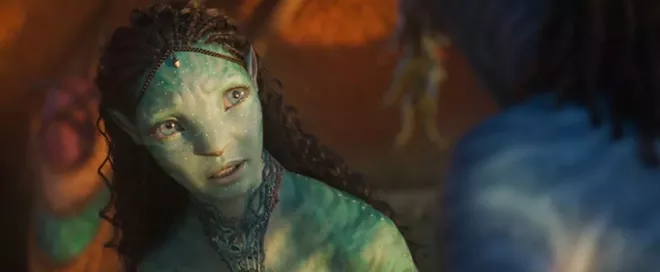 Water beautiful but empty
Without a doubt, James Cameron's Avatar: The Way of Water is a technical marvel, a visually stunning film that puts the latest in digital special effects front and center. The blue and green hues cast a spell of tranquility that's impressive, while the 3-D effects are worthy of every accolade being used to describe them. Unfortunately, pretty pictures alone does not a successful film make, as Cameron focuses far too much on dazzling our eyes, forgetting our minds and hearts in the process.
The story, such as it is, revolves around former soldier, now Na'vi father, Scully (Sam Worthington) and his family. They are forced to flee the forests of Pandora when his former commanding officer and sworn enemy Quaritch (Stephan Lang) returns and vows to hunt him down. A chase ensues, communities are destroyed, many things are blown up, a tragic death occurs, and a sequel is set up. At over three hours, the film is too long by half, long stretches devoted to nothing but Cameron's idea of visual opulence, an engaging narrative just so much collateral damage as a result. If you'd like to save some time and money, simply picture an empty box, ornately wrapped. In theaters.