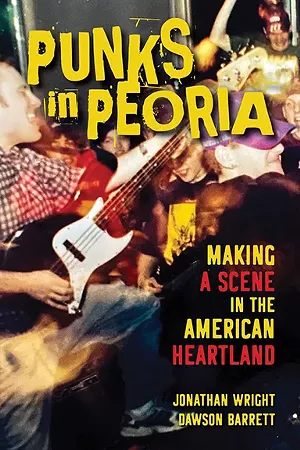 What do you do when you want to be part of a music scene, but you live in a small Midwestern city or town, where most culture is slow to filter through? You build it yourself. That's what the book Punks in Peoria: Making a Scene in the American Heartland, published in June by University of Illinois Press, is all about. Written by Jonathan Wright and Dawson Barrett, it's billed as a book about "punk rock culture in a preeminently average town."
Wright, now the editor in chief at Peoria Magazines, and Barrett, a history professor at Del Mar College in Corpus Christi, Texas, met in Peoria. Barrett went to his first punk rock show in 1995, at the age of 13. He didn't know it at the time, but it was a show that Wright put together. "I was hooked," Barrett told Illinois Times. "I wanted to be a part of that community," he said of his first experience witnessing the scene's DIY – do it yourself – culture. He started playing in bands. "And within a few years I was putting on shows myself and playing around town."
The book is informed by the two's experiences. Both are musicians. While a college student at Bradley University, Wright worked at Co-Op Tapes and Records, which served as "ground zero for bringing the local punk scene together," as the book describes.
The pair birthed the idea for the book in 2014, and first thought maybe they'd cover the years they were active in the scene, which included bands like Planes Mistaken for Stars – an internationally recognized outfit that formed in 1997 and was known for its wild antics and vocals that were often closer to screaming than singing.
"We use the term 'punk' very loosely. Punk is really more of an attitude than a style of music," Wright told Illinois Times. Instead of sticking to what they knew firsthand, Wright in particular kept digging, to the point the book covers three decades of music history, including bands that inspired the punk ethos – the idea that you can build something yourself and subvert the canned, corporate culture others mindlessly consume.
So, while deeply rooted in personal knowledge, the book is not a memoir. It's not Wright and Barrett showing off their punk credentials for the sake of their egos. It includes stories and connects dots about various musicians and bands. Like how in the 1970s, a Peoria venue called Baty's Barn hosted the Allman Brothers, Alice Cooper, Fleetwood Mac and Bob Seger, among other performers who were up and coming at the time. As the book describes, King Crimson – a progressive rock band formed in London in 1968 – even had a song called "Peoria" that it recorded in the city and included on a record released in 1972.
And the book is not just about music. It explores the seedy underbelly, like how the punk scene in Peoria drew to its flame some outsiders with truly vile beliefs. Neo-Nazis would attend some shows and get into physical and verbal altercations. Peoria is home to Matt Hale after all, the neo-Nazi leader sentenced to federal prison in 2005 for his role in soliciting murders.
But "to say that it's a Peoria problem to have white supremacy, would not be accurate. I think recent years have shown us that there are actually neo-Nazis around every corner, under every rock in the country," Barrett told Illinois Times. "And so those things did filter in occasionally, and it had to be a collective decision by the punks – are we going to be sexist, racist and homophobic? Or are we going to challenge that?" Deciding to take a stand was part of the lifelong influence the punk scene imparted to many people who are now well into adulthood, said Barrett.
What the book drives home is the power of the DIY mindset, of not seeing what you want so building it yourself in order to have a place to belong. And then, in the best cases, having the self awareness to make those spaces inclusive and safe from bigots and hate mongers.
The book makes mention of Peoria's satellite towns and cities like Springfield, where a punk undercurrent has long been healthy and survives to this day. A few weeks ago, Springfield punks put on one of their first shows since the pandemic. You had to be in the know to get the address. The show was as underground as it gets, located within a tunnel.
Much like Co-Op records was the heart of the punk scene in Peoria, Springfield has Dumb Records. It's the reason a life-size elephant that once belonged to the campaign of a Republican Illinois treasurer was painted green and now sits along Monroe Street, a huge fabricated vinyl record dangling from its trunk.
A stage has been built in the venue attached to the record store, ready for its first show. And shows are being scheduled again, after more than a year hiatus due to the pandemic. Dumb Records will continue to be a place where things get weird. And they'll be done on the terms of those creating their own scene.
Rachel Otwell is associate editor of Illinois Times. She began attending Springfield-area DIY shows as a teenager, and still dabbles in the scene. Contact her at rotwell@illinoistimes.com.