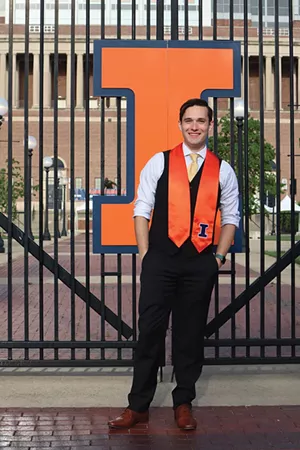 Almost 90% of Illinois' 1,443 documented cases of mpox, formerly known as monkeypox, have been reported in Chicago and elsewhere in Cook County.
But public health officials also want people in central and southern Illinois to consider getting vaccinated against mpox, depending on their risk of contracting the potentially deadly virus.
The Illinois Public Health Association is using $1 million additional grant funding from the Illinois Department of Public Health to promote IPHA's "Know Mpox" public awareness campaign downstate, beginning in 2023.
The association is trying to spread the word about vaccine availability and symptoms, and to get more downstate residents protected against, and treated for, mpox.
"We're taking a very aggressive, precautionary approach, especially after COVID ... to address this right off the bat," said Michael Maginn, an IPHA spokesperson.
The mpox virus is spread through "intimate, physical contact," including sexual activity and kissing, according to the association.
The vast majority of cases diagnosed in Illinois have been among gay and bisexual men who are not in monogamous relationships. A disproportionate number of cases have been detected among Black and Hispanic people, state and federal health officials said.
People at risk also include people with moderate to severe conditions that compromise their immune systems, such as those with the human immunodeficiency virus, or HIV.
People who have been infected with mpox usually don't notice any symptoms during an incubation period of three to 17 days, the association says. After that, people typically experience a rash on their hands, feet, chest, face or near their genitals.
Other side effects can include fever, chills, swollen lymph nodes, muscle aches, headaches and respiratory symptoms. It's believed that not all mpox cases are being diagnosed, because its symptoms can mirror the flu and other ailments, according to Jeffery Erdman, associate executive director of the Illinois Public Health Association.
A resurgence of mpox cases in Chicago – with five cases reported this year before mid-April and 21 cases since then – has added urgency to public health messages as members of the LGBTQ+ community prepare for Pride celebrations this spring and summer.
Gov. JB Pritzker issued a statewide disaster declaration in August 2022, saying mpox was a public health emergency, to coordinate state and local governments' responses to the virus.
Mpox cases first emerged and spiked in Chicago in summer 2022. More than 20 Illinois counties have reported cases, including Sangamon (four cases), Macon (two cases), Champaign (13 cases), McLean (three cases) and Tazewell (one case).
There have been five mpox-related fatalities since summer 2022, IDPH spokesperson Mike Claffey said. The location of those cases was unavailable from the department, though the Chicago Department of Public Health has reported three fatalities among city residents.
Health experts say safer-sex techniques, including the use of latex or polyurethane condoms, can protect the mouth, penis, anus and vagina from exposure to mpox.
But the U.S. Centers for Disease Control and Prevention says on its website, "condoms alone may not prevent all exposures to mpox since the rash can occur on other parts of the body."
Doctors and scientists are researching the long-term health implications of mpox, but Maginn said they do know that the two-dose mpox vaccine regimen reduces the chances for infection or developing severe illness.
The JYNNEOS vaccine was in short supply in many downstate areas last summer, but supplies are more plentiful now, Maginn said. There is no charge for the shots, which use a weakened form of live mpox virus that is incapable of causing infection.
Both doses of the vaccine, with the second dose given about a month after the first, are necessary for full protection, Maginn said.
It's been a challenge getting patients to return for the second dose, he said. In Chicago, between 58% and 66% of people in the 25-34 and 35-44 age groups who received a first dose of the vaccine didn't return for a second dose, according to the city's health department.
Jacob Wargo of Champaign said he received a first dose of the mpox vaccine at the Sangamon County Department of Public Health and is scheduled to get a second dose in June.
Wargo, 22, recently graduated with a bachelor's degree in political science and a minor in Mandarin Chinese from the University of Illinois at Urbana-Champaign. His stepfather lives in Springfield, and he has a job lined up at the Illinois Capital Development Board.
Wargo said he is single and gay. He said his friends from suburban Chicago encouraged him to get vaccinated.
"If you're at risk, you should get the shot," he said.
Wargo said members of the gay community in Champaign County openly discuss health issues. That's not the case in Jerseyville, where he grew up, he said.
"I don't think people in my hometown are very aware," he said. "A lot of gay people are closeted."
The Illinois Public Health Association is offering a texting service to help people find vaccination centers near where they live. The service can send them vaccine appointment reminders and a list of mpox symptoms.
To access the locator service, text the word "Mpox+" to 36363 followed by your ZIP code, with no spaces after the plus sign. For Spanish, text "MpoxES+" and then the ZIP code.
For vaccine appointment reminders, text "MpoxVax" or, for Spanish, "MpoxVac."
For symptoms, text "MpoxSymptoms," or for Spanish, "MpoxSimtomas."
The health association also operates a website, KnowMpox.org. The association can be reached at 217-522-5687 or ipha@ipha.com.
Dean Olsen is a senior staff writer at Illinois Times. He can be reached at dolsen@illinoistimes.com, 217-679-7810 or twitter.com/DeanOlsenIT.