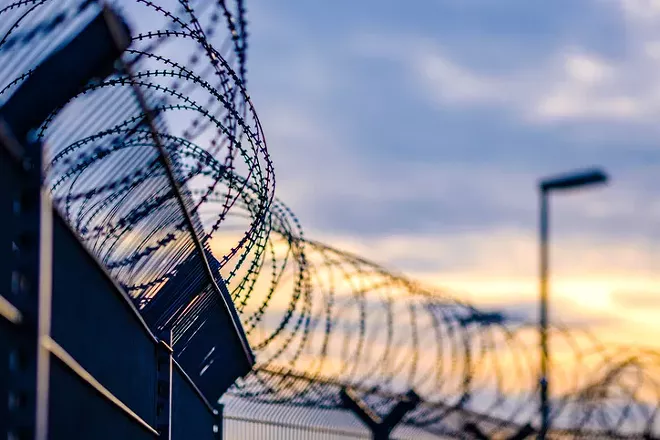 Illinois prisons house 18% fewer inmates today than in March, and more change is needed, state corrections director Rob Jeffreys told lawmakers during an Oct. 13 hearing focused on prison reform.
"The numbers haven't looked like this since 1992," Jeffreys told a joint meeting of the Illinois Senate Criminal Law committee and Senate Special Committee on Public Safety, which is holding a series of hearings on criminal justice reform. "We're focused on implementing new reforms that will end the cycle of incarceration for thousands of families."
Early releases aimed at corralling coronavirus account for much of the reduction in prisoners since March, Jeffreys testified. The state's inmate population peaked at 49,401 in 2013 and stood at 32,167 on June 30, with reductions in the number of inmates beginning under former Gov. Bruce Rauner. Fifty-five percent of the state's inmates are African American and an additional 14% are Hispanic.
Activists on Tuesday testified that too many people are going back to prison for violations of release conditions and that conditions of release, particularly for offenders who are homeless or on electronic monitoring, are unnecessarily onerous.
Prison buildings are dilapidated, testified Phil Whittington, corrections policy analyst for the John Howard Association, a Chicago-based prison watchdog group, and there are few programs to keep inmates occupied. Whittington joined others in criticizing the state's mandatory supervised release program, Illinois' version of parole, which critics say results in people being unnecessarily returned to prison. "There is no doubt that MSR needs to be overhauled," Whittington told lawmakers who convened in a virtual meeting.
Jeffreys didn't necessarily disagree with critics, particularly those who said that the mandatory supervised release program isn't distinguishing offenders who pose genuine risk from those who do not, and so people are being returned to prison who pose no threat to public safety.
"I will be mute on it," Jeffreys said on the question of whether the state's release program is setting up people to fail instead of helping them succeed. "But everybody was spot on. We have work to do. We can make some real reform here in Illinois."
The series of hearings was prompted by the Illinois Legislative Black Caucus, which aims to push for reform legislation as soon as the upcoming veto session, which is scheduled for after the November election.
Madeleine Doubek, executive director of Change Illinois, urged lawmakers to put an end to a practice dubbed prison gerrymandering in which inmates are counted as residents of towns where they are incarcerated instead of communities they consider home. That results in under-representation of neighborhoods when congressional and other election districts are drawn every 10 years, while artificially inflating the population, and political influence, of areas with prisons. No politician, Doubek said, holds town hall meetings in prisons.
That drew a muted challenge from Rep. Terri Bryant, R-Murphysboro, a member of the House Criminal Law Committee who attended the Senate hearing as a guest. "I'm certainly willing to do that," said Bryant, who asked corrections officials for protocols so she could hold town hall meetings in prisons within her district. "If you would all put together what that procedure would look like, I would appreciate it." A corrections official at the hearing said the department would do so.
Bryant, a former prison administrator, agreed with reformers on at least one point. The state, she said, needs more transition centers for offenders close to release. Such centers typically offer vocational and substance abuse programs aimed at helping inmates succeed on the outside. The state has four such centers, none, Bryant noted, south of Peoria. Victor Dickson, president of the Safer Foundation, a Chicago nonprofit that helps former inmates find jobs and housing, said a 200-bed transition center would cost $7 million a year to run and would house 400 people during the course of a year while providing employment and contracts for vendors. "You can easily cost-justify it," Dickson told lawmakers. "It's creating jobs in areas that need jobs."
Bryant noted that offenders in the mandatory supervised release program have not completed their sentences, and she declared her mind open. "It's an early release," she said. "I'm willing to support some of these ideas, I'm not willing to support others."
Contact Bruce Rushton at brushton@illinoistimes.com