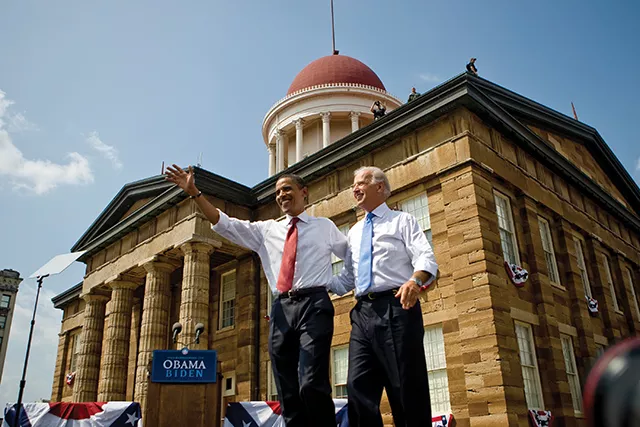 Four presidents with personal ties to Illinois left an indelible mark in American history. Thanks to the Abraham Lincoln Presidential Library and Museum (ALPLM), these presidents' legacies are recognized in a new exhibit.

"From Illinois to the White House: Lincoln, Grant, Reagan, Obama," opened at the ALPLM on March 23. The exhibit honors Presidents Abraham Lincoln, Ulysses S. Grant, Ronald Reagan and Barack Obama, who all lived for a time in Illinois.

In a ribbon-cutting ceremony, ALPLM executive director Alan Lowe explained the significance of honoring these presidents in time for Illinois' bicentennial. "We want to show how Illinois, as it celebrates its bicentennial, should be proud of a lot of things, including its contributions to national leadership," said Lowe. "In the exhibit, you'll see how these men connected with Illinois, how the state helped groomed them into leaders and how they left a legacy here in this state and around the world."

ALPLM Communications Director Chris Wills described in an interview how the exhibit came into fruition. "For months, we had a lot of people who came together to answer the question of 'How do we cover 200 years-plus of Illinois history in one exhibit,'" said Wills. "Eventually, Director Lowe had the idea that we should zero in on the four presidents who called Illinois home and tell their stories, which are the really important stories of Illinois, as they take the visitor from the early frontier days of Lincoln to the modern days of Obama."

Wills discussed his favorite relic at the exhibit, the table used by Robert E. Lee and Grant at the Appomattox Courthouse in 1865, marking the end of the Civil War. "There is the table that General Robert E. Lee sat at and signed the surrender to General Grant to essentially end the Civil War," he said. "I just can't think of anything more substantive in our country's history than having that table and thinking about what took place there," he said.

Artifacts at the exhibit include the note cards President Reagan used for his 1987 "Tear Down This Wall" speech at the Berlin Wall, a picture of Obama as a community organizer with Chicago Mayor Harold Washington, the Bible that rested on Grant's head when he died in 1885 and a rail-splitting axe once used by Lincoln, as well as his ink pen and briefcase used during his time as a lawyer in Springfield.

The exhibit hosts an interactive trivia game testing visitors' knowledge about the four presidents. They are given the chance to simulate Lincoln's famed "Gettysburg Address" by reading the speech off a teleprompter.
"This nation would be much different today without the contributions of these four presidents, and they in turn would have been much different without Illinois' influence on their characters and careers," Lowe said. "The state's 200th birthday is the perfect time for people to get to know these fascinating leaders."
Wills hopes visitors gain a sense of pride in witnessing how their fellow ordinary statesmen rose to become extraordinary citizens of the world. "These four guys with Illinois roots kept the country together when it was falling apart. They helped fight the Civil War, they helped fight the Cold War and they took us into the modern age," he said. "It's important to Illinoisans to come here and say 'These people from Illinois had a huge impact.'"

The exhbit, sponsored by the John Ullrich Foundation and PNC Bank, runs through the end of the calendar year. The exhibit includes no extra fee, as it is part of the museum's general admission price.

Alex Camp is a master's degree graduate in Public Affairs Reporting from University of Illinois Springfield. He is currently a freelance journalist. Contact him at acamp4@uis.edu.