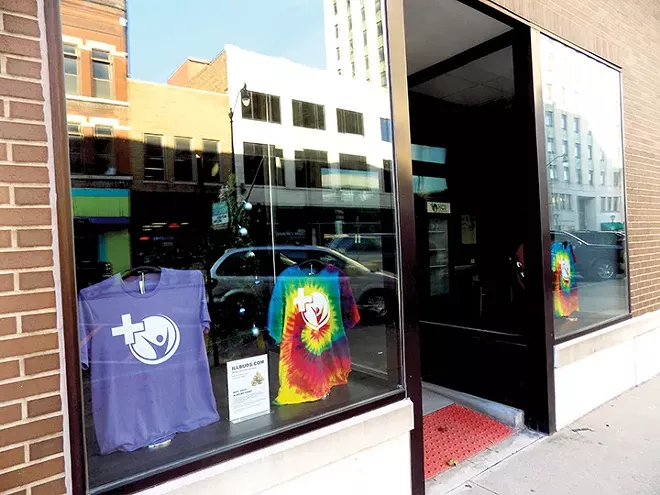 Springfield's only existing marijuana dispensary is seeking a permit to allow on-premises consumption of marijuana once pot becomes legal for recreational use on Jan. 1.
Ascend Illinois, also, is asking for city permission to sell recreational marijuana on the 600 block of East Adams Street, where the company already operates a medical marijuana dispensary called HCI Alternatives. The recreational side of the business would be known as Illinois Supply and Provision, according to a recent interview with Chris Stone, an adviser to the company.
Attorney Thomas Pavlik, who represents Ascend Illinois in the permit request, referred questions to Stone, who did not respond to messages this week seeking more information about plans for onsite consumption. A hearing before the Springfield Planning and Zoning Commission is scheduled for Dec. 18.
Neither Ward 5 Ald. Andrew Proctor, who represents the area, nor Mayor Jim Langfelder said they were aware that Ascend is seeking permission to allow onsite consumption of marijuana, but neither expressed opposition. Proctor said he's heard no objections from constituents about the prospect of a downtown business selling pot to consenting adults. The mayor said such a business might draw folks downtown.
"It doesn't bother me," Langfelder said.
Some nearby business owners say it's a good idea.
"I'm for anything that increases traffic in downtown Springfield – anything legal," said Marc Maslauski, owner of Jim Herron, Ltd., a men's clothing shop less than a block away from the Ascend site, which is quartered in a building once occupied by the Illinois Department of Commerce and Economic Opportunity.
The site is walking distance from the President Abraham Lincoln Hotel and Wyndham Springfield City Centre, which together have 670 rooms, the largest concentration of lodging in the city. Ascend also is planning a recreational marijuana shop near the Crowne Plaza hotel on the city's east side, signaling a strategy of drawing from tourists to boost business.
Mark Kessler, owner of Recycled Records, a record shop across the street from Ascend, endorsed the idea of a pot-smoking lounge near his business.
"My biggest concern is parking," Kessler said. "I think you're going to get a lot of people down there — certainly, when it starts out, it's going to be popular. I think you just put up with it for awhile. It's good for Recycled Records."
Kessler said the existing medical marijuana shop has caused no problems.
"If they've had any problems, they've kept it down," he said. "They do have people who walk around with guns on their hip. The world is full of crazy people. They have security in those places, and I think that's excellent. ... I like them there. It draws people to our street. If you do something right, they'll come back."
Recycled Records is known for playing music outside its store to serenade passersby. Kessler said he doesn't think the presence of a lounge for pot smokers would significantly affect the playlist. But he allowed there might be some change.
"You'll probably find less Randy Travis," he said. "I think you're going to find more music that appeals to people who like to get high."
While Ascend seeks city permission to allow onsite marijuana consumption, the Sangamon County Board on Tuesday approved a measure limiting the number of pot shops in unincorporated areas to two and banning onsite consumption at pot shops. Sheriff Jack Campbell, who has opposed legalization of marijuana for recreational purposes, said that allowing people to consume marijuana at sites that sell marijuana isn't a good idea.
"It's just one more possibility of someone who could be enticed to partake too much and then try to drive home," Campbell said. "I'm just trying to avoid one more possibility of someone driving impaired and causing a tragedy."Maribis, located in Grandview and the only other existing marijuana shop within Sangamon County aside from HCI Alternatives, last month received state permission to sell recreational pot. Don Craven, attorney for the Village of Grandview, said he's not aware of any application from Maribis to allow onsite consumption. Dan Linn, Maribis manager and executive director of the Illinois chapter of the National Organization to Reform Marijuana, could not be reached for comment.
On Wednesday morning, a dozen people waited outside HCI Alternatives in Springfield, waiting for the shop to open. They said they came early because there's been a shortage of medical marijuana as the state prepares for recreational sales, and a corresponding increase in price. Top-shelf product, they said, sells for as much as $70 for an eighth of an ounce, double the street price. But the quality in licensed shops is better, they said. And going without isn't an option.
"It's right up there with food," said Chuck Combs of Springfield.
Contact Bruce Rushton at