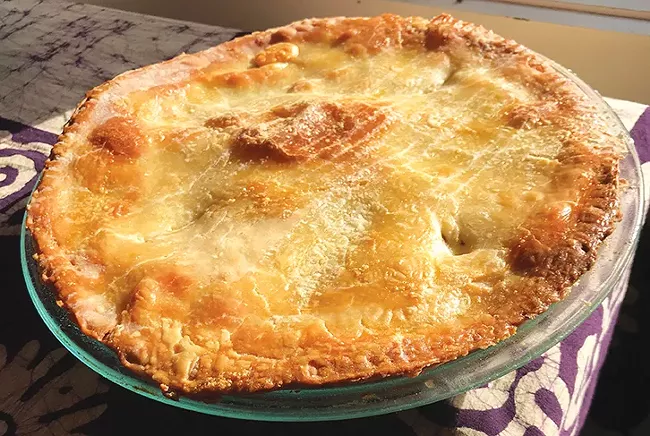 With the recent legalization of recreational marijuana in Illinois it might be "high" time that an alternative weekly newspaper publishes a food article about the nuances of cooking with cannabis. As a chef working in Oklahoma City, where there are more dispensaries than there are McDonalds and Subways, I just might be the one to write it. But as a retired health care professional, I'm just not going there.
However, I couldn't resist the temptation to use a bit of sensationalism to introduce today's topic: pot pies.
A pot pie is a savory top-pie (and also often bottom-crusted) filled with meat and/or vegetables. I grew up in the post World War II era when traditional home cooking had given way to frozen convenience foods. Swanson chicken pot pies were a staple of my childhood, though they weren't really that good. The crust was thin and rubbery, the gravy was salty and mucilaginous, and the peas and potatoes were responsible for making me think that I hated vegetables. Yet compared to the other staple of my childhood, Banquet Salisbury Steak TV dinners, Swanson pot pies were the lesser of evils.


When we were newly married college students living in a trailer court five miles off campus, my late wife Julianne would often pack picnic dinners on the days that we had evening rehearsals. When she decided to make a chicken pot pie, I was less than enthused. When she produced a gorgeous flaky crusted nine-inch pie and cut me a wedge, I was totally blown away. I've never forgotten that meal. Unlike the Swanson pot pies of my youth, this was so good. Yet I don't recall her ever making another ever again.


Throughout history savory pies have been a part of many food cultures. They were a popular item on Roman banquet tables. Savory pies were popular among royalty during the Elizabethan period and enjoyed by commoners as well. Cornish pasties, a staple of the iron and copper mining towns of Michigan's Upper Peninsula, are modern-day culinary descendants.


At my restaurant in Oklahoma City we serve individual meat pies as part of our 10-course tasting menu. For our vegetarian diners I'll swap out a mushroom filling for the meat filling, and I actually prefer the plant-based option. Every week we make a large batch of pate brisee (pie dough) and there's always some dough left over for me to take home to make my own full-sized pot pie. A slice of mushroom pot pie accompanied by a nice salad is one of my favorite meals on my days off.
It's well worth your time to make your own pie dough. Julianne wrote an excellent article about how to make pie crusts in her IT column in 2012. Her helpful instructions can be found here: https://www.illinoistimes.com/springfield/as-easy-as-pie.


Mushroom pot pie
Makes 1 nine-inch pie
Serves 6-8

Ingredients
For the mushroom gravy:
2 tablespoons olive oil
4 tablespoons unsalted butter, divided
1 medium onion, chopped
1 tablespoon tomato paste
1/2 lb. cremini or button mushrooms, roughly chopped
2 sprigs of thyme
4 cups vegetable stock
3 tablespoons all-purpose flour
Salt and pepper to taste
For the mushroom filling:
2 tablespoons butter
1 medium onion, chopped
1 medium carrot, diced
1 medium fennel bulb, diced
1 lb assorted mushrooms, sliced (I like a blend of maitake, crimini, oyster and shiitake)
Chilled pie dough for a double-crust nine-inch pie, homemade or store-bought
1 egg, beaten

Preparation
Preheat the oven to 375 degrees F.
For the mushroom gravy:
Heat 2 tablespoons each of olive oil and butter in a saucepan over medium heat. Cook the onion until soft, 10 -15 minutes.
Add the tomato paste and cook, stirring continuously for 1 minute.
Add the cremini or button mushrooms and cook until softened and the liquid has evaporated.
Add vegetable stock and thyme sprigs and simmer until reduced by half, about 30 minutes.
Strain through a fine-mesh sieve into a bowl and discard the solids.

Make a roux. Heat the remaining 2 tablespoons of butter in a large saucepan over medium heat. Add the flour and cook, whisking continuously, until the flour begins to smell nutty, thickens and lightly browns.


Whisk in the reserved broth, increase the heat to medium-high, whisking continuously. Bring to a simmer and then remove from the heat. Season with salt and pepper to taste.

For the filling:
Heat 2 tablespoons of butter in a large skillet on medium heat and sauté the onions, carrots, and fennel until soft.

Add the mushrooms and cook until browned. Season to taste with salt and pepper.

To assemble:
On a floured surface, roll out the pie pastry into a circle big enough to fit into a nine-inch pie pan with a couple of inches of overhang. Gently fit it into the pie pan without stretching the dough. Place the pastry-lined pan in the refrigerator while rolling out the top crust.


Roll the remaining half of the pastry into a circle large enough to completely cover the pie pan with a couple of inches of overhang.


Remove the pastry-lined pie pan from the refrigerator. Fill with the sauteed mushroom mixture. Top the mushroom filling with the mushroom gravy.

Gently cover the pie with the top crust. Bring the bottom overhang over the top overhang and trim off any excess. Pinch the edges with your fingers or a fork to seal, then make a few cuts on the top to allow the filling to vent.

Brush the top of the pie with the egg wash.

Place the pie on a rimmed baking sheet and bake in the oven for about 45 minutes, until the crust is nicely browned.