David Estes should ask Ancestry.com to check his DNA for a museum-founding gene.
His mother, Betty, late tourism director for Pontiac, Illinois, founded the town's popular Route 66 museum in 2004. Not to be outdone, David's father, Dal, built the Livingston County War Museum upstairs in the same building a few months later. These days David, a Vietnam veteran and former high school French teacher, continues the legacy by overseeing the War Museum.
He joins a dedicated group of volunteers trying to make Pontiac, population 12,000, known for more than its state prison and I-55 rest stop for travelers hurrying to and from Chicago. Those who take the time to pull off the highway will find those two museums – and three more, including a one-of-a-kind gilding arts museum – worth a visit.
Visitors also will discover a town full of outdoor murals and a charming courthouse square.
A good place to start is just off the square at the Illinois Route 66 Hall of Fame and Museum on the first floor of the town's old fire station. The museum's display cases highlight stops along the Illinois portion of the route, from Lou Mitchell's restaurant in Chicago to the Hi-Way Tavern in Edwardsville.
Hall of Fame plaques honor 80 people or businesses instrumental to the road's fame and fortune. Other items showcase quirky memorabilia.
Rose Geralds, a docent for nine years, says some of the most popular exhibits are Route 66 legend Bob Waldmire's Volkswagen van inside and his converted school bus/home parked outside. The late Springfield-area artist willed them to the museum.
One family's donation of Illinois license plates from 1912 to 1984, including those made from soybeans during WW II, fills a wall. Postmarks from every post office along Route 66 from Chicago to Santa Monica took the collector three years to acquire, Geralds says.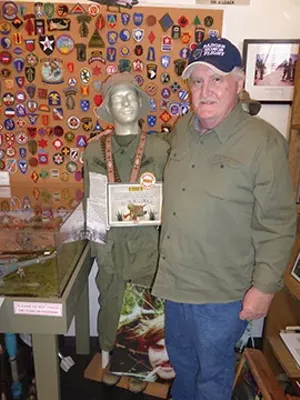 "Everything has been donated or brought in," she says. "I've heard this is the biggest Route 66 museum, and some visitors say it is the best." The museum draws a lot of international visitors, and Geralds says she has hosted people from as many as 19 different countries in one day. Many come during the road's annual Red Carpet Corridor Festival, stretching from Joliet to Towanda and scheduled this year for May 5.
She credits Betty Estes with the museum's success. "Till the day she died, she was a 66er." Her husband, meanwhile, collected military memorabilia. He had landed on Omaha Beach on D-Day.
David Estes said his father had a small collection in a small room in their house. "My mom wanted it out of our house and told Dad, 'It goes or I go,'" according to David. After Betty became Pontiac's first tourism director, Dal opened the military museum on the building's third floor, and many veterans started donating items.
Today the collection includes 250 mannequins dressed in military uniforms worn by local service men and women, with their pictures and information tags attached. Some small hand weapons, ammunition, books, flags and photos of planes and troops complete the display. The goal is to educate visitors about the "250 stories we tell here," David says.
"We love getting field trips in here and we do Skype in the Classroom all over the United States and in 15 other countries," he explains. "We bring in a veteran and kids ask questions."
The second floor of the museum complex houses the small Walldog Mural and Sign Art Museum, a room with music from the Civil War, an exhibit of Bob Waldmire's art and a gift shop with an abundance of Route 66 items. The Walldog museum has videos of the traveling mural painters at work, painting equipment and examples of murals.
Pontiac hosted the Walldogs in 2009, when they completed 18 murals on downtown buildings. Local artists have added a few more, and visitors can follow sidewalk footprints to view the art.
They also should hoof it over to the Museum of Gilding Arts, the only gilding museum in the United States, according to docent Cindy Neaveill. The small museum has original tools, workbenches and floors from a Connecticut factory dedicated to the ancient art of applying gold leaf.
Pontiac landed the museum through a connection between one of the Walldog mural painters and the factory owners, who were looking for a museum location. The mayor at the time jumped at the chance to host it, and the museum opened in 2015.
"A long time ago there were gilders in Pontiac," Neaveill says. "There are four gilders in Chicago who come down regularly. When they are here, they are just in heaven." Non-gilders can learn about the craft through numerous information panels and gilded examples.
Pontiac also was the natural choice for a museum dedicated to cars with that name. The Pontiac-Oakland Museum and Resource Center opened in 2011 as the only all-Pontiac museum in the world, according to Joy Henderson, who oversees the gift shop.
She says Museum Director Tim Dye and a friend had gone to a Pontiac car show in Chicago and on their way home to Oklahoma saw the sign for Pontiac. "He was a Pontiac fanatic so he had to check this Pontiac out," she explains. The mayor called Dye the next day to discuss setting up a museum honoring Pontiacs and their predecessor Oaklands.
The museum featuring vintage autos and historic Oakland/Pontiac gear is especially popular with international visitors touring Route 66, Henderson says.
All of the Pontiac museums are free but appreciate donations.
For more information about Pontiac, its museums and their hours, go to www.visitpontiac.org or call 815-844-5847.

Mary Bohlen is a Springfield travel writer who is exploring Illinois in honor of the state's bicentennial in 2018.