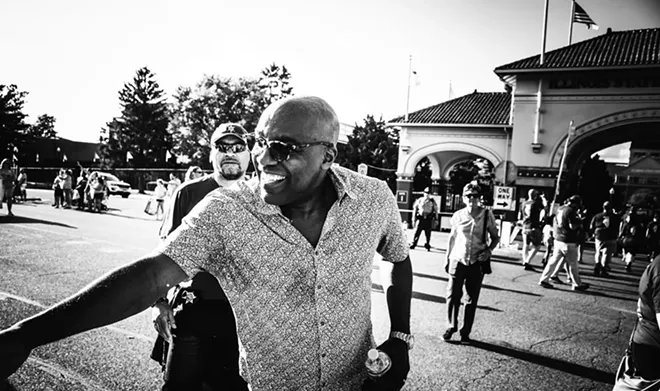 Doris Turner can't remember a time in the past 30 years she hasn't been a part of the Twilight Parade. "It is such a Sangamon County tradition. And it seems like we're losing so much of our traditions during this time of pandemic ... it really is a drain on our community as a whole," said Turner, a Springfield city council member and chair of the Sangamon County Democratic Party.
"The Twilight Parade was not only symbolic of the opening of the state fair, a major event in Springfield and central Illinois, but it was a time when all of our candidates, all of our officeholders, would get together in one place, meeting and greeting constituents."
For the first time in recent memory, the state fair is canceled. At the same time, candidates from the top of ticket on down are struggling to get out campaign messaging mid-pandemic. In-person events such as the parade are chances for candidates to connect with constituents, and the fair is steeped with other political happenings, such as booths for officeholders, Republican and Democrat days and related gatherings. In a world where voters are deluged with political ads, face-to-face events are still valued. But now alternatives must be used to get out the message, and to get out the vote.
While the big talk of 2020 is the presidential race, Springfield-area voters have other contested races to consider. One with national attention is the race between Democratic nominee Betsy Dirksen Londrigan and incumbent Republican Rodney Davis for the 13th Congressional District. Londrigan came close to unseating Davis in 2016. Numerous county races are uncontested, though Republican state's attorney Dan Wright faces Democratic hopeful Michael Drake. Of 15 county board positions up for election, six will have Democrats and Republicans facing off, while the rest have Republicans running uncontested.
Turner said social media is more important than ever and Rosemarie Long, chair of the Sangamon County Republican Party, agreed. "I think social media tops the list of the new and most-used tools for campaigning," said Long. Another tried-and-true socially distant method will also be put in practice – phone calls. But in general, Long said this year is "definitely going to be exceedingly difficult." For safety reasons, canvassers won't be knocking on doors to have conversations about candidates.
John Keating, a lifelong Springfield resident and 32-year-old stay-at-home parent, is running for office for the first time this year as a Green Party candidate. He's running to represent the 96th Illinois House District. With little funding and no paid staff, social media and a website are two of the ways he's getting out word of his candidacy and position on issues. "My social media platform is very organic. I've built it over a number of years through the activism that I've done," he said. Earlier in the year, he earned attention for counter-protesting demonstrators who are anti-mask and COVID-19 related mandates. He also helped organize anti-racism demonstrations. He said he plans to have online forums as well as in-person ones in outdoor settings with social distancing. Keating said for his generation, it's "second nature to take pictures of things, post what we're doing. And for me, it's a way to show people that they aren't alone."
Get-out-the-vote efforts generally will be different this year. Voters will be urged to cast their ballots by mail. While running for the top spot in Illinois, Gov. JB Pritzker blanketed registered voters across the state in 2016 with applications to vote by mail. "Candidates have found that's an effective tool for them," said Matt Dietrich, spokesperson for the Illinois State Board of Elections. A new election law requires all county clerks to send out applications to vote by mail to registered voters. Dietrich said priorities are to educate voters of the options available to them and ensure in-person voting options are "as safe as possible." Early voting hours will also be expanded. And one thing even those who don't vote this year will likely notice – Election Day, Nov. 3, was declared a state holiday.
Contact Rachel Otwell at rotwell@illinoistimes.com.