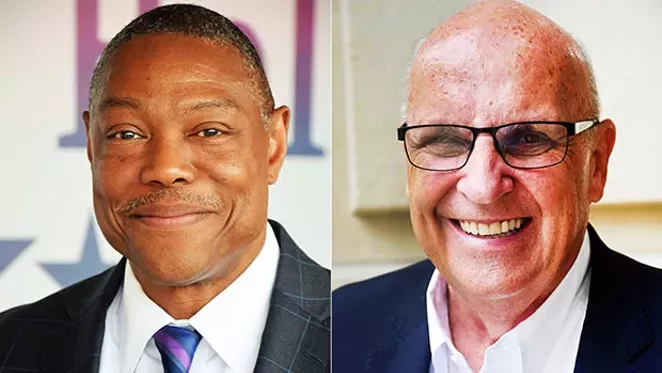 The two men running for the 99th District State Representative seat in the Nov. 6 general election had the exact same thing to say about each other:

"He's a nice guy."
Democrat Marc Bell and Republican Mike Murphy have known each other for several years and have ridden bicycles together as members of the Springfield Biycle Club. Both are longtime area residents who have worked and raised families in the district and have served on local boards or commissions. Bell and Murphy each have twin grandchildren on the way.
Bell, a retired Illinois State Trooper, and Murphy, a retired Springfield restaurateur, are looking to replace State Representative Sara Wojcicki Jimenez, a Republican who announced she will be stepping down at the end of her first four-year term rather than running for reelection. The two candidates for the primarily western Sangamon County district face a task nearly as daunting as squaring off against each other – making voters aware of who they are and what they stand for in a year where political advertising and vitriol are predicted to shatter all previous records in the state.
"If you're just trying to get your voice out there, you are competing against wall-to-wall commercials. It's probably going to be a $250 million governor's race," said Kent Redfield, emeritus political science professor at University of Illinois Springfield. "Running for office takes money, and you either have to have money yourself, have friends who have money, or you have to make friends with people who have money.
"If someone has been a local official, for better or worse you've got a voting record and some name recognition, but a lot of people probably don't know a lot about either candidate," Redfield said. "And we are talking about a district that is not targeted, so state party organizations likely won't be very involved in the race."
The 54-year-old Bell, a Chatham resident, has taken a grassroots approach to his campaign.
"We're on Facebook, we don't have enough money yet for TV ads, we're out knocking on doors, we'll probably do some radio ads, we've got some signs out," Bell said. "Hopefully we'll get some media coverage so people can see who we are as candidates."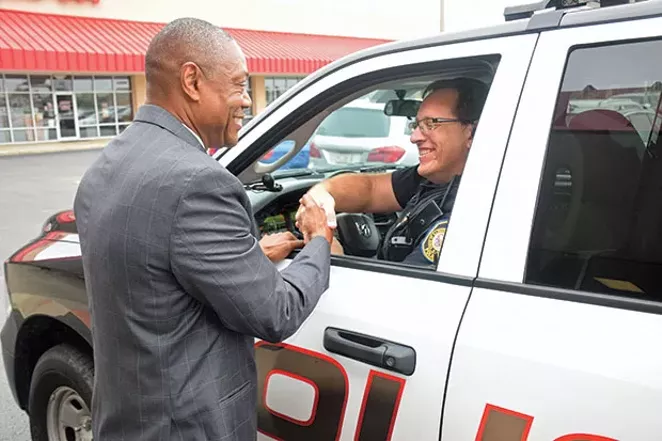 Bell has gotten some donations from organized labor and although it hasn't come yet he would welcome funding from the Democratic Party of Illinois. But he said any such infusion of cash from the state party wouldn't affect his stance on the issues.

"I do have my own mind, and a lot of my thoughts are similar to theirs but not always," Bell said. "A lot of the Democrats are from the Chicago area and central Illinois is a little bit different. It's my job to represent the citizens of the 99th District with what they need. That is how I will be making my decisions."
Springfield resident Murphy, 64, is making do with primarily smaller donations as well and hasn't yet received any major Illinois Republican Party contributions, although he has been supplied with an intern to help on the campaign.
"We've talked and they give me help and advice if I ask for it, but financially, I haven't received any and haven't asked for any," Murphy said. "If it comes I won't turn it down, I just hope I don't need it.
"We're out at events and we walk door to door," Murphy said. "We've done some marketing, we're advertising at bus stops, we have yard signs, some traditional things."
The former eatery operator compared his past life to his current one.
"Running a campaign and running a restaurant are very similar," Murphy said. "You have to take care of your customers' needs, find out what they want. Customer service is customer service whether it's in politics or pancakes."
Personal
Bell was born and raised in Chicago and his parents still live there. He graduated from private schools in the Chicago area, attended Southern Illinois University at Carbondale, and earned his bachelor's degree from Chicago State University.
Bell joined the Illinois State Police right out of college and served there more than 28 years in patrol, environmental crimes investigation, narcotics, internal investigation, the terrorism center and the Medicaid fraud unit. He transferred to the Springfield area in 1997 and settled in Chatham where he has raised his family and resided ever since. Bell retired as a State Police Master Sergeant in 2013 and is now a part-time resource officer for the Ball-Chatham School District.
Bell has been married for 33 years to his wife, Aissa, and the couple have three adult daughters, Falen, Marchay and Lachay. One grandson is named Marc and twin grandsons are on the way.
Bell was appointed to the Chatham Police and Fire Commission by Village President Tom Gray in 2009 and served through 2011.
Murphy was born in Springfield and his family moved to Divernon when he was three. He attended elementary and high school in Divernon, served three years in the U.S. Army and one year in the National Guard.
Murphy attended Eastern Illinois University, was active in campus Republican politics, and worked on Jim Edgar's state representative campaign in 1976. Murphy became good friends with Illinois Senator Max Coffey, and he and Coffey opened a restaurant in Charleston together in 1979, Taco Tiempo. Later, Murphy worked in a Wood River restaurant before returning to the Springfield area for good in 1983.
Murphy was the owner-operator of Charlie Parker's Diner for more than eight years. Some restaurant career highlights included winning the national Thomas Breakfast Battle and hosting presidential candidate Mitt Romney when he made a Springfield campaign stop.
Murphy and his wife, Cindy, a recently retired school teacher, have two married children – son Bobby, a Springfield firefighter, and daughter Megan, who lives in Dallas. The Murphys have three grandchildren with twin grandchildren on the way.
Murphy served on both the school board and village board while living in Divernon, and recently served for six years on the Sangamon County Citizens Efficiency Commission.
Business climate
The number one issue facing Illinois in former businessman Murphy's mind is the state's economic climate.
"We have to figure out how to stop this outward migration. We have people leaving in unbelievable numbers," Murphy said. "We're not exactly business friendly. I have a friend who operates similar companies in Illinois and Indiana and he pays three times the workers' comp in Illinois that he does in Indiana. It was amazing the amount of time that we had to take dealing with the state at Charlie Parker's.
"We have to understand that businesses are going to provide us the opportunities to grow. We don't have that attitude," Murphy said. "I'm looking forward to trying to change that culture in the Capitol."
Bell is also concerned about the state's business climate, but cautioned about going too far with things like workers' comp reforms.
"We have to be really careful about the things that we exclude from workers' comp," Bell said. "You have to look over all employment issues at what people are actually doing and how this would affect them before we make broad changes."
Bell is also not a fan of the tax breaks that have been offered to lure companies to Illinois.
"In the past we've written a blank check to these companies and that doesn't work for me," Bell said. "If a company is going to provide a good number of living wage jobs, because we don't need any more minimum wage jobs, then they need to be accountable for the number of jobs."
Education and jobs
Bell supports linking the state's education system with the job market, what he terms "opportunities for success."
"Starting with pre-k education, we need to educate our children for the jobs that are here now and the jobs of the future and not think about manufacturing jobs, because there is a good chance that those will never come back," Bell said. "We are moving toward high-tech, robotics and skilled labor, and that's the kind of training that we need for our kids."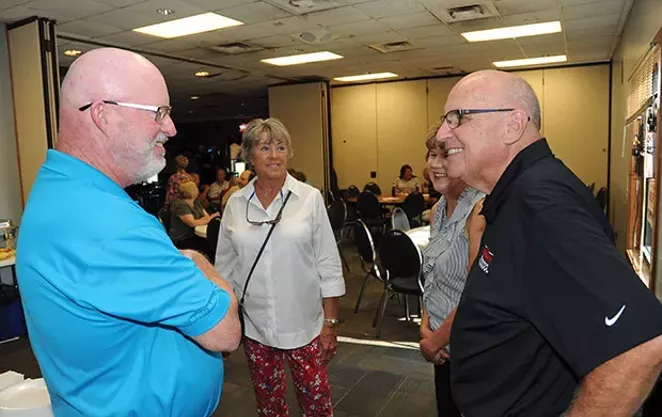 Bell said high school vocational programs, two-year colleges and union apprenticeship programs may be better options for many than a traditional four-year college education and its resulting high student loan debt. He supports more state investment in public schools, incentives to keep college students in-state, and expanding scholarship programs and grants for all Illinois residents.
"Government should be partners with the citizens," Bell said. "We should provide these opportunities, and it's up to the citizens to take those opportunities and do the best they can."
Murphy also believes in working with area colleges to train students for the current and future workforce. Working with startup companies is also a way to create and keep jobs, he said.
"Things like Innovate Springfield are tremendous, we need to support them and help them grow businesses," Murphy said. "Eighty-four percent of the businesses that start here stay in the community.
"We need to have companies that start off with five or ten employees and hopefully they will turn into the next LRS or Bunn or H.D. Smith," Murphy said. "But even if they don't, if we end up with 10 or 15 employees, that's still what we need, jobs."
Fiscal management
Murphy touts his business experience as a plus he can bring to the General Assembly.
"We've had our ups and downs so I understand the importance of good fiscal management, because bad management can get you in trouble," Murphy said. "Government has a purpose, we need to provide great services. But we also need to be fiscally responsible."
Bell said a progressive income tax, increased revenues from gaming machines and legalized recreational marijuana may be good ways to raise additional revenue for Illinois. But he said running state government shouldn't be compared too closely to operating a business.
"Illinois is not a business. If investments or budgeting schemes fail, bankruptcy is not an option," Bell said. "I support a balanced budget that ensures the state can pay its bills and am against balancing the budget on the backs of working people and our state's most vulnerable citizens."
Organized labor
Bell's first job in high school was at a grocery store where he was a member of the United Food and Commercial Workers union. For most of his state police career he was a member of the Fraternal Order of Police Troopers Lodge 41, and when Bell achieved master sergeant he was a Teamsters member, the union that represented the higher rank.
"If you don't have a contract with government or business, they will treat you unfairly if they can," Bell said. "It is evident that the Rauner administration and the Trump administration are trying to bust the unions to bring down the wages of the middle class. That affects our way of life."
Bell is not pleased with the U.S. Supreme Court's ruling in the Janus decision, which did away with "fair share" union support.
"Nothing comes free," Bell said. "Why these people think they can get all the benefits of the union workers and not pay their portion is just ridiculous."
Murphy doesn't have strong feelings about the Janus decision, but gained an appreciation for organized labor when he helped to negotiate contracts for the Divernon school board.
"I respect unions to the Nth degree. Collective bargaining is something great," Murphy said. "We have two factions but we still have to come to a common understanding of what's best for everyone. Now we've got to work on what's best for the state of Illinois."
Partisan bickering
Murphy feels he can break through the existing partisan rancor and work with lawmakers from any political party.
"Downstate Democrats and downstate Republicans have a lot more in common than they realize. There are going to be core issues that we disagree on, and that's fine, that's healthy," Murphy said. "But just because you're a Democrat I'm not going to say 'I don't like your issue.'
"Some of my best conversations at Charlie Parker's Diner were with people who disagreed with me the most, but we laughed and then we would understand and appreciate each other," Murphy said. "One of the things I pledge to do if elected is each week, I'm going to sit down with a member of the other party and just talk, find out that we have common ground, that we can work together on things."
Bell agreed the current us-versus-them mentality in Springfield is not working.
"If I'm way over here and the other person is way over there, we are not working for the people," Bell said. "It's all about compromise. Some of the legislators may have to change, because some of them may be so hard-line that they would never want to come to the middle.
"As I am out knocking on doors, there are some hard-line people, one-issue voters, but as a whole they just want government to work," Bell said. "Compromise is a common sentiment."
Abortion and the Second Amendment
"I am pro-choice. This is the land of the free and people don't want to be forced into having to do something," Bell said. "I don't think we should be forcing people to have babies that they can't support or don't want. But if you want to have as many children as you want to, then feel free. Do what your morality tells you to do."
Murphy is at the opposite end of the abortion spectrum.
"I'm a Catholic and I'm pro-life," Murphy said. "I am adamantly opposed to state-funded abortions. I just do not understand that. House Bill 40 to me was a big mistake and it was a mistake for Governor Rauner to sign it."
Murphy is also firmly in the gun rights camp.
"I am a believer in the Second Amendment," Murphy said. "I will oppose any legislation that seeks to restrict it."
Bell's law enforcement career has shaped his opinions regarding guns.
"To me it's common sense. I'm pro-Second Amendment and I've been carrying a gun for 30 years, but if somebody's got a hundred guns I think he should be labeled as a collector or something," Bell said. "I think there is a legal liability to gun shops and people selling guns to make sure they know who they are selling these weapons to. I believe in gun monitoring. I believe in background checks."
Other key issues
Bell hopes a legislative career will allow him to help those in law enforcement.
"Right now we don't have enough troopers on the road. It's just not sufficient, it's not safe for the officers or the public," Bell said. "And I know that law enforcement has a tougher job now with cameras and social media and how fast information travels. They have a hard time because the community is not supporting them the way they used to."
Murphy feels strongly about pensions, legislative term limits and redistricting.
"I'm not going to take a pension. I think one of the greatest mistakes we've made in Illinois was making a legislator a pension position," Murphy said. "I believe in having a legislator who works and has contact with the people as opposed to getting in a safe district and sitting there for 20 or 30 years and ending up with a huge pension."
The analysis
Kent Redfield, the emeritus UIS political science professor, said both Murphy with his business background and Bell with his law enforcement career bring strengths to the 99th District House race. But Redfield thinks the deck may be stacked in one candidate's favor.
"The 99th District is very Republican," Redfield said. "It's a much more difficult situation for Bell being in a strongly Republican-leaning district without a lot of organizational support to get his name out there. Murphy benefits from a strong county organization with a get-out-the-vote operation."
Redfield said the Sangamon County Republicans have a stronger party organization and greater resources, with almost four times the available campaign funds as the Sangamon County Democrats have.
"I don't expect much state party or legislative leader money to show up in this race because, on paper, it's not very competitive," Redfield said.
"Raising money is a challenge if you're a new person. Lots of interest groups that contribute regularly to the legislature contribute to incumbents," Redfield said. "They want to have access to whoever is voting on the House floor, so the winner of this race will get interest group money after the election."
David Blanchette is a freelance writer from Jacksonville and is also the co-owner of Studio 131 Photography in Springfield.