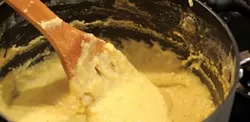 2 c. water or stock
c. grated Parmesan, optional
tsp. salt
2T. butter
c. polenta (cornmeal)
Heat the water or stock in a heavy pot to a simmer. Add the salt. Slowly whisk in the polenta, stirring constantly for about five minutes. Cook another 15 minutes, stirring occasionally. Stir in the butter and cheese, if using, and serve.