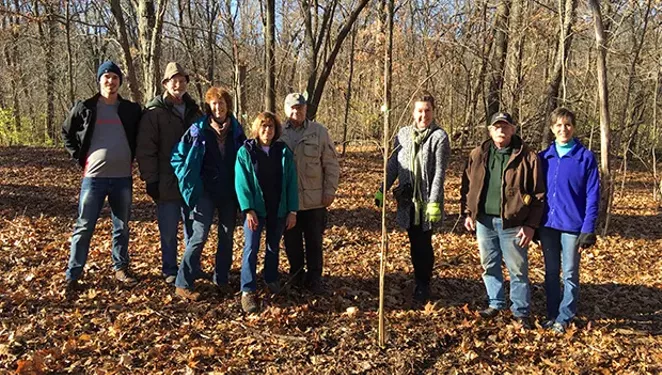 New trees are taking root at Lincoln Memorial Garden, Rotary Park and Centennial Park, thanks to a collaborative project among the five Springfield Rotary clubs. Rotarians purchased and helped plant 175 trees at Lincoln Memorial Garden last December, and in April 22 trees are being planted at Rotary Park and 30 trees at Centennial Park.

Australian Ian Riseley, the Rotary International president for 2017-2018, challenged every Rotary club to make a difference by planting a tree for each of its members between the start of the Rotary year on July 1, 2017, and Earth Day on April 22, 2018. The Springfield Rotary clubs responded to this challenge. There are nearly 165 Rotarians in the Springfield area. The initial goal was to plant 175 trees, but this blossomed to a total of 227 trees. This collaborative project is funded through Rotary District Grants, made possible through donations by Rotarians, and local fundraising efforts by each of the clubs.
For more than 110 years, Rotarians across the globe have worked to make the world a better place. Rotarians take action locally and globally on issues related to literacy, peace, water and sanitation, maternal health, education, eradication of polio and more. President Riseley believes that protecting the environment and curbing climate change are essential to Rotary's goal of sustainable service. "It is my hope that the result of that effort will be far greater than the environmental benefit that those 1.2 million new trees will bring," Riseley says. "I believe the greater result will be a Rotary that recognizes our responsibility not only to the people on our planet, but to the planet itself."
Lincoln Memorial Garden is a 100-acre woodland and prairie garden on the shore of Lake Springfield, designed by the renowned landscape architect Jens Jensen. Invasive species are an ongoing threat to the original design. Areas of invasive species were cleared, and the new trees were planted in accordance with Jensen's original plan for the garden.
Three new species of oaks, American elms that are resistant to Dutch elm disease and a new genus of pecan were planted in groves in several areas throughout the garden. "The bulk of the existing trees at Lincoln Memorial Garden were planted over 80 years ago, and we are beginning to notice some decline in our mature trees," says Lincoln Memorial Garden executive director Joel Horwedel. "Partnering with the five Springfield Rotary clubs helps us ensure that the next generation of Springfield area residents will continue to enjoy the splendor and beauty of this natural landscape."
Springfield Rotary clubs are partnering with the Springfield Park District to plant larger native hardwood trees at Rotary Park and Centennial Park in April. Bluebird houses and wren houses are also being installed at Rotary Park. In addition, Rotarians are making it possible for 100 students from each of the three Springfield middle schools to take a field trip to Lincoln Memorial Garden. Middle school students from Grant, Jefferson and Washington Middle Schools will visit the garden in April for an educational experience that ties into the environmental/ecological science curriculum for seventh and eighth grades.
Another goal of this project is to encourage others to plant trees and increase awareness of the many benefits of planting trees. Trees are a source of beauty, and studies have shown that taking a walk in the woods and being surrounded by nature can help reduce psychological stress. There are numerous environmental benefits. According to the U.S. Department of Agriculture, one acre of forest absorbs six tons of carbon dioxide and puts out four tons of oxygen. Tree-planting can contribute to addressing global climate change due to the ability of trees to absorb carbon dioxide. Trees increase groundwater recharge and help improve water quality by preventing runoff and soil erosion. They are an important part of storm-water management in many cities. Trees provide valuable habitat for wildlife.
Beyond the emotional and environmental benefits, trees also have an economic benefit. Properly placed trees around homes and buildings can reduce air conditioning needs and reduce energy costs. Trees can reduce the heat island effect in cities. Landscaping with trees and having large trees along streets can increase a home's property value significantly. Trees can be a stimulus to economic development, attracting new business and tourism. Trees make commercial retail areas more attractive.
Springfield Rotarians encourage others to join the challenge and plant a tree this spring.
Remember the Chinese proverb: "The best time to plant a tree was 20 years ago. The second best time is now."
Karen Ackerman Witter is a freelance writer and community volunteer whose goal is to connect people, organizations and ideas to achieve greater results. She is president of the Rotary Club of Springfield Sunrise.