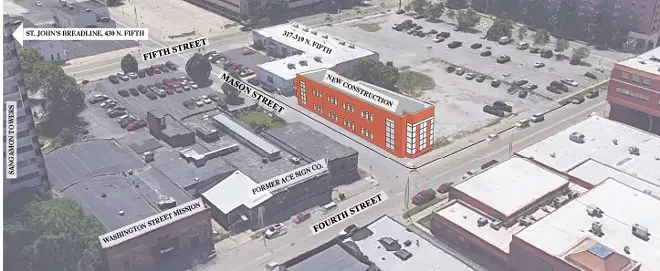 A Springfield architect's proposal to put a homeless center on the northern edge of downtown has drawn praise from a city official tasked with providing services to the homeless.
"I will tell you, it's a great idea," Juan Huerta, city community relations director, said after architect John Shafer unveiled his plan at an Inner City Older Neighborhoods event on Monday. "I like the location because it's close to the Washington Street Mission. It's close to the St. John's Breadline. It's close to Memorial Medical Center and St. John's Hospital, too."
The homeless center would be located in three buildings near the intersection of North Fourth and Mason streets. Sleeping quarters would be in a new building while social services would go in existing structures, including a building once occupied by Ace Sign Co., next door to Washington Street Mission on North Fourth and a former grocery store at 317-319 N. Fifth St., a block south of St. John's Breadline. Shafer presented his plan at the ICON fundraiser as an alternative to a proposed homeless shelter on 11th Street that died in September after Mayor Jim Langfelder raised questions following city council approval. The defunct shelter plan would have included space for social services, including a detox center and a place where people getting off drugs could stay and receive help.
Shafer said he hasn't calculated a price, but needed property appears to be available. He said he didn't meet with anyone from the city or from Helping Hands of Springfield, the homeless center that would have run the proposed 11th Street shelter, before unveiling drawings. He calls it "a very, very preliminary kind of plan."
"In my opinion, there's no place that anyone wants a homeless shelter," Shafer said. "The only logical place, in my opinion, is that area."
It's an idea that has failed before, when the Springfield City Council in 2013 rejected a proposal to put Helping Hands in the former Ace Sign building. The agency subsequently moved to its current location on East Washington Street. The council rejected the 2013 plan in the face of neighborhood opposition that included protests from residents of Sangamon Towers, a nearby apartment building.
"The Sangamon Towers people weren't having it," said Ward 2 Ald. Shawn Gregory, who voted against the 11th Street shelter that would have been opened in his ward. "From my perspective, I think their opinion matters as much as in my ward."
Helping Hands executive director Erica Smith did not respond to phone calls.
Former Ward 2 Ald. Gail Simpson, who voted against the 2013 plan, said Shafer's plan is worth exploring, but the neighborhood should be consulted on the front end. It appears, however, to be a better site than the one on 11th Street, she said.
"Just generally, there are more businesses around that area as opposed to residential," said Simpson, who did not recall her prior opposition to a homeless shelter in the Ace Sign building. "And I think it's a better fit (than 11th Street) – I do. But, again, I would hope that everybody would have the benefit of weighing in."
Ward 5 Ald. Andrew Proctor, whose ward includes the proposed site, said he hadn't heard of the idea until a reporter called.
"Nobody's come to me about the idea," Proctor said. "I think, basically, the whole block is for sale."
Proctor, who voted in favor of the 11th Street site, says he thinks that the plan that fizzled was a good one. "What that exercise has proven and shown is that there's a need," Proctor said. "It's just now trying to find a location." He also criticized the mayor, who was lambasted by aldermen and shelter backers for raising questions about the 11th Street project, even though his own staff helped find the location.
"In the vacuum of leadership, things like this pop up," Proctor said. "Hopefully, he will charge forward on making it a priority to find a location and put it in the upcoming (city) budget."
Ward 7 Ald. Joe McMenamin, the only alderman who was on the council when the Ace Sign proposal was rejected six years ago, said he saw positives in Shafer's presentation at the ICON gathering. Pointing out turnover on the council, McMenamin said Shafer's idea might win approval now.
"All ideas are worth revisiting," said McMenamin, who voted in favor of the 2013 proposal and also in favor of the 11th Street plan. "Anything's possible. ... It is in our community's best interest to move forward with an open mind and to leave past differences behind." That includes elected officials, he said.
"We need to quit acting like the next election is next month and start doing what's best for our city," McMenamin said.
Huerta cautioned that while he likes the idea, important players, including the mayor, were not present when Shafer unveiled it at Monday's ICON event at the Inn at 835.
"I was very impressed with his presentation," said Huerta, who was given an award by ICON on Monday. "There weren't too many city officials there last night. I think it would be a good idea to maybe show more people."
Contact Bruce Rushton at