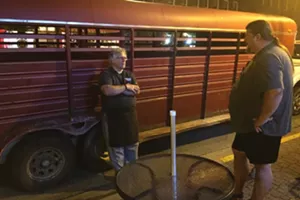 It seems that of late my life's journey has been taking some pretty unexpected turns. The latest fork in the road has me rolling down a hilly two-lane highway in Bertha Bus, my kitchen on wheels. My chef friend, David Radwine, and I had spent the weekend with Carl Blake, a software engineer turned pig farmer and media celebrity.
Carl Blake is an impressive man, both in stature and in spirit. His resume runs the gamut from setting up computer networks for businesses to resurrecting the breed of pigs that allowed King William I of Württemberg to walk away with gold medals in international expositions 190 years ago.
Carl and two of his Swabian Hall piglets have been guests on Comedy Central's "Colbert Report." He has been featured in Andrew Zimmern's "Bizarre Eats" and has been written up in the New York Times. In addition to breeding and raising possibly the best-tasting pork in the country, he has designed and manufactures possibly the best hog roaster on the market. And that is the reason I am driving down a bumpy country road in 100-degree heat on a Sunday afternoon hauling my new custom-built hog roaster.
I've wanted to roast a whole pig for a while but didn't quite know where to begin. I had seen Bobby Flay roast a pig in a "China box" on a Food Network show several years ago. A China box is a metal-lined wooden box with a rimmed metal lid. A pig is placed inside the box and charcoal is burned on top of the lid. Chinese immigrants who came to Cuba in the 1900s to work on the railroads introduced the China box concept.
I wanted to actually see the China Box in action and talk to someone adept in cooking in one before I invested in yet another piece of BBQ equipment. This opportunity arose when I discovered Carl Blake.
A few years ago my friend Eric told me that his mentor in the computer business, Carl Blake, would be appearing on the "Colbert Report." Eric runs a computer consulting business and got his start working for Blake. A near fatal accident in 2007 prompted Carl to reassess his life and leave the computer business to start raising pigs in Iowa. Approaching his new career with a scientist's mind, Blake looked back in history to seek out old prize-winning pig breeds. He learned that in 1821 King William I of Württemburg crossbred a Chinese Meishan pig and a Russian wild boar, which became known as the Swabian Hall. This new breed had bright red flesh, marbling like a Kobe steak and unsaturated fat. It won the pork championship at the 1892 World's Fair.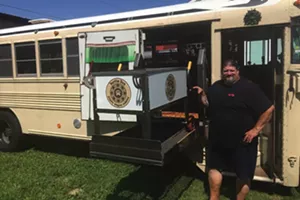 So Carl sought to replicate the Swabian Hall. He acquired a Chinese Meishan pig from Iowa State University and a wild Russian boar from a game reserve, crossbred the two strains and started winning pork competitions such as the 2010 Cochon 555 in San Francisco. He caught the attention of Andrew Zimmern, host of the Travel Channel's "Bizarre Foods," and was written up in the New York Times, which led to his appearance on the "Colbert Report." Carl laughs about receiving the call from the "Colbert Report" producers. "I thought it was a joke so I kept hanging up on her. She persisted and finally gave me a number to call to verify her authenticity." To his surprise and amazement the inquiry was legitimate. They wanted him to appear on the show and bring his pigs.
Blake flew to New York with two piglets (named Hamlet and Li'l Smokey) in a pet carrier. "They weren't going to let me bring the pigs on the plane. My flight was leaving in 10 minutes so I told them to write down that I was traveling with two ugly dogs!" The "Colbert Report" appearance made him an instant celebrity. The next day he was in Times Square standing under the Lion King billboard and someone shouted 'There's the Pig Man!'" He laughs: "It as like an out-of-body experience! It was so bizarre to be standing under the Jumbotron holding up two pigs! People were lined up for blocks!"
Through a Facebook post I learned that Carl Blake had begun manufacturing his own improved version of the China Box. He dubbed his roaster "The American Hot Box." I excitedly placed an order for one that would be customized with my Bertha Bus logo. Last weekend I traveled to Lake of the Ozarks to attend Carl's course, "Anatomy of a Pig Roast," and pick up my American Hot Box.
Unlike traditional pig roasting techniques that can take up to 12 hours, the American Hot Box can roast a 100-pound pig in only four hours. The Hot Box is essentially a big Dutch oven. The pig is secured between two metal grids and lowered skin side down into a well-insulated stainless steel chamber. The chamber is covered with a tight-fitting rimmed metal lid. Glowing charcoal briquettes are evenly spread over the whole surface of the lid. Without removing the lid, the coals are replenished every hour. At the end of three hours, the lid is removed and the pig is turned over, skin side up, and roasted for one more hour. During the last hour the skin becomes beautifully browned and bubbly.
Seasoned with smoked paprika and garlic salt only, our first Iowa Swabian Hall pig emerged from the hot box after four hours perfectly cooked, moist and succulent. Carl Blake claims his pigs are the best-tasting pork in America, and based on what I tasted, he may well be right!
Carl Blake recently passed through Springfield on his way to Peoria and joined Peter Glatz for dinner at an outside table at Maldaner's.