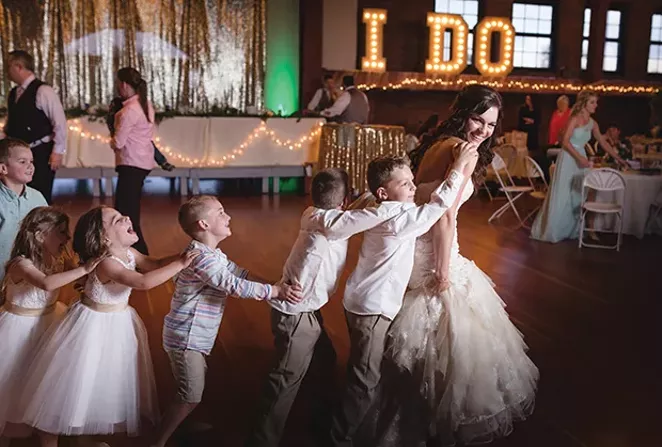 Location, cost, size, ambiance and amenities are all factors in selecting a venue for the ceremony and reception. In addition, it's important to understand how much you will need to do versus what the venue will handle for you. Most people are planning a wedding for the first time and don't fully appreciate the many details involved. Do you want responsibility for making all of the arrangements? Will you need to hire someone to help? Or, do you prefer to make decisions but let someone else make it happen? What is provided varies from venue to venue. Consider what you are willing to do when selecting your location.

For example, some venues have a nominal rental fee but limited on-site services. This is the case at Washington Park, which offers several beautiful settings for an outdoor wedding and a room for receptions. The wedding party is responsible for things such as chair rental delivery and pickup, chair arrangement, sound system rental, liability insurance, greeters, decorations, troubleshooting, catering, plans for inclement weather and more. There is no one on-site the day of the event with responsibility for coordination or troubleshooting.
Some venues provide a full suite of services, including on-site catering, setup and staff with extensive professional experience hosting weddings and receptions. Other sites may be a hybrid, with some services provided by the venue and other services outsourced and the responsibility of the wedding party.
Budget is always an issue. When comparing venue costs, factor in all of the expenses. One site may be less expensive to rent but could cost as much or more after paying for things that are included in another venue's cost.
Working with venue staff
Many hotels and private clubs offer a full suite of services, complete with dedicated professional staff to organize and manage the event. Working with a full-service venue can be a lot less work for the bride and groom. Nevertheless, many things go into making a successful event. It's no surprise that planning and communication are critical.
Joe Burden, general manager of Illini Country Club in Springfield, has years of experience hosting weddings and receptions and creating memorable experiences. He estimates he's overseen nearly 150 weddings, ranging from 60 guests to 300. He brings this extensive experience to bear in working with the bride and groom and family to plan and execute events that meet everyone's expectations. He shares best practices, provides advice on "crowd-pleasers" and what works best at the facility, while accommodating specific requests that make each event unique. Burden offers the following advice for a successful event, which is broadly applicable to full-service venues.
Start the preliminary planning as soon as the date and location are selected.
Hold an early meeting even if the date is a year or more out. Burden's mantra is to present ideas based on best practices and experience and listen to gain an understanding of what the wedding couple wants. Planning is most successful where the bride, groom and parents are all involved and any differences of opinion are resolved.
Develop a timeline for the day.
Everything hinges on the timeline. A well-planned timeline helps to ensure the venue staff knows all the expectations, guests aren't kept waiting, food is ready and served at the right time, and everything goes smoothly. Minor changes to the timeline can and should be accommodated, but drastic changes to the schedule can create problems that lead to an unhappy bride, groom, host or guest.
Once the timeline is set, fill in all the details.
Family and staff should have the same information and expectations about the menu, schedule and what is to happen when.
Ask people managing the venue about other vendors they've worked with and their experiences.
Using photographers, florists, cake providers and musicians who are already familiar with the location can help things go smoothly. Staff at places that routinely host weddings know the reputations and reliability of other vendors. If a vendor has not previously provided services at the venue, make sure the vendor visits the site and meets with the venue staff in advance.
Avoid pitfalls that derail the schedule.
Burden says the most common issues that can "flip the timeline upside down" are the time spent on photographs and the toasts. To avoid getting the timeline significantly off track:
• Determine in conjunction with the photographer how much time is needed for photographs. Plan the timeline accordingly, taking guests into consideration, and stick to the schedule.
• Make sure the photographer has been to the venue in advance at the same time of day photos will be taken during the event. Select in advance the locations at the site where photos will be taken to avoid wasting time scouting out locations.
• Give some thought to who will make toasts and how long they may talk so an appropriate amount of time can be allocated. This is typically a critical point in the schedule when food is about to be served.
• Communicate with the DJ/emcee about the timeline. The DJ or band is often responsible for announcing the wedding party and is key to the schedule.
With a detailed plan and timeline worked out in advance, the bride and groom can simply enjoy their special day and rely on the professional expertise of the venue staff. Issues will undoubtedly arise. But by preventing the preventable problems, it will be far easier to take care of the unexpected.