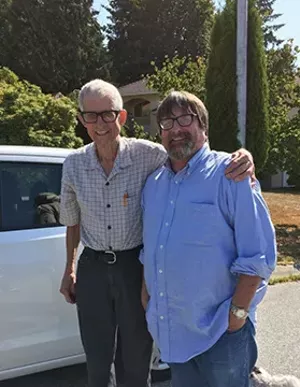 Panic hit at the border.
For months, my father had prepared for this trip to Canada. At 84, he figured this might be his final return to the country where he had lived for his first three decades. He wanted to see the North Vancouver house of his childhood and the nearby stream where he had once fished for trout. He wanted to visit his sister.
He didn't want to get lost. And so months before I arrived for vacation, he acquired a secondhand smartphone and set about learning how to use the navigation function while also keeping his trusty flip phone, which he used for calls and which I took to calling his burner. Old folks can be like that, I've learned. Father knows best, no matter how many times he's assured that Google Maps works the same in every smartphone, and I have a smartphone that works perfectly fine. Just in case, I promised to bring a backup GPS unit which had reliably taken me to the outskirts of San Diego and back again. We made grand plans, including a visit to Vancouver's Chinatown, which is said to offer the best Asian cuisine in North America.
Everything was fine until we were waved into the Great White North, at which point our phones drew blanks. No service. Not for phone calls, not for navigation, not for emails, not for surfing the purported world wide web. The GPS unit, billed as covering all of Canada and the United States, kept asking where in Ontario we wanted to go. British Columbia might as well have been on the moon, and it didn't matter how many times I observed that my phone had worked in Mexico.
Having neglected to bring a road map, we were on our own.
We found a coffee shop, bought a cup and managed to hook up to WiFi that had proven elusive at a McDonalds just down the street – for some reason, the bigger and better known the establishment, the harder it was to find a connection that worked. Using borrowed pen and paper, we wrote down directions in longhand, copying from the smartphone screen. With dad at the wheel – he hates riding shotgun nearly as much as I dislike elderly drivers – and me reading directions, we made it to the family homestead, which didn't look familiar to dad, and the nearby stream, which did. Things had changed a lot since 1948, he observed. Then it was off to the Airbnb we'd reserved for the night.
My father had never heard of Airbnb, but, being a frugal sort, allowed that the bottom floor of a house that came with two bedrooms, a kitchen and a fireplace for half the price of a hotel room was a pretty good deal, even if it was internet spawn. Instead of Yelp, we relied on instinct to pick a place for dinner. We ended up at a Dairy Queen, which served astonishingly good burgers on par with the best small town drive-in anywhere – sometimes, based on how a place smells and looks, you can just tell.
We scribbled more directions after breakfast the next morning at a place that served fantastic hash-and-eggs as well as Yankee-friendly WiFi. My aunt lives on a peninsula accessible only by ferry, and dad fretted that we'd have to ask the fire department for directions once we disembarked. He had forgotten to bring his sister's address, but he'd been to her house years ago, and through memory and dead reckoning, we drove straight there from the ferry terminal.
We didn't venture to Chinatown, but we did eat a lot of backyard-smoked salmon fresh from the Pacific. We didn't watch Netflix, but we did see a broadcast of a Highwaymen show from 1990 while chatting and sipping single malt. We didn't get lost on the way home, but I almost wish that we had.
Always knowing exactly where you are and exactly how to get to where you are going isn't all it's cracked up to be, and not being tethered to the internet can be liberating. If my phone had worked, I wouldn't have spent as much time watching the water and sky and mountains while we were on the ferry. We took a wrong turn once, but that only enabled us to find a nice couple on the street who got us pointed in the right direction, even though they were from out of town and spoke German better than they did English.
For me, going without Google was bearable but not without occasional inconveniences. For my father, it's everyday life. After too many forgotten passwords and too much time wasted on websites that promised to make life easier but never did, he gave up on the internet years ago. I'll never persuade him to restart his computer or take up texting, but before heading home to Springfield, I convinced him to ditch his burner in favor of a smartphone that, unlike the used one that stopped working at the border, will hold a charge. Dad's new phone will work in Canada, and instead of paying two phone bills, he now has one. Challenges remain. Accustomed to his flip phone, my father has had trouble figuring out how to answer calls – sometimes, his finger swipe works, sometimes it does not. Fortunately, the store that sold it to him is a half-mile from his house. And he knows how to get there.