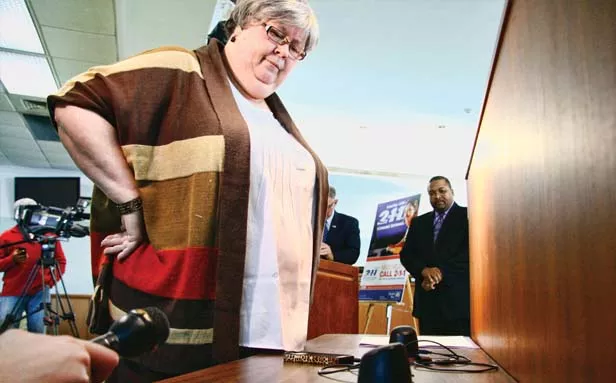 Karen Zangerle dials the number and waits expectantly as a young man answers with a gentle tone. Zangerle explains that her husband has lost his job and the family won't be able to pay an upcoming utility bill. As the young man on the phone tells her where she can find assistance, a knowing smile slides across Zangerle's face.

It's a demonstration of the new 2-1-1 telephone service rolled out last week by the United Way of Central Illinois. The service connects callers with local agencies offering help with bills, mental health, child care and more. Zangerle is executive director of the Bloomington-based PATH Crisis Center, which operates the service.

The 2-1-1 concept is similar to the commonly-used 9-1-1 emergency number, but instead of providing police, fire and ambulance support, 2-1-1 deals with less immediate crises. Zangerle says about 45 percent of calls to 9-1-1 services nationwide are not actually emergencies, and many 9-1-1 operators refer non-emergency calls to 2-1-1 instead.

"When I first heard about 2-1-1 in the late 90s, I said, 'This solves our problem,' because so frequently, people don't know where to turn when something happens," Zangerle said. "We get all kinds of calls: people who need rent assistance, people without medical coverage who need to see a doctor. We talk to people who are having problems in their relationships and want to talk about marital counseling that doesn't cost very much. These are all 2-1-1 calls."

John Kelker, president of the United Way of Central Illinois, said about 107 service agencies in Sangamon County are currently part of the database that 2-1-1 will use to refer local callers, and he hopes to add more.
"There's a number of faith-based organizations that are providing good services in our community," Kelker said. "We want to make sure as we get the message out, we want to get as many services in that database as possible."

Kelker says the multilingual, toll-free service is available 24 hours a day, seven days a week.

"We recognize that there continues to be a growing need for individuals and families to get various kinds of assistance from health and human services," Kelker said. "2-1-1 makes access to these resources much easier, eliminating the frustration of navigating the often confusing maze of human service programs."

Zangerle said 2-1-1 operators are also trained to provide immediate advice for callers dealing with issues like suicidal thoughts, sexual abuse and domestic violence.

"For instance, if a domestic assault call came into our office, we would first of all make certain that the caller was safe right now, and then we would make the connection to a domestic violence program that serves Sangamon County," she said. "We're a link. Those linkages aren't possible without the cooperation and investment of the agencies."

Operators at 2-1-1 can send callers information by text message or email, and operators offer to follow up with callers for further help. Zarnagle says she expects about 5,000 to 6,000 calls in the first year. A 2-1-1 service offered in Rockford starting in August had about 1,400 calls in its first two months of operation.

Contact Patrick Yeagle at pyeagle@illinoistimes.com.