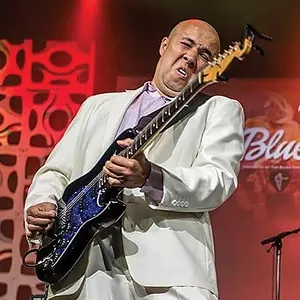 Howdy folks. We're in full swing for a fortunate February, with moments of frantic phases filing through as we continue to fight a full-scale pandemic in much of the world. Here in our neighborhood family, there are glimpses of normalcy, as we go forward to face the ferocious virus that has so forcefully upended our familiar world. Okay, that's enough "f's" for now, unless I find a way to officially use one in formalizing this week's Now Playing that fits fine into the format without feeling forced or foolish.
But hey, it's February, or "Pheberary," as my pharmacist friend used to spell it on his homemade calendars, and that brings us that much closer to warmer weather, out-of-doors activities and fun in the sun music-listening festivities, including fairs and festivals (couldn't resist). Somehow, I find a Flying Fickle Finger of Fate, feinting in my general direction, as went the facetious farce in Rowan & Martin's "Laugh-In," NBC's famous television show from the late 1960s. But that's another story all together and we need to get to talking about music-making, not frivolous facts feigning some fantastic fondness for forcing those familiar sounds of "f" into as many future words as possible. So, without any further frolicking in this fantasy, let's see what we have on the music scene to discuss.
There could hardly be a better sign of upcoming openness for the local music scene than the return of the Illinois Central Blues Club's presentation of its long-running, weekly gig, Blue Monday at the Alamo. It's great to see other venues opening up at various levels, but the presentation of such a venerable event as this, first held back in 1986 at Bruce's Tavern when the ICBC originated, is surely a good sign of things to come. I'm sorry I didn't see the announcement in time last week to promote the first Blue Monday on Feb. 1, as it was the very good stuff of Brother Jefferson with special guests Charles Tiner and Derek Bonn. This Monday gives us singer, songwriter and guitarist Timo Arthur, a Memphis-based bluesman with a 20-year professional career of playing the blues all over the world, including plenty of guitar time with our good friend and area blues artist, Brandon Santini. Next up comes Studebaker John (Feb. 15) and John Drake and the Risky Rooster Band (Feb. 22).
Our Live Music listings show acoustic music of the solo and duo variety is well-represented this weekend. Jason McKenzie kicks up his regular playing schedule with a small-town tour including shows at Locals Bar in Pawnee on Friday, The Alibi in Rochester on Saturday and a noon spot at Slauterhouse Brewery in Auburn on Sunday. Jason keeps it simple on his Facebook page with his "about" category saying "acoustic covers of all genres." In fact, a remark in his "recommendation and reviews" section (from Feb. 8, 2020 by the way) puts it well in stating, "He's awesome! Great song catalog" and that's as good of a recommendation and review a feller could ask for anytime, anywhere.
Joel Honey, another regular area performer and one who rightfully claims to do a "wide variety of music on my acoustic/electric guitar and sing" is out and about at Mowie's Cue on Saturday night. Dynamic duo Wowie Zowie lights up the Boar's Nest in Athens on Saturday as Tom Beverly rambles over to Decatur for a gig at the Golden Fox Brewery to complete our acoustic calendar.
Please stay safe and be careful as we find ways to have fun in February while following protocols and procedures when experiencing the forthcoming return of live music.