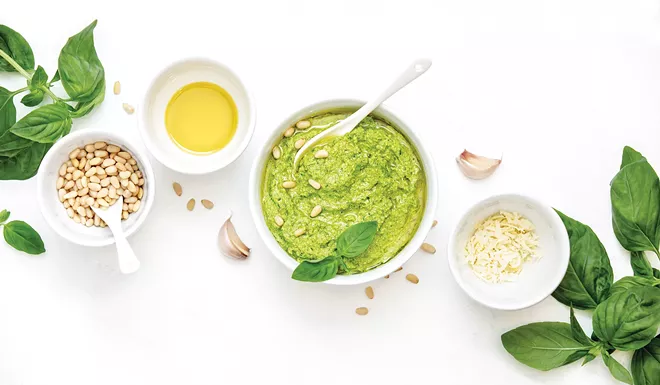 After weeks of homeschooling, discombobulated grocery shopping, and what felt like an endless winter, the novelty of staying home to stymie the spread of a novel virus has thoroughly worn off. Our household has begun to settle into a new sort of normal. Lunch has turned into the main meal of the day around here, as that's when everyone seems to be the hungriest and I've come to enjoy the more relaxed pace of evenings without a dinner rush. Meals have also become much simpler because, honestly, I'm struggling to find any emotional energy for creativity.
Dishes from the various corners of my childhood have been popping up lately: Grandma's beloved pork chops baked low and slow with a can of mushroom soup (yes, you read that right), bubbling pots of navy beans and, most recently, my mom's veggie pesto. It's not often that I get requests for seconds from both the 7-year-old and the 87-year-old at my dinner table, but this light, springy pesto tossed with whole wheat pasta and cannellini beans apparently hit the spot. I didn't actually follow her recipe, but the methodology can withstand a lot of tampering.
An ideal preparation in this era of limited grocery shopping, veggie pesto can be made with either fresh or frozen vegetables. Pesto roughly translates to "pounded" in Italian, and simply refers to a sauce made with crushed or pounded ingredients. While the most famous version, pesto alla genovese, consists strictly of garlic, fresh basil, pine nuts, lemon and olive oil, there are a myriad of other varieties found throughout Italy and the world. My mother's original recipe was a broccoli pesto based on one found in Martha Stewart's 1984 classic Entertaining. Tossed with cheese tortellini, it was one of her party staples.
I've found that this method works with a wide variety of vegetables and herbs, so whether you're lucky enough to have a backyard garden, a bounty of produce from the farmers market or grocery, or just a freezer full of frozen veggies, you'll be able to make this comforting and nourishing dish. Toss it with pasta (make sure to save a cup of pasta water to toss along with the pesto and noodles), cooked grains, and use it to slather on top of grilled meat or fish, tofu, or inside a grilled cheese sandwich. Almost every ingredient can be swapped out for another, and some can simply be omitted. Any neutral oil can be substituted for the olive oil, and the pesto turns out just fine if you omit the veggies and just use herbs, and vice versa. When I worked in catering we always omitted the nuts and cheese when making large batches of pesto because of clients' dietary concerns, adding them in later if desired. So it's easy to adapt this recipe for vegans or folks with allergies.
Veggie Pesto
10 ounces frozen and thawed or blanched produce such as broccoli, cauliflower, kale, spinach, arugula, asparagus or peas (about 2-3 cups)
1-2 cloves of garlic, to taste
½ cup toasted pine nuts, almonds, walnuts, hazelnuts or pecans
1 bunch fresh herbs, washed and dried, to taste (basil, parsley, chives, cilantro, mint, all work well either alone or in combination)
1 lemon
½-2/3 cup olive oil, or other neutral oil
2/3 cup grated hard cheese like Parmesan, Asiago, or pecorino (don't substitute semi-soft cheeses like cheddar)
Salt and pepper to taste
If using frozen veggies like spinach or peas, thaw them in the microwave and then allow them to cool fully before using. To blanch fresh vegetables, trim and cut them into uniform one-inch pieces. If using broccoli or cauliflower, include the stem but cut it into smaller pieces to even out the cooking time. You want about 3-4 cups of prepared raw product. Bring a pot of salted water to a boil, and have a bowl of ice water ready. Drop the prepared veggies into the boiling water, give them a stir, and cover the pot.
Heartier vegetables like broccoli will cook for about three minutes, more delicate vegetables like fresh spinach will only need to spend a few seconds in the boiling water. When the vegetables have finished cooking, plunge them into the iced water. Swish them around until throughly cool, then drain well.
In the bowl of a food processor, pulse the peeled garlic with a generous pinch of salt until finely minced. Add the nuts and continue to pulse until very finely chopped. Add the herbs, prepared veggies, and the zest and juice of one lemon. Turn on the machine and process continually while pouring in the olive oil in a steady stream to emulsify. Process until just smooth, then add the cheese and pulse to combine. Taste for seasoning and add more salt, lemon juice, or even a pinch of sugar as needed to balance the flavor.
The pesto will keep for several days in an airtight container in the fridge, and for several months in the freezer.