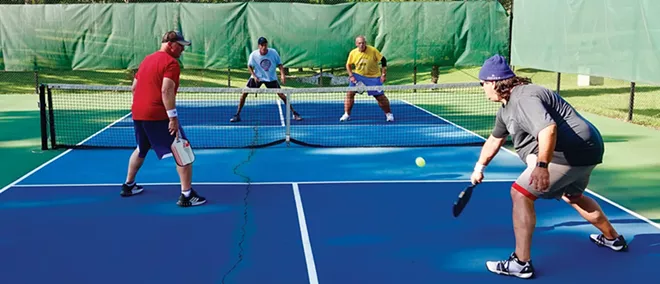 The fast-growing sport with a funny name, oversized paddles, short rallies and small courts arrived in Springfield in 2010 and just keeps growing. In fact, says Jack Handy, Springfield Pickleball Club president, "We need more courts."
In the past five years, Handy says, the number of pickleball players in the U.S. has increased from 2.5 million to approximately 5.5 million, while tennis participation has decreased from 21 million to approximately 18 million. Racquetball has declined too. "And pickleball players play a lot more, usually three to four times a week."
That average is probably low for the enthusiastic, sociable Springfield crowd. "Pickleball is incredibly popular in Springfield," says Springfield Park District Executive Director Derek Harms. "We see the pickleball community continuing to grow, and people playing on the courts daily. It's a sport that serves all ages."
"I know people who are retired and play almost every day," says Steve Friedman, 65, who has been playing for nine years in Springfield. He plays singles, men's doubles, and mixed doubles, usually at Iles Park and occasionally at Duncan Park. "A lot of the retired players may take a day off once in a while," Friedman says, "but they'll play in the morning, at night, whenever."
Handy, now 70, ran the pickleball tournament in this year's Senior Olympics, and coordinates Pickleball for Beginners every Wednesday at Iles Park. "It's been a real highlight of this summer," he says. "One night we had 73 people come out, and we average 50 people every Wednesday. It's amazing how many people come out to play. Many come three or four times a week after they learn, even six or seven days a week. People get addicted."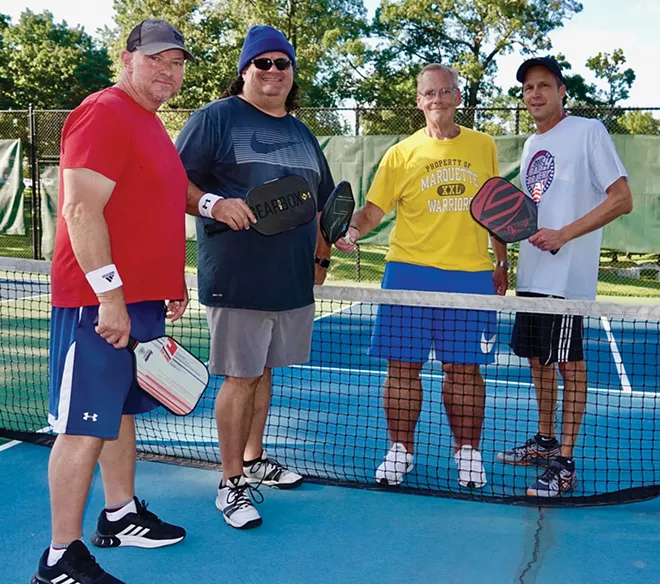 For many visitors as well as the Springfield club's 325 members, the social aspect is a big draw. "Even beginners who don't have anyone to play with can show up at Iles Park and join a game. You can meet and play with a lot of people," says Handy.
Friedman agrees. "It's definitely a social game," he says. "I've met a lot of people I never would have met before." They have a texting group to arrange games and look for each other at tournaments, including people from out of town who play in the annual Scheels tournament and Senior Olympics.
For people who want to try it, Handy suggests Wednesday evenings at Iles Park. From May through September, beginners arrive any time after 5 p.m. at Iles Park, learn the basics from club volunteers, draw paddles for a spot to play, and join in the fun free of charge. After that, sessions are always open at Iles Park. Duncan Park works a little differently.
There, set groups arrive together and play together until they decide to stop. "It's more competitive," says Springfield Pickleball Club Vice President Karen Jacobs, age 59, who plays regularly at Duncan Park. Don't assume you can just show up and play, although a sign encourages people to take turns when there are more people than courts. "It's closed play. At Iles, anyone can come, rotate in, and play. At Duncan Park, it's more competitive than beginner play, more organized into groups of comparable skills," says Jacobs.
Skill level is rated on a five-point USA Pickleball Association scale. Jacobs isn't rated, but estimates her level at about 4.0. So, very competitive. Level 1.0, by comparison, says Handy, is a player who swings and misses more times than he or she hits the ball. "Springfield has many 3.0 and 3.5 players, which makes it pretty competitive," he says.
With that much interest, it's no wonder Handy is looking for more court space. "Monday through Friday at Iles you can drive by just about any time and the courts are all full with people waiting. We're working with the Springfield Park District to get more courts." Especially indoor courts.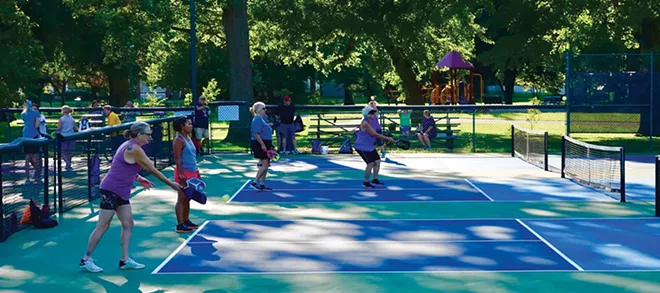 "Our biggest problem is finding places to play at night in the winter. We can play at the Salvation Army in the morning seven days a week, but there are only eight courts and a lot of working people can't get a game in at that time of day."
A committee to solve this problem is considering improving some of Springfield's tennis courts, building their own place, or using portable nets and painted shadow lines in a local sports facility where six tennis courts could accommodate 12 pickleball courts. "They do that in Pekin, Bloomington and Decatur. We're hopeful that, down the road, we can have a similar arrangement."
But the most interesting possibility right now is the PickleRoll portable pickleball court. "It's brand new," says Handy. "There are only two in use right now. We're a demonstration site for it." The 800-pound mat can be unrolled over uneven surfaces, such as the deteriorated asphalt tennis courts in Springfield, and presto! Game on. "It will arrive next month. The Knoxville, Tennessee, company will deliver, install, and level it. Then we'll leave it out during the winter to see how it holds up. We're cautiously optimistic."
Until they know that it's the new solution for a wildly popular sport with a space problem, Handy would love to know if anyone has a nice warehouse space with cheap rent for the winter. Contact him, and learn more about the Springfield Pickleball Club on Facebook. Then give it a try some Wednesday evening. They'll even provide the paddle.
If you like it, join the fun and join the club. "Dues are $25 per year," says Jacobs. "It's the best deal in Springfield."


Want to play?

Jack Handy's pointers for new players
1. Do not run backwards. You'll crack your head open. If someone lobs a shot toward you, it's your partner's job to run behind you to hit it.
2. Play soft. It's a game of reactions, not power.
3. Communicate with
your partner.