It's a year of anniversaries in Bloomington-Normal, and you can join the celebrations with a 70-mile drive north on I-55. Add some punch to your summer with the twin cities' pedals, plays and parks.
Bicycle enthusiasts are celebrating the 30th anniversary of the Constitution Trail, which follows an old railroad path. Multiple branches bring the total miles to 45. Named and dedicated in celebration of the U.S.

Constitution, the trail sports signs describing key provisions of the document so you can learn as you pump those pedals.
The Children's Discovery Museum is 25 years old this year and has plenty for kids to enjoy. Spanning three stories, the museum offers exhibits on healthy living, farming, science and art. Interactive activities center on a water works, climbing wall and art studio. The museum, at 101 East Beaufort in Normal, is open 9 a.m. to 5 p.m. Tuesday through Saturday and noon to 5 p.m. on Sundays.
A short walk from the museum is the Normal Theater, built in 1937 and since renovated. The theater claims to "restore movie-going to what it once was and what it should be," showing classic titles and independent, foreign and documentary films. Live concerts, comedy shows and lectures round out the offerings.
The theater also features an old-fashioned ticket booth and vast candy counter. "It is very cool," says Brie Lohr, communications and marketing director for the Bloomington-Normal Area Convention and Visitors Bureau.
Lohr says Normal will be especially popular when the Sugar Creek Arts Festival comes to town on July 13-14. The city closes the downtown streets, which fill with thousands of people enjoying a juried show of 128 varied artists. The show runs 10 a.m.-5 p.m. on Saturday and 11 a.m.-4 p.m. on Sunday.
For another culture fix, head to the Illinois Shakespeare Festival at the Ewing Cultural Center, 48 Sunset Road in Bloomington. The festival is staging three plays for its 42nd season. Arrive early to picnic on the sloping lawn outside the theater and stroll the gardens.

The traditional Shakespeare comedy As You Like It runs June 27, 28 and 29; July 9, 10, 17, 19, 24, 25, and 27; and Aug. 1, 3, 6 and 9. Jane Austen's Pride and Prejudice is on tap for July 5, 6, 11, 16, 20, 26, 30 and 31; and Aug. 2, 7 and 8. Both are at the Ewing site.
A modern take on Shakespeare's classic tragedy, Caesar, will showcase July 12, 13, 14, 18, 21, 23 and 28; and Aug. 3 and 10. This play, which incorporates social media issues, will be at the Center for Performing Arts on the Illinois State University campus in Normal.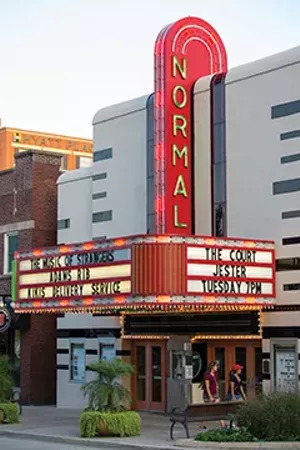 Miller Park, 1020 S. Morris Avenue in Bloomington, will host its long-standing July 4 fireworks over a small lake. Also sure to delight the family is the park's zoo, which houses such animals as a sun bear, a Sumatran tiger, flamingos, reindeer, Galapagos tortoises and wallabies. The zoo is open daily from 9:30 a.m. to 5 p.m.
The park has a pavilion dating to 1905, a cushioned playground, full-size steam locomotive, paddle boats on the lake and plenty of paths for walking.
Another July draw is Lincoln's Festival on Route 66, according to Lohr. Set for July 19-21 in downtown Bloomington, the free festival includes reenactments, presentations and panel discussions about both Abraham Lincoln's role in local history and Route 66, which goes through the twin cities. Times are 10 a.m.-5 p.m. daily.
History buffs also may want to stop at the David Davis Mansion, 100 E. Monroe in Bloomington. The state historic site celebrates Davis, who was a close associate of Lincoln and a U.S. Supreme Court judge. Inside are a decorative arts collection and Victorian furniture. Outside, visitors can wander through gardens.
On July 2, the mansion will host the Champagne British Car Festival with 100 British cars of all makes and British-style food. The festival is open 9 a.m.-2 p.m.
Another transportation draw is the Prairie Aviation Museum at 2929 E. Empire in Bloomington, near the airport. Celebrating its 35th year, the small museum has eight aircraft and three helicopters on display outside and aviation and space exhibits inside. It is open 10 a.m.-3 p.m. Thursday through Sunday with its popular open cockpit days set for June 15, July 20 and Aug. 17.

Mary Bohlen is a Springfield-based travel writer and retired journalism professor at the University of Illinois Springfield.