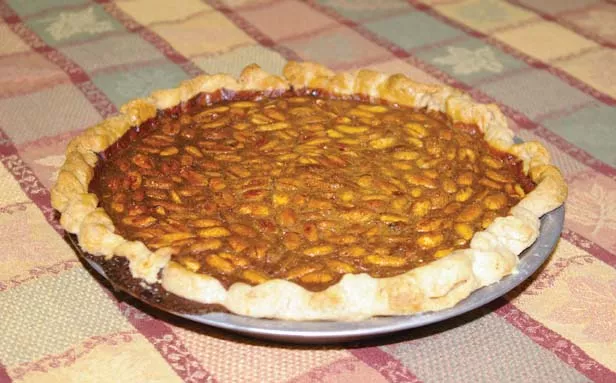 Peanut pie

This pie is as American as pumpkin or pecan. Peanuts (which are actually legumes, not truly nuts) originated in South America over 7,600 years ago. African-American trail-blazing scientist George Washington Carver is credited with popularizing them in the U.S. Completely cool peanut pie before cutting and serving.

• 3 beaten eggs
• 1 1/2 c. pure maple syrup
• 1/2 c. sugar
• 6 T. melted unsalted butter
• 1/3 c. smooth, natural (all peanut) peanut butter
• 1 c. skinless, roasted, salted peanuts

Preheat the oven to 350 F.

Combine all ingredients except the peanuts and blend or whisk until completely incorporated. Stir in the peanuts and pour into a partially baked 9-inch pie shell (preferably made with sesame seeds). Bake 45-55 minutes or until set.