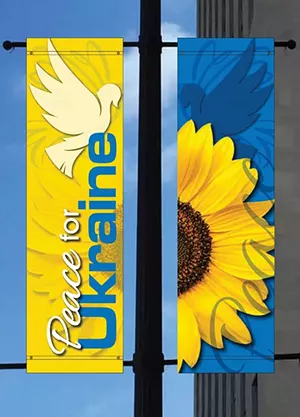 "Peace for Ukraine" banners are being installed throughout downtown to demonstrate Springfield's friendship with Ukraine. The banners also feature a vibrant sunflower, the national flower of Ukraine. Sunflowers are a key component of the Ukrainian economy and a symbol of peace.
The banners are an initiative of Mayor Jim Langfelder and Barb Malany of the Rotary Club of Springfield Sunrise. Delegations of Ukrainians have visited Springfield over many years through a collaboration between the Springfield Commission on International Visitors and the U.S.-Ukraine Foundation. Barb and Lee Malany have hosted Ukrainians in their home, and Barb Malany has been in daily contact with several Ukrainians during the ongoing conflict. The banners are intended as a visual demonstration of the Springfield community's care and concern for the people of Ukraine.
Malany encouraged the five Rotary Clubs of Springfield to contribute to this effort, and other businesses and organizations were invited to participate. The banners are on poles in various locations downtown along Capitol Avenue, Monroe Street, Fourth, Seventh and Ninth streets and near many of the entities that helped make the banners possible.
Participating businesses and organizations include: Mayor Jim Langfelder, city of Springfield; Springfield Rotary Clubs; Ace Sign Company; Horace Mann; Illinois Education Association; Illinois State Museum; Isringhausen; Mario Gutierrez, Farmers Insurance; Melotte Morse Leonatti Parker Ltd.; Resource One; The Myers Family.