Pathways to Watercolor opens at the Springfield Art Association on April 5 and continues through April 27. Curated by Rod Buffington, the exhibit features highly diverse work by Sandy Meyer, Robert Mejer and Buffington – three artists applying very different techniques to create their art, but all using watercolor as their media. All are highly acclaimed artists with numerous awards and recognitions and a passion for art continuing over half a century.

Sandy Meyer taught art in the Quincy area for over 30 years before moving in 2003 to Michigan, where she now resides. Her passion for watercolor painting extends over 60 years. As a teenager she was inspired by a quote from the English artist John Ruskin, "If you can paint one leaf, you can paint the world." That led her to paint a myriad of small things, and she is noted for her realistic paintings. She explains that she paints one little shape and the next little shape and continues until the painting is complete. She compares her technique to putting together a jigsaw puzzle. "When you look for a piece to fit a spot, you look for a color and a shape that matches what you have already put down." Her goal is to capture the beauty of this world and bring joy to others.
Robert Mejer's watercolors are more abstract. His interest in art began in childhood. After graduate school he was hired by Quincy College, where he has been teaching for 50 years. He's now a distinguished professor of art, founder of the Gray Gallery and a practicing artist for 50 years. He is an abstract watercolor painter and describes himself as 'modernist in attitude.' "The watercolors are the subject themselves and not about subject matter…I want to call up in the viewers a special experience of their own: a childlike awe and curiosity, a renewed freshness of vision," says Mejer.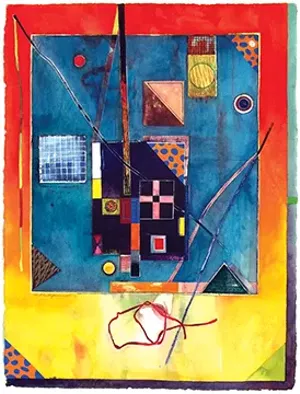 Buffington is a former director of the Springfield Art Association and has been involved in the Springfield arts community for many decades. He is a former art teacher and professor at Eastern Illinois University. His paintings combine watercolor, fabric and stitching to reflect quilt images as paintings. His artistic creations are influenced by his fascination with his grandmother's quilting activities. Buffington is a longtime member of Rotary. For several years he has created a special painting to reflect the Rotary International president's theme for the year, and the painting for 2019-2020 is included in the exhibit. He also creates watercolor paintings that combine his love of sports with his love of art.
Approximately 30 paintings are included in Pathways to Watercolor. An opening reception will be held on Friday, April 5, 5:30-7:30 p.m. at the Springfield Art Association, 700 N. Fourth St., Springfield. The exhibit is open to the public Monday-Friday, 9 a.m.-5 p.m. and Saturday 10 a.m.-3 p.m. For more information, call 217-523-2631.

Karen Ackerman Witter is a freelance writer who enjoys writing about interesting people, places, events and organizations. She is a former associate director of the Illinois State Museum where she had the opportunity to collaborate with the Springfield Art Association on exhibitions and public programs.