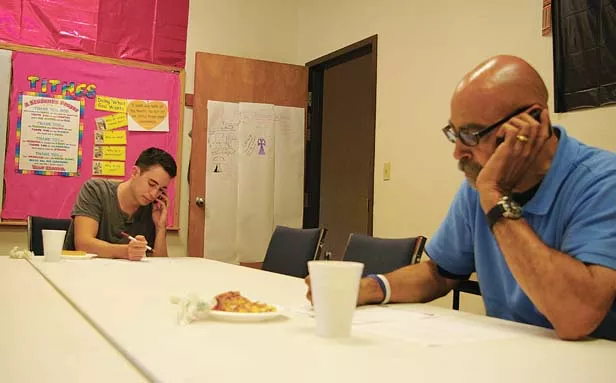 A growing number of parent "no-shows" at parent-teacher conferences and a consistently poor performance of low-income and minority students have one coalition looking for ways to rebuild the parent-teacher relationship in Springfield.

The Faith Coalition for the Common Good (FCCG), a nonprofit organization made up of faith-based and community organizations, has started a grassroots discussion in an effort to bridge the achievement gap between minority and white students at Springfield District 186 schools.

Shelly Heideman, FCCG executive director, says parents who feel intimidated when it comes to talking with teachers or administrators need to be able to have their voices heard.

"If you look across the nation, there are so many kids failing, especially kids of color," Heideman says.

Charles Scott, program director at Boys and Girls Clubs of Springfield, who is working with the coalition, says the group's goal is to give low-income and minority parents "a place at the table," allowing them to voice their opinions. The coalition will then look into their issues and take their concerns to the school district.

"We're not talking about the days of finger-pointing, where we blame it on the teacher, blame it on the school or blame it on the parent," Scott says. "Those days are over."

Scott has been working with African-American male students for more than 25 years. He says African-American males generally have the highest number of school suspensions and the lowest performance in schools.

For 2007 to 2008, Illinois high school graduation rates were 83 percent for white males and 47 percent for African American males, a 36 percent gap that was worse than the national average, according to 2010 Schott Foundation for Public Education research.

Maurine Magliocco, FCCG member, says groups were asked during listening sessions about their expectations of District 186, if their expectations were being met, their idea of how their child is doing academically, if they felt comfortable contacting faculty and administration at their child's school and any changes they would want to make to the district.

At the listening sessions, parents discussed student handbooks, which include school policy information, she says. Handbook information is available on the district's website, but not all parents have easy access to a computer or they might not have computer skills, she says. The coalition is working with the district to make the handbook easier to read online.

The coalition is working with other community organizations like Springfield Urban League, Inc., Heideman says. In addition to the sessions, FCCG held a focus group of 15-20 students, and students said that if they had acted up in class, the teacher treated them differently and was less likely to give them extra help on homework.

For a fall education summit, FCCG will form subcommittees to conduct further research on issues like these and present possible solutions to decision makers like District 186, she says.

Pete Sherman, District 186 spokesman, says opening up communication between parents and teachers has been one of the main areas of emphasis in the district for the past several years. He says he sees the coalition's efforts as an opportunity to pull the "stitch in the fabric" of collaboration between parents and schools tighter.

"We can't expect the schools to take our kids and be the only ones in charge of educating them," Heideman says. "I think it has to be a joint effort."

For more information on the achievement gap in Springfield Public Schools, visit: iirc.niu.edu.

Contact Hannah Douglas at hdouglas@illinoistimes.com.

The Faith Coalition for the Common Good will hold an education rally on Aug. 27 from 4p.m. to 6p.m. at Union Baptist Church in Springfield. Dr. John Jackson, Ed.D., J.D., who served on President Obama's education policy transition work team, will speak on educational issues currently facing the United States public school system. The event is free and open to the public.