Two of Springfield's most reliable venues for contemporary visual art presented openings of very different exhibitions this past Friday, Sept. 8. However, only one of the venues will still be standing next year at this time.

DEMO Project – a small gallery space dedicated to contemporary art from across the country, located on the Springfield Art Association campus – opened its doors in September 2013 and will finally realize its titular fate of being demolished in early 2018. Appropriately, the doomed venue celebrated its fourth and final anniversary on Friday with three simultaneous exhibitions under the umbrella title of "DEMO Project: Last Birthday."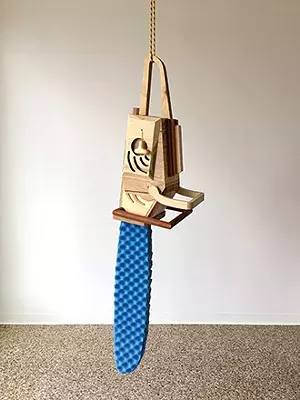 In recent months, DEMO shows have been expanding beyond the walls of the main gallery, with the addition of a smaller rear gallery in April of 2016 as well as through presenting work designed to adorn the exterior of the building and the surrounding lawn. None have been more immediately impactful than "Hey, How's Life???" by Cincinnati-based artist Breanne Trammell (appearing through an arrangement with St. Louis gallery STNDRD) which takes the form of a giant roll of toilet paper (48 inches x 20 inches x 22 inches) hanging obtrusively off the front of the DEMO building. According to Trammell, the roll was made in protest of Donald Trump. The "paper" is actually a series of silkscreened fabric squares, each embossed with the phrase, "It's terrific!" According to press materials, "For each day the flag is on display, two squares will be cut away from the roll of toilet paper to create a variable edition of prints." Proceeds from the sale of the prints will benefit the Southern Poverty Law Center.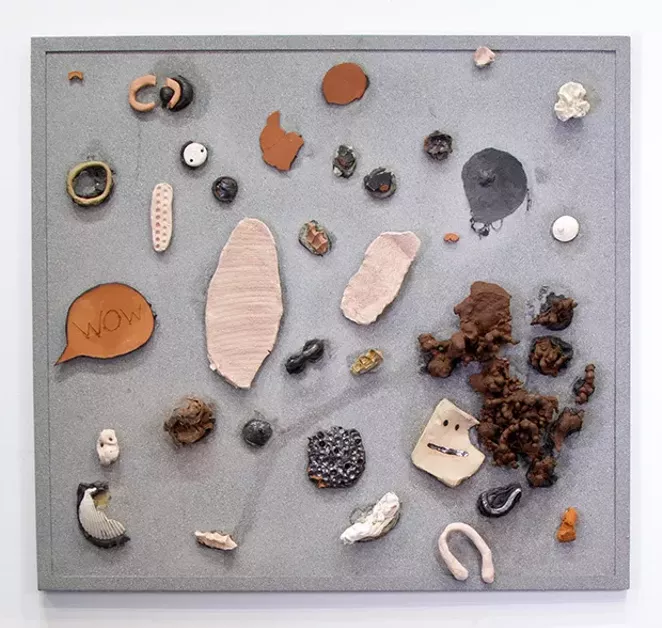 The front gallery contains several colorful, three-dimensional multimedia pieces under the name "Boyish Charms" by the Chicago-based team of Betsy Odom and Rafael E. Vera, including a giant hot dog and a wooden chainsaw suspended from the ceiling, all in the service of evoking what the artists' statement described as "relationships…in which desires and needs are measured and weighed to hopefully create a sort of middle ground: a concession." Meanwhile, the rear gallery and lawn are dedicated to "And when we go we come crashing down" by another Chicago team, Sarah Belknap and Joseph Belknap. The theme of their work here is panic (the word itself spelled out in foam "rocks" on the lawn), represented in several humorous text- and ceramic-based pieces. With its unprecedented tradition of bringing innovative, edgy, funny and unexpected work to Springfield, the DEMO will certainly be missed after it is DEMO-ed.
The Pharmacy Gallery and Art Space, 711 S. Fifth St., presented its latest thematic group show of members' work with the playful, scattershot "Interconnectivity." The artists, all from the Springfield area, came up with an eclectic variety of pieces, including an imposing large-scale Mosaic Interaction #1 Through #5 by Jeff Williams, incorporating the work of several other artists and an impressive, multi-layered, self-lighted collaboration between member artist Delinda Chapman and guest Marco Mulder entitled "Fusion." Other interconnection-themed highlights included Janet Sgro's "The blind see its wings," which allowed visitors the opportunity to take a "winged" selfie in front of an image of disembodied angels' wings; and Timothy Donavan Russell's piped-in musical composition entitled "Interconnectivity," which featured over 300 samples and included a contest for sharp-eared visitors to see how many they could pick out.
"DEMO Project: Last Birthday" will run through Saturday, Oct. 7. DEMO Project is open on Saturday afternoons from 1 p.m. until 4 p.m. or by appointment. Other than during events, The Pharmacy Gallery and Art Space is open from noon until six p.m. each Friday and Saturday.
Contact Scott Faingold at sfaingold@illioistimes.com.