Enforcement of Gov. JB Pritzker's restrictions on businesses appears murky after an abbreviated legislative session that ended with lawmakers declining to pass anything that might give the governor the power of law to keep people apart amid pandemic.
Pritzker, under fire for closing businesses to curb the pandemic, called legislators' failure to put statutory teeth to gubernatorial orders limiting business activity "a complete abdication of responsibility." Faced with an uncertain vote by the Joint Committee on Administrative Rules, a bipartisan group of lawmakers, the governor on May 20 withdrew an emergency rule, enacted days earlier, that would have allowed business owners who defy restrictions to be ticketed for misdemeanors and fined as much as $2,500.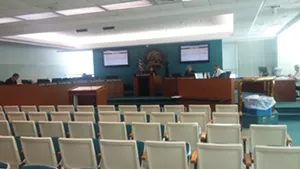 Meanwhile, Springfield police, while making no arrests and issuing no citations, have been breaking up gatherings in parks and elsewhere. A Facebook video posted shortly after midnight on Memorial Day shows police using pepper spray to disperse a crowd at the Near North Crossing strip mall on North Grand Avenue. Another video posted about an hour earlier shows a crowd gathered in the JC Penney parking lot on South Dirksen Parkway. Police chief Kenny Winslow said via email that he didn't know much about either gathering. "I know we had issues throughout the weekend with pop-up parties but I don't have the specifics on these locations," Winslow said.
Some aldermen at Tuesday's committee-of-the-whole meeting said they are concerned about uneven enforcement.
Ward 3 Ald. Doris Turner said that police have broken up family gatherings on the east side but not in other parts of the city. Aldermen drew comparisons between anti-lockdown protests that police have tolerated – last week, police escorted protesters as they marched in the streets from the Bank of Springfield Center to the Capitol without a permit – and crackdowns elsewhere.
"It's just different, OK?" Winslow told aldermen, with backing from Mayor Jim Langfelder. "I think it's a legal issue with regard to protests at the Capitol or the Bank of Springfield Center or in the middle of the street," Langfelder said. "That's different from gatherings like a block party or anything of that nature. It goes to the freedom of speech." That didn't fly with Ward 6 Ald. Kristen DiCenso. "You can say it's different, but it's not different," DiCenso said. "The double standard is horrifying."
County and city officials have been meeting about enforcement issues. Citing Fox Run, a restaurant that's opened despite closure orders, Langfelder told aldermen he's asked for a meeting between fire chief Allen Reyne and state's attorney Dan Wright. "We're not getting the backing of the public health department with regards to enforcement," the mayor said. "They're throwing it in our face, when you have a restaurant opening up."
In an email, Wright writes that executive orders are different than laws, and he can only uphold the law, which doesn't allow for blanket closure orders. "This standard of proof requires more than a violation of the executive order and mandates that the public health department present substantial medical evidence specific to the premises sought to be closed," Wright wrote. Enforcement, Wright writes, is, essentially, a civil issue.
During a Tuesday, May 26, press briefing, the governor said he still has tools, including revocation of state licenses, to force compliance, but his authority isn't certain, according to an April analysis by David Robinson, chief deputy director of the Illinois State's Attorneys Appellate Prosecutor's office, who concluded that Pritzker has overreached.
"My research leaves me less than confident that a reviewing court will hold that the governor has the authority close businesses, bar attendance at church services and assemblies in excess of 10 citizens (particularly if they are assembling to redress grievances)," chief deputy director David Robinson wrote in a memo to Pat Delfino, office director.
"That was a message to every state's attorney in the state: Tread lightly," says Thomas Devore, a Greenville lawyer for business owners who have defied the governor's order. "As of right now, there is no enforcement mechanism other than fear or intimidation by state agencies."
Starting Friday, May 29, restaurants and bars will be allowed to serve customers outside. Karen Conn, co-owner of Obed and Isaac's, said that customers will be expected to wear masks and maintain social distancing, and the staff will walk the premises and ask those not doing so to follow the rules. "If it escalates from there, we'll ask them to leave," Conn says. "This is serious."
Bruce Rushton can be reached at brushton@illinoistimes.com.