Energetic high school students from Pana adopted a can-do spirit, built a solar-powered car, entered the 2018 Solar Car Challenge road race from Fort Worth, Texas, to Palmdale, California, and came in fifth place. They were awarded best first-year solar car team displaying the highest level of technological achievement. Katelyn Townsend, a freshman, and Lucas Duduit, junior, were among four students out of 250 nationally honored for their engineering expertise. This was the only Illinois team. The students are also ham radio buffs, and they used these skills to stay in communication during last year's road race. These inspiring students and their solar car, The Phoenix, will be at the Earth Awareness Fair in downtown Springfield on April 27.

The Solar Car Challenge motivates students in science, engineering and alternative energy. Students learn how to plan, design, engineer, build and race roadworthy solar cars. The Pana team's website states – "​It is our initiative as students to strive to expand our knowledge and skills to better our lives and inspire the next generation of students."
"The key factors responsible for us placing as a first-year team in a cross-country race were determination and passion," says Lucas Duduit, team captain. "The determined mindset that we shared as a team caused us to grow an unbreakable bond, that when faced with disagreement or adversity we solved the problem together, as opposed to forfeiting our dream."
Students are now busy preparing for the July 2019 Solar Car Challenge. This year's competition is a track race at the Texas Motor Speedway, so speed will be a more important factor. They are modifying their car to reduce space and weight and going from four wheels to three.
How did these students get inspired to build and race a solar car? For many years Pana High School competed at the NASA Marshall Flight and Space Center in Huntsville, Alabama. At a competition involving underwater remote control robots, students watched the movie, Dream Big, Engineer the World. "The spark that ignited the interest was inspired by the Dream Big movie that featured the Houston, Mississippi, solar car team," says Duduit. High school students from a small town went to Australia and raced their solar car around the entire continent, competing with colleges from around the world. "With the guidance of our vocational teacher, Mr. Bonser, we began the pursuit of this big dream," says Duduit.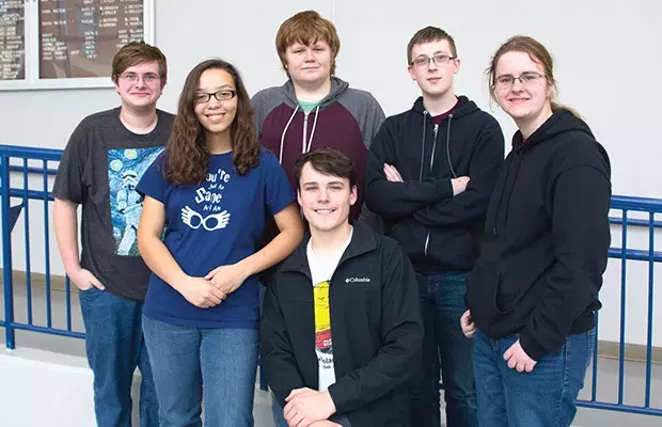 Typically it takes two years to develop a car and learn the systems and processes, but this team completed the job in nine months. "I think that best describes the students that made this happen," says their teacher, Steve Bonser. "Many of the students who put in long, hard hours did not even make the trip to California, but they were the support group for the team that did make the trip."
Michelle Knox, president of WindSolar USA, Inc. was a sponsor and helped with technical advice. She learned about the project early in its development and was impressed. "In a matter of a few months, these hardworking young students had become experts on the mechanical operation of the car as well as the solar/battery components," says Knox. "The message these young minds deliver anywhere they go is that if you have a dream and are willing to work hard enough for it, you will make it happen. They have done so and accordingly serve as an inspiration to all who come in contact with them."
Numerous businesses and organizations are providing technical support, in-kind donations and cash sponsorships. Students are working on buying a 5kWh lithium battery pack, but are still $4,000 short of their goal. They created a Go Fund Me page:https://www.gofundme.com/solar-car-challenge-trip-2018. For more information about how to support the team, go to https://panasolarcar.weebly.com/ or call 217-820-8757.
Duduit will be graduating this year. He has decided to pursue a degree in electrical engineering and specialize in electrically motorized vehicles. He looks forward to his teammates, Katelyn Townsend and Jessie Pollman, along with other Pana High School students, carrying on the program. "We have had the experience of meeting amazing people that care about us as learners, the clean energy movement and being environmentally aware. People like Michelle Knox at WindSolar USA or all the good people at Invenergy tell us that we are an inspiration to them, but when it is all said and done they inspire me."
Earth Awareness Fair
Saturday, April 27, 1 p.m.-5 p.m.,
Old State Capitol grounds
Springfield's Earth Awareness Fair, presented by the City of Springfield, is Illinois' longest running Earth Day celebration. This free, family-friendly event will offer something for everyone with information and hands-on activities related to many aspects of the environment. This year's theme is "Plastic Planet."
More than 40 exhibitors will have displays where visitors can learn about bees, bicycling, energy efficiency, recycling, native plants, monarchs and more. Springfield Bicycle Club, Friends of Sangamon Valley, Girl Scouts of Central Illinois, Henson Robinson Zoo, Department of Natural Resources and other state and local agencies, Kidzeum and Illinois State Museum are just a few of the exhibitors. The Pana Solar Car will also be on display on Washington Street between Fifth and Sixth streets.
"Plastic Planet" is the theme for a three-dimensional art exhibit created by the Springfield Art Association, which will be on display on the Old State Capitol grounds. An Earth Day-themed art exhibit by students from University of Illinois Springfield will be at the new Springfield Convention & Visitors Bureau office on the south side of the Old State Capitol.
The afternoon will also include live music, games, crafts, workshops, face painting, petting zoo and an opportunity to adopt cats and dogs through Illinois Humane. Ace Bicycle Shop will offer a free bike check area for those who want to bike to the event. Food and beverages will be available to purchase.
For a complete list of exhibitors, schedule of events and activities, go to the event's Facebook page at www.facebook.com/EAFSpringfield or www.springfield.il.us/earthfair.
Karen Ackerman Witter is a freelance writer who enjoys writing about interesting people, places and organizations. She was inspired to tell the story of the Pana High School Solar Car team after three students gave a presentation about their adventure to the Rotary Club of Springfield Sunrise.