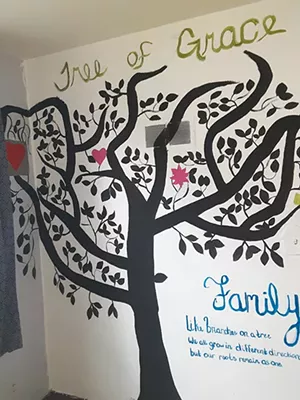 The first time I met Dana Pfeiffer she picked the place. It was near her home in Pleasant Plains, a combination coffee shop slash auto detailer that employs people with disabilities to help them learn job skills. She wore a bright red hoodie. She was impossible to miss. The moment I stepped inside, she turned toward me with a huge smile. She was tiny, with blonde hair, and a bit of a limp as she got up for a refill.
I was one of multiple people she met there that day; another woman, from the Refuge Ranch in Rochester, joined us to talk about how Pfeiffer utilizes interaction with horses as a form of therapy for her clients. Our meeting was in February, before the world so drastically changed. Back when grabbing a coffee out in public was possible.
The meeting seemed a good representation of who Pfeiffer is. Plugged into her community. Making conscientious choices, even when it comes to where to grab a latte. And always with that huge smile and warm, inviting presence.
It's what you would hope for out of someone who works with survivors of sexual abuse. Pfeiffer is the director and founder of Grounds of Grace, a nonprofit that helps victims of human trafficking with transitional housing as well as medical treatment, education, therapy and other services. Pfeiffer grew up in a small town with less than 500 residents, in Easton, about an hour north of Springfield. She said sex trafficking in rural areas goes largely unaddressed, and she's working to counteract that. She wants to broaden the general public's perception of what constitutes sex trafficking. And she's in the midst of overcoming her own trauma. Last fall, she got in a motorcycle accident that shattered her leg and damaged her intestines and organs. So as the world faces a pandemic, she's acutely focused on her own recovery as well as that of those in her care.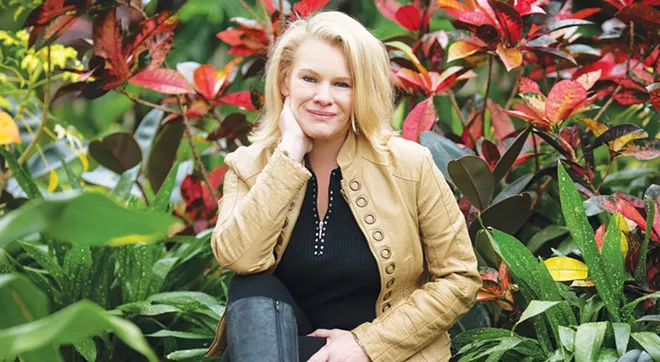 "Usually you're dead"
Pfeiffer has two sons. But her 1994 custom Harley Roadster motorcycle was her "baby." She was driving it in August of last year in the morning, around 9:30. By 10:30, she was at Memorial hospital in Springfield and her family was being called in to come see her in case she died. Her attention had been diverted and in a split second she lost control.
Her body flew from the Harley and hit multiple posts of a guardrail. Her pancreas and liver were lacerated. "It ripped open my whole abdomen," she said. The helmet she had worn was nowhere to be found. It was later spotted in a nearby creek.
Recently, an EMT came by her home to check on her progress, she said. He was seeking closure as one of the first responders during her accident. By this time, coronavirus concerns were circulating so he sat on the sidewalk outside her porch. "What I saw," she remembered him telling her, "usually you're dead." The man said he was still having nightmares about it. "You are an image that will never go out of my head."
Sarah Stahly met Pfeiffer when she came to present during a class she was taking at University of Illinois Springfield several years ago. Pfeiffer was joined by a member of the FBI to tell the business students how to keep an eye out for signs of human trafficking. Stahly is now the incoming board president for Grounds of Grace. As a survivor herself, she was drawn to Pfeiffer. "She's very relentless. She's so passionate, but she also just wants to cut through the noise," said Stahly. "She's a very action-oriented person."
Pfeiffer was late to a board meeting following her accident last year. It was unlike her. "We're waiting and Dana's never late," said Stahly. As the minutes dragged on, concern grew. "And then I get a message from someone that I don't know," said Stahly. The message was from a friend of Pfeiffer's and it was letting her know she was in the ICU.
Stahly rushed to the hospital. "I have no idea how she didn't die. Her body looked so broken," she said. Pfeiffer's two sisters were there as well. She couldn't speak. While Stahly and her sisters cried, Pfeiffer tried to use her hands to sign the word "love." When she couldn't, she used her eyes to express her love as tears poured down her cheeks.
Those are some of her only brief recollections of that time. "They got the importance of what I was trying to convey and I slid back into my coma," Pfeiffer said.
She left the hospital nearly three months later, after a drug-induced coma, several surgeries and weeks of in-house therapy. Most immediately, "gravel and grass clippings" had to be washed from her intestines. Rods and screws were put into her shattered leg. Another emergency surgery was done when they found more torn ligaments in her back.
Pfeiffer said all the while she relied on her faith and on the methods she instills in her clients. Most importantly, mindfulness – allowing herself to rest and focus on inner peace. "I had good habits before I even had the accident," she said, which is part of why she believes she's recuperated so rapidly.
"Where can they put people?"
Across Illinois, service providers are grappling with how to serve victims of sexual and domestic violence in the middle of a pandemic. Vickie Smith heads the Illinois Coalition Against Domestic Violence, which occasionally deals with human trafficking survivors as well.
The coalition oversees a network of shelters, such as the Sojourn Shelter in Springfield which provides temporary housing for people affected by domestic abuse. Due to fears of the coronavirus spreading, communal spaces in such shelters, like kitchens, are no longer being utilized, said Smith. "These communal emergency living situations are pretty packed under most circumstances," she said. Multiple families might share a dorm-style bedroom. "So where can they put people? They're having to reach out to hotels and motels and work with them to try to figure out safe spaces for families during this crisis," said Smith.
Smith said the hotels and motels are being used for incoming clients as well as for ones who may have already been at shelters but who needed to separate to adhere to social distancing guidelines.
"During times of crisis, there may be an increase in domestic and sexual violence, while barriers to services are compounded," said Illinois Department of Human Services Secretary Grace B. Hou in a press release dated April 2. IDHS announced a plan to "increase the capacity of its current statewide network of services for domestic violence and sexual assault survivors during the current COVID-19 pandemic," according to the release. Part of the plan is an emergency fund.
Smith said another part of the plan means that providers will be given a three-month grant advance to help with the cost of housing people at hotels, among other services. This is money that would usually be required to be spent first then reimbursed, said Smith.
IDHS will also be providing advance grant funding to the Illinois Coalition Against Sexual Assault, which Carrie Ward heads.
The pandemic is of course creating new challenges for the centers it represents that provide counseling and legal services to rape survivors and other victims of sexual violence. "It's challenging and it came with such very brief notice," said Ward. Clients have been connected with providers via phone, and the organization is also focusing on video conferencing. Much of its staff is now working from home.
Meanwhile, Ward said there has been a decrease in calls for help at hospitals and from law enforcement for assistance from rape crisis centers. Ward said part of what she is hearing from the centers is that victims are "afraid to go to the hospital because of the coronavirus."
Smith said she has similar concerns. She said the current situation – a mandated "stay-at-home" order – could be creating a "pressure cooker" for victims. "What we're seeing is, not surprisingly, a reduction in calls right now," she said. But as the weeks go on, she expects more calls could come in. "I'm also really concerned once that stay-at-home order is lifted, that we'll see a big jump in requests for services after that."
Alone, together
Lynn and Rae – their middle names – are staying at "Grace House." It's part of Pfeiffer's organization and is at an undisclosed location in Springfield. They are practicing social distancing as the coronavirus spreads, but the isolation is not new. Visitors even during normal times go through extensive screening, and visits are a rare occurrence, as Pfeiffer doesn't want anyone to enter who could be a detriment to the recovery process.
Rae thought she was in a romantic relationship with her trafficker. After divorcing an abusive husband who she said had tried to kill her, she went to meet a man she had developed a relationship with. "I had trusted a gentleman online for four years, we were really good friends, only on the computer though," she said. Rae was staying at a domestic abuse shelter when the man she met online offered her a place to stay at his home. She thought it was a chance to start over.
She said instead, he held her against her will and took money from men who abused her. For 45 days. At first she felt it was her fault. And it took her awhile to understand that she had been trafficked. "I trusted my trafficker," she said.
Lynn also doesn't see herself as a stereotypical trafficking victim. As a young person, her mother would send her to stay in a house where she was abused by her brother's father and other men. She's grappled with mental health issues and addiction.
Their stories are different, but their path toward a new life is similar. They have their own bedrooms. Their groceries and other essentials are provided. They go through various therapies, now those are happening via phone. They started a painting project, a "tree of grace." Those who stay at Grace House can add their own details to it.
Rae used to work as a nurse. She said it's hard not to go back to work as the state seeks more people on the front lines to combat coronavirus. But the self-isolation part, that has not been hard for her. She and Lynn are still interacting within the home. "I have a hard time coming out of my room and socializing. And with the coronavirus that has gotten old, so very fast," she said. While Rae has a tendency to self-isolate, the virus has actually caused her to socialize more than usual with Lynn.
The women plan to use the time to continue healing past wounds. Most stay for at least 18 months, though there is no strict timeline.
"I plan on being back on my feet, nursing. My own place. I have two children, I have two grandkids, one's a new grandbaby. So I just plan on hopefully learning how to bring all the tools that I've learned here to live in the community and build better relationships with my kids," said Rae.
As for Lynn, "I'm planning on going back to school out at Lincoln Land. I was hoping to do that in May. But it looks like with all this going on, it's going to be postponed," she said. "So going back to school, getting my education and then hopefully finding employment and getting a house for me and my children. And just being a better person."
Both the women credit Pfeiffer with their newfound vision. "Dana has the biggest heart, she's the most passionate person I've ever met. She also doesn't take any crap," said Rae. "She will call you on something, if she knows it's wrong. But she does it with the best of intentions." Lynn added, "Dana saved my life."
The road to recovery
"We talk about being in the moment, because in the moment is what you can control," said Pfeiffer. She's not only dispensing that advice to the women in her care, but she uses it herself. "I learned that from my accident," she said.
Pfeiffer won't be deterred from what's become her life's work. Grounds of Grace was formed in 2011. Pfeiffer had a friend in St. Louis who was a former sex worker. She opened Pfeiffer's eyes to a world of massage parlors and the way some sex work was forced. "It can just happen right under people's noses," said Pfeiffer. And she started to see how it affected people in the Springfield area. "I mean, people think of the pimps and prostitutes scenario and that is not what it was," she said.
Instead, the majority of her clients have been abused by family members and significant others. Drug use and sales are often part of the equation. What she offers is a chance for people to find their own identity. To do that, "they've got to deal with their trauma, their sexual assault, domestic violence, addiction." Commonly, her clients also deal with chronic and mental illness. Through medical care and therapy, spiritual guidance, social skills training, mentoring and education, Pfeiffer works in a holistic way to help women find out what motivates them.
Grounds of Grace is working at a somewhat limited capacity in light of Pfeiffer's own focus on recovery. The home where Lynn and Rae stay can house up to four people. They are currently the only two there. Pfeiffer has eight women she's currently helping in total. Some are in prison.
She's taking the current pandemic as calmly as anyone could. She's focused. In addition to single parenthood and her nonprofit, she's taking online classes for a master's degree in social work.
And of course, she's focused on rebuilding herself. She's scheduled for what she hopes will be a final surgery in the fall. Doctors tell her enough of her body will have regenerated that they can remove rods and screws. "I am in awe of that," she said.
If you or someone you know is a victim of domestic abuse, you can call a free and confidential state hotline at 1-877-863-6338. If you have been a target of sexual harassment or assault, you can speak with someone who has been trained to help by calling the National Sexual Assault Hotline at 800-656-HOPE (4673) or chatting online at online.rainn.org.
You can contact Rachel Otwell at