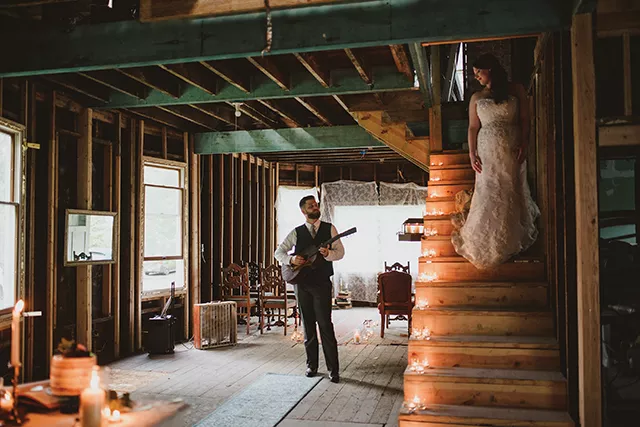 Like most girls, I had dreamed of a huge wedding since I was little girl. That changed when I met my now husband, Stephen. When he proposed, I looked at the man I adored and dreams of a large wedding faded; I just wanted to be his wife.

We are in the process of renovating a distressed home that we purchased from the Enos Park Neighborhood Improvement Association eight months ago. We live debt-free, and therefore budgeted for a small garden wedding with about 20-30 of our closest friends and family. However, that changed once we sat down and began making the guest list. By the time we included our large families, we were close to 150 guests. We decided that would still be manageable, but as time went by, our wedding continued to grow and grow until we were staring down a budget that started at $5,000 but had somehow become almost $25,000. I knew in order for us to be able to afford the wedding of our dreams we would need to really scale back on what we were spending on renovating our house. We just couldn't afford both.
On May 4 I was complaining about the cost of weddings and my dad, tired of seeing us struggle, offered to pay for us to elope. We had originally planned on getting married May 15, 2019. We could keep our wedding date, but move up our wedding a year and be able to commit fully to our renovations. It was a win/win situation – until we started looking at the logistics of it all. We had 11 days to keep our wedding date!

In my heart, I couldn't get married without our parents and siblings. That is how we decided to throw an "elopement" here at home. Within three days we had rings, suits and dresses. Stephen's dad agreed to get ordained online and marry us, and our photographer was available that day to shoot our wedding. The only thing we didn't have was a venue. We couldn't get an answer from our original venue about switching the date, and our new date was quickly approaching. Then it hit me…our house!

We closed on our house after dating for five months. We poured our heart and soul into it. As we worked on our relationship, we worked on our house. Every day we were a little stronger, as was our dream home. It is the perfect metaphor for our relationship, and as I looked around at the 100-year-old exposed wood, I knew it was perfect.

I wanted the opinion of our photographer, Nicole Gray, before I committed, and when I explained my idea, I'm not sure who was more excited. Our wedding wouldn't have turned out the same without her. She came to the house a few days beforehand and brought a ton of decorations. Between her and my sister-in-law, they brought my dreams to a reality.
We had torrential rain the entire day of our wedding, but because rain on a wedding day signals good luck, I welcomed it with open arms. The day had a few hiccups – as weddings do – for instance, my dress got caught on a nail walking down the aisle. But surrounded only by the eight people in our lives that mean the most to us, I didn't even care. The ceremony was filled with laughter and love and was the happiest moment in our lives. I am forever grateful that we kept it intimate and were able to focus on us and the love we share for one another.