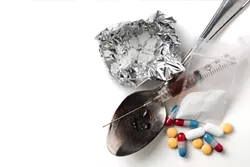 Even four years after successfully kicking his addiction to prescription pills like Percocet and Hydrocodone, Darren still red-flags himself at doctor visits.
"I am a recovering addict," said Darren, a Springfield resident who asked to use a pseudonym for this article.
Darren is one of 2.1 million people nationwide who have become addicted to prescribed narcotics and hit rock bottom as a result.
Due to a birth defect that caused Darren's sternum to grow inwards, he went through a major chest reconstruction surgery at the age of 14. For seven months, he was prescribed opioids – addictive narcotic drugs like Percocet and Hydrocodone – to treat his pain. This was the start of Darren's addiction journey, which lasted six years.
"They took me off cold turkey," Darren said. "I couldn't take the pain, so I found them on the street."
He remembers at that point, his intake of the pills skyrocketed, from three or four pills a day to between 12 and 14 a day.
At the age of 16, Darren started to illegally take Xanax without a prescription, hoping it would help with his anger. Xanax is a prescription-only controlled substance, which can cause paranoia and impair one's judgment and coordination.
"I would freak out to anything someone said to me," said Darren. "It could have been something as simple as my mom asking me to wash the dishes."
During his addiction period, he would mostly sit in his basement in a vegetative state, detached from his family and friends. It wasn't until the age of 20 that Darren checked himself in to rehab.
In 2012, he hit rock bottom after a fight with his brother. Darren had become unresponsive, and to help wean him off of the drugs, his brother kept him inside the house for two weeks. During that time, Darren experienced withdrawal symptoms like cold sweats, insomnia and the shakes. After that two-week period was over, within an hour of being outside, Darren consumed eight pills.
"That same day, I was arrested for driving under the influence, and that's when I figured out I couldn't stop the addiction alone," Darren said. "So, I checked myself into rehab."
Darren was able to kick his habit in 2012, recovering from his addiction to Percocet, Hydrocodone and the other narcotic pills he consumed. Not everyone who experiences opioid addiction is so lucky. In Sangamon County during 2015, 31 people died of opioid overdoses, according to Sangamon County coroner Cinda Edwards.
Nationwide, 47,055 people died from drug overdoses attributed to opioids in 2014, according to the Centers for Disease Control. Illinois accounted for 1,705 of those deaths. There are ongoing efforts in Springfield and nationwide to overcome this problem that has claimed so many lives.
A problem of pain
Dr. Stephen Johnson, a neuro-pharmacologist and assistant professor of biochemistry at University of Illinois Springfield, says pain is the reason for more than 50 percent of emergency room visits and 30 percent of family practice visits.
"Aside from the obvious relief of pain, opioids have a high abuse potential due to their euphoric effects and can lead to drug-craving and drug-seeking behavior in the absence of pain," Johnson said.
Richard Stokes, a botany professor at the University of Illinois Springfield, said that opiates like morphine have been a great contribution to human society, especially during the Civil War era, when soldiers often died of unbearable pain and disease.
"Heroin and morphine have similar addictive characteristics; they're just distributed by different dealers," Stokes said.
Earlier this month, The Illinois Critical Access Hospital Network hosted a summit in Springfield called the Opioid Crisis Next Door. ICAHN consists of first responders, law enforcement, medical professionals, drug counselors and policy-makers who live and work in rural areas where opioid abuse appears to be increasing.
Sam Quinones, a journalist and author of the bestselling book Dreamland, was the keynote speaker at the summit. From Quinones' perspective, Dreamland is an idealized, thriving community that is close-knit, sustainable and offers solutions within the community to combat drug abuse. Quinones characterizes the opioid crisis as one that survives on the idea of being alone. His book focuses on how an economic crisis in communities can lead to despair, which perpetuates drug abuse.
Doctors, too, play a role in the opioid crisis. Dr. Michelle Alepra, a physician practicing emergency medicine at St. John's Hospital, and Dr. Rexanne Caga-Anan, a physician practicing internal medicine at SIU School of Medicine, recognize that opioid addiction is a problem in Springfield.
"There is a significant amount of opiate abuse because of the accessibility to drugs on the street," Alepra said. "Heroin is one of these drugs that is accessible, cheaper and provides a similar sense of euphoria to prescription pills."
Doctors have the sole responsibility of treating patients for their ailments based on the best medical standard of care options available. Sometimes, that involves prescribing drugs with a strong potential for abuse.
"It is also our job not to perpetuate the abuse," Alepra said, "which is why we monitor prescriptions."
Alepra is referring to Illinois Prescription Monitoring Program, a statewide database that collects data on the types of prescriptions filled for patients. Under state regulations, the prescriptions fall into several different levels describing the likelihood of abuse. Starting in 2000, Illinois began to collect data on the kinds of pills being prescribed by doctors and the prescriptions filled at pharmacies across the state.
"The Illinois Prescription Monitoring Program is my best friend in the entire universe," Caga-Anan said. "I use this primarily so I can be informed on the types of prescriptions that are being prescribed. And I never prescribe a day early because those leftover pills can accumulate."
The Illinois Prescription Monitoring Program is operated by the Illinois Department of Human Services. Marianne Manko, director of communications at DHS, says the program can be used as a tool to help doctors identify potential abuse of drugs.
"If a person were to request a prescription in Chicago, Champaign and Springfield, the database would show where a prescription has been filled, what doctor prescribed it and from which medical facility it was prescribed," Manko said.
Caga-Anan says Springfield pharmacists in particular have been very good about communicating with doctors when they see potential for prescription pill abuse.
Beaux Cole, a pharmacist and owner of the Medicine Shoppe in Springfield, says his employees check the Illinois Prescription Monitoring Program to verify a patient's past prescription fills.
"I look at the number of fills in the past one to three months, the number of physicians writing the script, and the number of pharmacies that have been dispensing the medicines," Cole said.
Pharmacists can refuse to release a prescription if they suspect abuse, but they must notify the prescribing doctor. When it comes to identifying potential abuse, Cole says that it takes professional judgment to determine whether or not a patient should be cut off from their prescription.
"There are people who need chronic pain control; there is no doubt in my mind about that," Cole said. "But those aren't the people who go to seven doctors in three months and get it filled at five different pharmacies."
Cole said that another red flag is when a person fills a prescription at one pharmacy paying with an insurance card, then fills prescriptions at other pharmacies and pays with cash.
U.S. Sen. Dick Durbin, D-Illinois, says that in 2014, health care providers in the United States wrote 245 million prescriptions for painkillers – enough for every adult to have a month's supply of pills.
One reason for the frequency that opioids are prescribed may come from the idea of patient satisfaction. The Hospital Consumer Assessment of Healthcare Providers and Systems survey (HCAHPS) is one way that patients can score medical facilities based on their visit. Alepra from St. John's says some doctors may feel pressured to prescribe opioids because of the survey.
"In some situations, the HCAHPS make our job a little more challenging because we want to make sure that everyone is happy and satisfied," Alepra said. "Sometimes there is a fine line of what they want, as opposed to what's appropriate to prescribe."
Caga-Anan says negative feedback from patients can be related to their perception of pain control.
"Patients can perceive that their pain is not being addressed," Caga-Anan said. "To get higher ratings, doctors are pressured to alleviate the pain. So without going through the cascade of other non-narcotic drugs, some doctors are automatically prescribing narcotics to keep the patients happy."
In the bill, Durbin calls for removing unintended financial incentives to over-prescribe opioids. In an interview via email, Durbin said that the Centers for Medicare and Medicaid Services links the HCAHPS patient satisfaction survey to bonus payments for hospitals under Medicare.
"A-PROP would temporarily de-link these pain management questions from a hospital's payment to eliminate any unintended incentive to prescribe opioid painkillers," Durbin said. "This would require CMS to develop new questions that effectively balance the need to treat pain with concerns around the over-prescribing of opioids."
Darren, the recovering opioid addict from Springfield, says that after being in remission for four years, he realized that he was taking the pills because he thought he needed them, not because he thought he was addicted.
"At this point, being up front with doctors that I am more prone to become addicted to pills is the safest way for me to go," said Darren. "Doctors should make sure that families have a better understanding of the effects of the narcotic pills when they are prescribed."
One of the questions that arose at the drug summit in Springfield was how first responders can combat opioid abuse effectively when addiction treatment centers are scarce and pharmaceutical companies have spiked prices for detoxing antidotes.
Naloxone, an opiate antidote, can be used by anyone who has overdosed on an opiate. Narcan, a brand name of naloxone, comes in the form of a nasal spray and an injection pen that must be covered by health insurance in order to be purchased by a person in need.
"It's really disappointing to see the prices of the naloxone dosages being astronomically high," said Cole, owner of the Medicine Shoppe. "If someone walks into a pharmacy which is trained to dispense Narcan, that person can get the nasal spray, but it is written into the code that it has to be covered by their insurance."
Durbin's legislation also proposes a new tax on opioid production. He explains that the A-PROP Act would establish a penny-per-milligram excise tax on the active opioid components of a medicine, based off the Drug Enforcement Administration-approved quota.
Durbin says that as a part of the legislation, the tax would fund a DEA-based takeback and disposal program allowing people to dispose of their expired pills at a set location, along with drug abuse treatment programs through the Substance Abuse and Mental Health Administration, a federal agency that works to reduce substance abuse and mental illness.
On June 14, President Barack Obama proposed distributing $1.1 billion across the states to expand access to drug treatment centers. Under the president's proposal, Illinois is eligible for up to $28 million over a two-year period.
"Finally, it's a way of the government not condemning people for having an addiction," said Cole at the Medicine Shoppe in Springfield. "They can't help what they're going through. The fact that the state has backed a program to fund helping and saving some of these people in their most critical moment is awesome."
While Durbin and other lawmakers consider legislative approaches to mitigating the opioid crisis, Johnson, the UIS professor of biochemistry, is taking a different approach. Outside of teaching, he owns Carbon Dynamics Institute LLC, a company that studies animal venom for the purpose of finding alternative medications to opioids.
Johnson's work with the Carbon Dynamic Institute could help jumpstart the process of identifying alternatives to narcotic-based prescription pills.
He explains that venom from rare spiders and centipedes can have the potential of being a painkiller with manageable side effects because it targets cell sites in the body that are specific to pain transmission and does not cause central nervous system depression or altered function.
"Venom and venom-derived compounds are non-narcotic, so they will not cause the same type of dependence and addiction," Johnson said.
Although he believes there are better alternatives to opioids, Johnson does not completely rule out their use for acute pain.
"Narcotics are good for treatment of acute pain because their adverse effects are not so intolerable in the short term, but very bad for treatment of chronic pain because these adverse effects are super bad for the long term," said Johnson. "But people don't care; they just want relief and quickly."

Contact Brittany Hilderbrand at intern@illinoitimes.com.