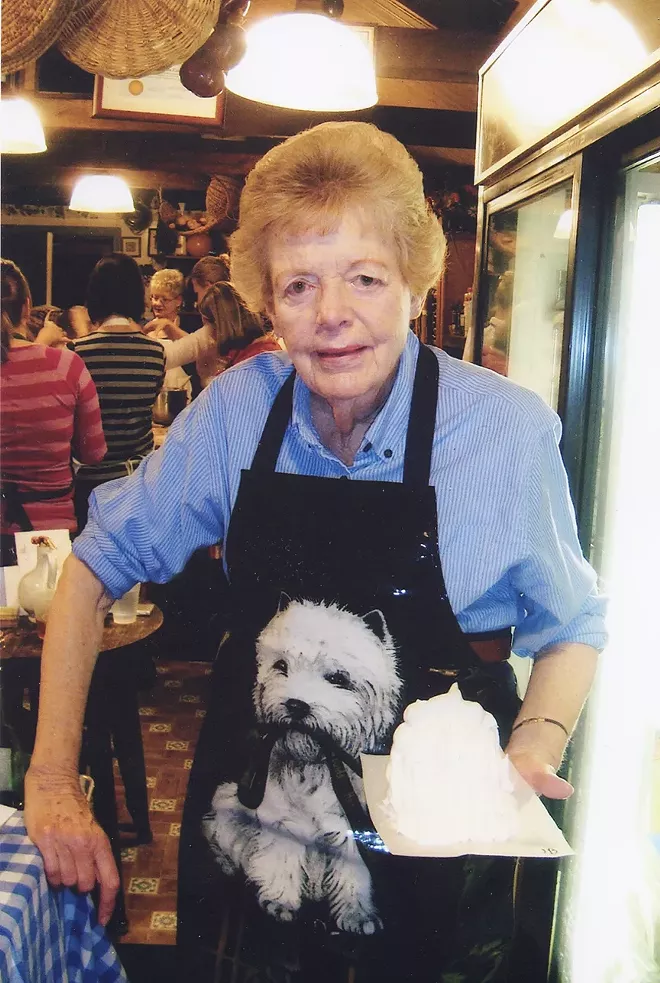 Phyllis Brissenden loved opera and parties. Photo courtesy of John Hayes
"Heartland" and "Midwest values" can be loaded terms these days. And then there is Phyllis Brissenden, who died in December and
recently landed in the New York Times
when word got out that she left an estimated $45 million to the Opera Theater of St. Louis.
She lived nearly her entire life in a Bates Avenue house worth $240,879, according to county property records, which her parents bought during the Great Depression. Probate files show Brissenden, 86 when she succumbed to heart failure, had more than $93 million in investment and bank accounts. Half will go to opera, the rest will be divided between a half-dozen or so environmental and wildlife charities, plus Planned Parenthood, according to court files and Kevin McDermott, attorney for the estate. An only child and determined bird watcher, Brissenden had no close relatives.
"It's going to save a lot of cranes, and a lot of wetlands," says Richard Beilfuss, president of the International Crane Foundation, which is in line for more than $6 million, if a journalist's math can be trusted.
John Hayes, a retired lawyer who met Brissenden in high school, figures investments set up by her mother during the 1960s accounted for much of her wealth. Springfield roots dated to the 19th century — Herndon was her maiden name; her mother was a Matheny. Her father was proprietor of the R.F. Herndon & Co. department store, once a downtown mainstay. Smart, she was Phi Beta Kappa at Sweet Briar College in Virginia, where she graduated magna cum laude with a degree in religion. Graceful, she was queen of the Beaux Arts Ball in 1954.
She favored Democrats, enjoyed Indian food, read
The New Yorker
and never skipped church. Besides money, bequests included a collection of hats from Afghanistan, English ceramics, a quilt and "whatnot" from a bedroom upstairs. Friends say she held just one job, and only for a few years, as a fundraiser at a St. Louis charity shortly after graduating from college. It was United Way or something similar, says Linda Lenzini, who began walking Brissenden's dogs each day when she started slowing down about six years ago.
Friends knew Brissenden was wealthy, but no one imagined the extent. "She knew she was privileged, but she was grateful," Lenzini says.
She was generous and quiet about it, friends say. When a janitor at church fell ill and longed for Florida, she paid for his move. She showed an interest in PrideFest. She lived near Leland Grove but belonged to the Enos Park Neighborhood Improvement Association, which never had to ask for money. Instead, she would call, inquire about a project mentioned in the association's newsletter, and a check would arrive.
Brissenden gave a lot.
"To keep it all straight, she had a card file – when she gave to you, she wrote it on a card and put it in the file so she could remember who she gave to," says Dorothy Ann McNeal, a friend and fellow parishioner at Christ Episcopal Church, where pews were purchased by Brissenden's parents. Her computer was a Compaq, circa 1990, that lived in a closet. Her cell phone was reserved for emergencies. She cooked on a stove from the Eisenhower era. When she needed a new car, McNeal recalls, she would call Isringhausen Imports and have one delivered. Her last, a 2009 BMW sedan, sold for $2,500 after her death.
She married Walter F. Brissenden in 1978. Thirty years her senior, he was a retired telephone company executive and once president of the Sangamo Club. He moved from his Lake Springfield house to Bates Avenue and died at home in 1986. Decades later, his widow still called herself Mrs. Walter F. Brissenden.
Little things mattered. Brissenden hated it when servers took away plates before all diners were finished, but she never told servers. She wouldn't use straws. Anyone who accompanied her to a restaurant or movie could expect a thank-you card. "I saw her six days a week and I still got thank-you notes," Lenzini says. She frequented American Harvest and Maldaner's, where owner Michael Higgins doesn't attest to tipping habits, but says none of his staff avoided her table.
When she traveled – and she went all over the world – she kept diaries. Brandy Alexanders in lieu of dessert were a guilty pleasure. Her funeral didn't include communion. "She said 'Most of my friends will not be from this church and they won't understand what's going on, so we're not doing that,'" McNeal remembers. The church was packed. Mourners included her letter carrier.
Greg Yeates, who delivered Brissenden's mail for nearly 30 years, said she gave him cookies, and he once reciprocated with deviled eggs. Occasionally, he'd help hunt down Fergus, her dog, when the canine went missing. "When I would visit her for a couple minutes, she'd always say 'Thanks,'" Yeates says. "And she'd always say 'Goodbye' when you left. You don't hear that much, anymore." If she had an appointment, she would excuse herself. "She didn't want to be a minute late — just a very proper lady," Yeates said.
She loved entertaining, and she crashed block parties. When strangers impressed, she would get phone numbers, then follow up. "She'd say 'I don't have anyone to play with anymore, all my friends are dead,' but all the time, she'd be going somewhere with someone," recalls Lenzini, who rubbed Brissenden's feet during her final days and smuggled a Brandy Alexander into hospice. "One night I told her: 'You're kind of my hero. You go out and you do and you're always filling the pipes with new friends.'"
Friends knew not to phone on Saturday afternoons, when the Metropolitan Opera was broadcast from New York. She didn't play music when company came – that was a time for talking. Usually, she listened in her car. That's just the way things were.
"I asked her, in the hospital, if she wanted to listen to opera," Lenzini says. "She said 'No – I only listen to opera in my car.'"
In making final arrangements, Brissenden decreed that every verse of each hymn be sung.
"It was wonderful," Yeates says. "They had an opera singer there."
Contact Bruce Rushton at brushton@illinoistimes.com.