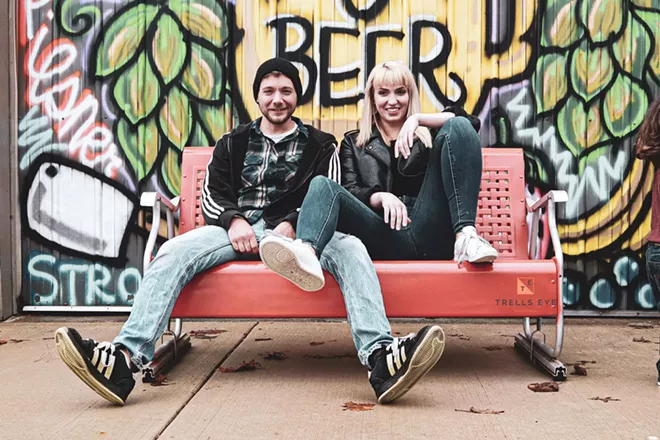 Seasons greetings to everyone as we prepare for a Christmas weekend of not-so-much live music. With the big day on Saturday, we've got slim pickin's for what is usually our most popular time for making music. Never fear, you can enjoy your Yuletide holiday without concern for there's plenty of live music bookending Christmas on Friday and Sunday.
So with fewer gigs than normal this weekend, we have the perfect occasion to take a look at the burgeoning open mic scene happening around town. For those in the dark, open mic or open jams or open stages allow anyone able to perform behind an instrument and a microphone (hence the "mic" term, which is pronounced "mike," of course) an opportunity to do so in front of an audience using a professional sound system. The event is organized by a host, and each performer gets a spot to do their thing either solo or by joining in on a jam. I've said it many times and will say it again, the quantity and quality of our open mics directly correlates to the future of our regular music scene, and right now we have an abundance of these feeder shows that could be likened to a minor-league type of thing that gets folks ready for the big leagues.
When talking with Casey Cantrall of The Tangents last Tuesday (at George Ranks' JB Open Jam, after I finished with my Songwriter's Open Mic at It's All About Wine, by the way), he, as the guest co-host that night, exalted the value of open mics in a very eloquent way that I can't remember well enough to quote exactly. But he was right as rain, as he explained how the interaction of musicians at these gigs really makes a difference in what happens as bands form, solo acts progress and musical relationships develop. In fact, Casey said he met Tiffany Riech, his fellow Tangent and Tuesday co-host, at an open mic, which exactly proves our point. These shows also help to turn those off nights at a club, such as a weekday that would normally be slower than a weekend, into a way to improve the bar cash flow, all while helping the music scene in general.
Along with the regular Ranks jam with different hosts each week (just so happens The Tangents are back this week) and my songwriter night at IAAW on Tuesdays, there are several other open mics held weekly. In early December, Silas Tockey was the proud host of four open mics in a row, counting one up in Lincoln, making him my hero, and definitely the "host with the most" I've ever known in my days in the music scene. Along with his cohort Joel Honey, Silas runs the Monday night Whiskey Jack's show and the Boone's Wednesday night event. The Keg has an open jam on Mondays with Lapdog and Kerri Donovan, plus others. Jessica Cloyd hosts the Buzz Bomb open mic this Thursday, then continues on every other Thursday starting Jan. 13, while Kortney (Leatherwood) and Sam (Draper) organize the Blue Grouch open mic jam with different musicians every Thursday night. During the warmer months the Curve Inn hosts a night with Kortney and Sam as well, one that consistently wins our Best of Springfield award. Other places have had good open stages too, but these weekly gigs sometimes come and go, so please check first before heading out whether you're going to play or coming to listen.
Well, that's that. Let's go have ourselves a merry little Christmas.