The Kidzeum of Health and Science opens in downtown Springfield on Saturday, July 21. After years of planning and fundraising, the long-awaited children's museum will at last be a reality. Kids are certain to have fun tickling a giant nose and making it sneeze. Although the focus for kids is having fun, at the Kidzeum "It'SNOT just fun, It's educational!" Learning is a key objective embedded in all aspects of the Kidzeum. As for that sneeze, kids will learn how fast a sneeze travels.

The mission of the Kidzeum is to serve as a place of learning and discovery through play for children of all abilities. Kidzeum is committed to nurturing health and wellness, promoting science education and developing environmental and global awareness through innovative programs and exhibits. The Kidzeum will be open Tuesdays-Saturdays 10 a.m.-5 p.m. and Sundays noon-5 p.m. Admission is $9 for individuals ages two and older, $7 for seniors and $5 for active militaryand veterans. Kidzeum members are free.
Play specialists are staff members trained to augment the visitor experience. They will be resources for both parents and children and offer another layer of interaction to enhance both enjoyment and learning. The Kidzeum is committed to providing a warm and welcoming environment that is safe, fun, stimulating and educational. Executive Director Leah Wilson says the Kidzeum will seek to engage parents in addition to kids. "Parents are the ones who will bring the kids back," says Wilson. "We want parents to see kids learning and having fun. And, we want to be a dynamic place with slightly different experiences with every visit." Children of all ages will find things they enjoy; those ages 4-12 are likely to get the most out of the educational content.
Healthy Body, Healthy Community, Healthy Environment galleries
The Kidzeum features hundreds of interactive elements around three major themes: Healthy Body, Healthy Community and Healthy Environment. "Active Alex," a gender-neutral three-story exhibit of the human body, is the centerpiece of Kidzeum. Kids can climb through the brain, spine and gooey intestines. In the brain, sensors activate lights simulating the firing of neurons. Kids will also learn about major body systems and how to stay healthy. Health and wellness is an overarching theme of the Kidzeum. Children – and adults – may be surprised to see just how many teaspoons of sugar are in a typical sports drink.
Kids will enjoy getting their hands (and more) wet at the splashy water table where they can modify the stream flow and learn about floods, dams and erosion. In the WKID Weather Station, kids will create their own weather report and learn about weather patterns and what meteorologists do. They can manipulate devices to add sounds, such as rain and wind. There is a "green" playhouse where a thermal-imaging camera enables visitors to see what's hot in their own bodies and what's not.
Numerous exhibits promote healthy eating and exercise. SMILE, EAT CLEAN, TRAIN DIRTY, DON'T FORGET TO BREATHE, is a kids' fitness area sponsored by Scheels. Emblazoned in the exhibit are messages to drink more water, eat clean and work out, don't quit, eat more green things and witness the fitness. Other exhibits include a veterinary pet clinic, dental clinic with dental chair and an interactive ambulance.
An open area on the third floor provides the opportunity in the future to bring in traveling exhibits. It will also be used for receptions and rentals.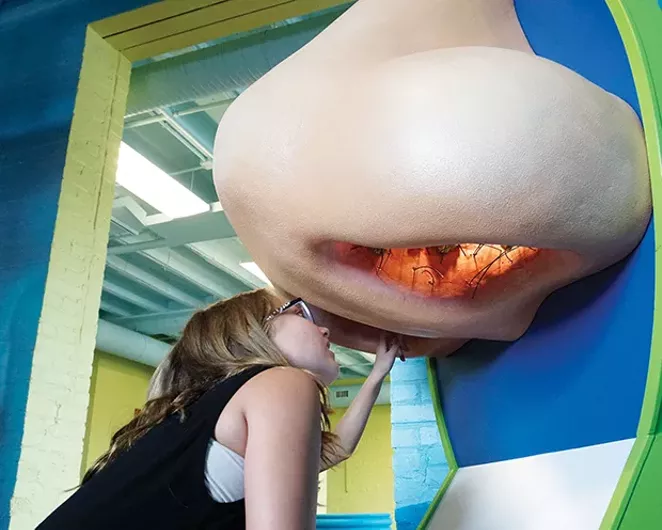 Birthing the Kidzeum
Rachael Thomson's name is synonymous with the Kidzeum. For the past 12 years she has worked tirelessly as a volunteer and board chair to turn the dream for a children's museum into reality. Although she is quick to credit other board members who have volunteered with her over the years, many will say that without Thomson's dedication and determination the Kidzeum would not be here. Says Wilson, "There isn't anything she doesn't do. This museum wouldn't be here without her."
Thomson has three children, and she often refers to the Kidzeum as her fourth child. But, this child has had an excruciatingly long gestation period. Her children weren't yet in kindergarten when she first embarked on this journey. This fall her daughter will be a freshman at Northwestern University studying biomedical engineering. At the moment, Thomson says, she still feels as if she is in labor and delivery without an epidural, but she is looking forward to turning over the day-to-day leadership to the staff who have been hired to carry this project forward.
Recently Thomson got her first glimpse of what she has worked so hard to create. Kids came for a photo shoot, and she saw firsthand how much fun they were having. She says staffers are being encouraged to take time to stop and look around and see the impact of what they have created.
Thomson is proud of the fact that children were involved throughout the planning process and even helped in selecting the name Kidzeum, which kids found much more appealing than "children's museum." Thomson says they engaged parents, kids, teachers, principals, pediatricians and other stakeholders to test out color schemes, galleries, interactive exhibits and many other aspects to ensure the targeted subject matter was effectively translated into interactive fun for kids.
Reaching the financial goal has been the ultimate driver in setting an opening date. In total, the Kidzeum has raised $7.25 million through the Vital for our Youth Campaign, launched in 2009. HSHS St. John's Children's Hospital is the largest donor, providing a lead gift of $1.25 million in 2008. The city of Springfield allocated $1.12 million in Tax Increment Financing (TIF) funds. The state of Illinois appropriated $1 million through a member initiative sponsored by former Rep. Rich Brauer. More than 325 donors contributed $500 or more. The list includes major corporations, small and large local businesses, individuals, statewide associations, family foundations and others. A complete list is on the Kidzeum's website.
Staffing the Kidzeum
Hiring an executive director was a big step towards opening the Kidzeum. Leah Wilson started work Jan. 2 as the first executive director. The past six months have been a whirlwind, building the team and getting the museum ready to open. Mark Forinash, owner of Café Moxo, across the street from Kidzeum, calls Wilson "a ball of fire!"
Initially there are five full-time positions. Additional part-time and seasonal staff, including play specialists and visitor services associates, round out the team.
Wilson spent much of her youth in Jacksonville. Prior to leading the Kidzeum she held numerous positions at the National Czech & Slovak Museum & Library in Cedar Rapids, Iowa, where she was involved in virtually all aspects of the museum. While in graduate school at the University of Iowa, she led a project to enhance the sustainability of the university's food system and was a founding member and first coordinator for a local nonprofit food alliance. She was attracted to the health and science mission of the Kidzeum and welcomes the opportunity to tie into the downtown farmers market held right at the Kidzeum's doorstep.
Wilson sees the Kidzeum as one more opportunity for families. She says, "Families need choices, and the Kidzeum gives families more to do downtown. Just as one restaurant is not enough, neither is one museum." She considers the Kidzeum complementary to other museums in Springfield. She is excited to be part of a recent initiative with Alan Lowe, director of the Abraham Lincoln Presidential Library and Museum, to convene directors of other museums and historic sites in Springfield to share information, resources and learn what's going on at other attractions in the community. Wilson says what sets the Kidzeum apart from other places is "a higher tolerance for raw, kid energy." In addition, the focus on health and science is a unique niche for the Kidzeum.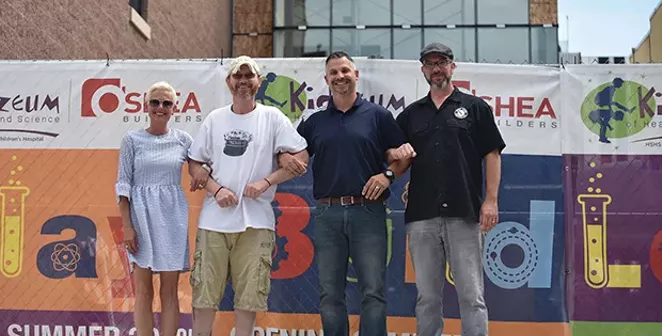 It takes a village
While most of the museums, historic sites and tourist attractions in Springfield are owned and operated by state and federal agencies, the Kidzeum is a 501(c)(3) nonprofit organization that will need community support in order to succeed. The business model for the Kidzeum projects 70 percent of the annual operating budget will come from earned revenue, such as admission fees, memberships, birthday parties, retail sales, rentals and special program fees. The other 30 percent will need to be raised through individual, corporate and foundation donations and grants.
Memberships will generate significant revenue for the Kidzeum, and there is good reason to become a member. Members receive free admission for one year, and there are many options. A basic family membership costs $125 and includes free admission for two adults and all children under 18 living in the same household. Additional options are outlined on Kidzeum's website, www.kidzeum.org. Kidzeum also promises to be a fun venue for children's birthday parties as well as corporate and other events.
Enhancing downtown Springfield
Thomson, Wilson, parents and kids aren't the only ones looking forward to the opening of Kidzeum. Lisa Clemmons Stott, president of Downtown Springfield, Inc., is enthusiastic. "The downtown business excitement is palpable," she says. "Kidzeum is helping bring an urban neighborhood back to life."
Thomson says Kidzeum is commited to building partnerships and helping strengthen the community and local businesses. She says, "Kidzeum will only be as successful as the surrounding neighborhood." One of Kidzeum's strongest supporters and partners is Café Moxo's owner Mark Forinash. He, too, is committed to the resurgence of downtown Springfield and sees the Kidzeum as another good reason to spend a weekend in Springfield and make some memories. Forinash moved to Springfield 11 years ago to open Café Moxo. He has worked to make Café Moxo an integral part of growing downtown and his goal is for Café Moxo to be thought of in the top five reasons to go downtown.
Kidzeum is having a significant impact on his operation. Starting with the opening day of the Kidzeum, Café Moxo is expanding its hours of operation to include Sundays. There are few places to eat downtown on Sunday, and this was a major decision. Although Forinash has been working towards opening on Sundays for a long time, Kidzeum provided the impetus to make the move. Forinash says he is also refocusing the menu at Café Moxo to ensure there is something for the entire family.
"With new faces and younger faces, we are one step closer to revitalizing downtown," says Lisa Clemmons Stott. "It reverses the trend of people giving up on downtown. Many longtime residents of Springfield have memories of going downtown to shop. Kidzeum will help develop another generation of kids building memories of going downtown. All of the recent investments add up – the Governor's Mansion restoration, Bicentennial Plaza and now the Kidzeum."
Karen Ackerman Witter is retired from the state of Illinois. She was associate director of the Illinois State Museum (ISM) for 14 years and served on the board of the first Springfield Children's Museum as a representative of ISM. She has had numerous interactions with the Kidzeum over the years and has great admiration for Rachael Thomson's undying commitment to make the Kidzeum a reality for families in Springfield and beyond.
"All of us at HSHS St. John's Hospital are thrilled to see Kidzeum's doors open to the public. We are proud to be the main sponsor for this wonderful addition to the Springfield community. We are passionate about improving the health of all children, and it has been our pleasure to help with the development of this very special health and science museum. As a mom of three young girls, I know our family is very excited to explore all of the great fun and interactive learning opportunities Kidzeum has to offer."
- Vernessa Glover, executive director of HSHS St. John's Children's Hospital and Women's Services
Kidzeum Grand Opening
Kids Day at the Farmers Market + Street Party

July 21 (Rain date Aug. 4)
412 E. Adams Street
Kidzeum opens
10 a.m.-5 p.m.
Kids Day at the Old Capitol Farmers Market
kicks off at 7:30 a.m.
Family activities, music, performances, street art and food
Kid-friendly cooking demonstration
Family-friendly music • Scavenger hunt • Ben's Bubble Show
The Rope Warrior • Richard Landry Magic Show
Chalk art • Crafts • Kid's yoga