City council chambers in April bulged with people clutching signs: "Enough is enough: Protect our kids." The signs were held high as speaker after speaker attacked a scheme to move a planned Salvation Army homeless shelter from Ninth Street, where construction unexpectedly stopped in February, to the bankrupt Gold's Gym, which closed last fall. At a prior council meeting held four days after the mayor announced the move to Gold's Gym, someone called the mayor a dictator.
"We are tired of things being shoved down our throats on the east side," Teresa Haley, head of both the state and local chapters of the National Association for the Advancement of Colored People, told the council last month. "We are a community. We are taxpayers, like everyone else. And enough is enough."
The Salvation Army controversy is proving a challenge, some might say pratfall, for a mayor who presumably should be versed on the art of politics and making deals, having been city treasurer for a dozen years prior to being elected mayor a year ago.
The Salvation Army saga notwithstanding, Langfelder has generally won kudos for communication skills – even aldermen who've grumbled about not getting advance word of mayoral initiatives acknowledge that Langfelder returns phone calls. During his first year as mayor, he shepherded big changes at City Water, Light and Power through the city council with no serious opposition. Less than three months after taking office, the mayor's support for Hunter Lake was backed by a 9-1 vote from aldermen who endorsed the idea of creating a backup water supply that's been on and off the drawing board since the 1950s. He's sticking to his guns on a residency requirement for city employees, and he's played tough with the firefighters' union, moving to eliminate holiday pay from pension calculations in an effort to cut costs for the city.
There have been bumps, notably redevelopment of the North Mansion Block, site of the long-shuttered downtown YWCA. But no bump has proven as big as the Salvation Army imbroglio.
The Springfield Mass Transit District wants to move the downtown bus transfer station from Capitol Avenue to land just north of the county courthouse on Ninth Street, which would displace a Horace Mann parking lot. The solution? Put a new parking lot for the company on the Salvation Army's adjacent land and push the charity elsewhere.
Sangamon County board chairman Andy Van Meter confirms that he told the mayor last fall that Horace Mann needed a new parking lot. In February, Langfelder quietly asked the Salvation Army to stop work on the homeless shelter.
When the media in March reported that work on the shelter had stopped, forcing the mayor to respond, Langfelder didn't tell the whole story. Instead of saying that Horace Mann wanted the land for a parking lot, the mayor said the homeless shelter might be too close to adjacent railroad tracks and that a planned, but unfunded, railroad relocation project might somehow force the shelter to move. It seemed an odd reason. After all, the tracks and the building due for conversion to a homeless shelter had been in place long before the Salvation Army paid $3.4 million for the land in 2009. And the charity's property isn't on the acquisition list to make room for more train tracks. Van Meter says that the downtown bus transfer center on Capitol Avenue needs to move regardless of railroad relocation that is far from a done deal.
The mayor now says that moving the Salvation Army would create a blank canvas for development on Ninth Street that could eventually include a train station. Just what the homeless shelter would be has been a work in progress. The Ninth Street site was going to house both men and women; after residents near Gold's Gym objected, Langfelder and the Salvation Army said that the new location would be for families only. The mayor and the charity also have suggested that a gym-turned-shelter could double as a community center, something residents have long wanted, but there have been no concrete plans or funding unveiled.
If there is a grand vision, it has emerged in drip-drip fashion, creating the appearance that Langfelder is making this up as he goes along. It's like watching a high-wire act, with the mayor the sole performer and the end game uncertain.
"This whole process is convoluted," says Ward 2 Ald. Herman Senor, whose ward includes Gold's Gym. "I think the residents have been listening to two or three different stories, and they don't know who to believe."
Compounding the lack of early full disclosure about Horace Mann's need for a parking lot was Langfelder's awkward announcement last month that Gold's Gym would be converted to a homeless shelter. The press conference in city council chambers on April Fool's Day was made with short notice to Senor, contrary to custom that dictates aldermen should be told well in advance when something their constituents won't like is en route. The mayor later apologized for holding the press conference, but the damage has been done.
"We were watching the news one night and it was like, 'What the hell?'" Haley says in an interview. "The mayor is apparently friends with someone over at Horace Mann, and they said, 'Make this happen.'"
Ward 7 Ald. Joe McMenamin says the mayor is well-intentioned in finding a new home for Salvation Army, but he appears to be carrying water for SMTD and Sangamon County.
"He wastes a lot of political capital on this and upset, not just Herman Senor, but the other aldermen," McMenamin said. "The mayor should have gotten some advice from the aldermen. It was both a political mistake and a strategic mistake. … The mayor's in the arena taking all these shots. SMTD and the county and Van Meter are looking down from the top row while Langfelder's doing their dirty work for them. That's what it looks like to me."
The mayor will have none of it. When Senor during a council meeting last month suggested that a homeless shelter was being pushed into his ward to benefit Horace Mann, Langfelder flat denied it. And strongly.
"If anyone wants to play the blame game, they can blame me," Langfelder said. "I've been pretty upfront in these discussions. You can only blame me. It's not Horace Mann, it's not the Salvation Army, it's the direction the city should take. We have to take a different step to take the city forward."
During an hour-long interview about his first year in office, Langfelder said he's focused on the charity, not Horace Mann. While the process has appeared piecemeal, Langfelder said that he always intended to move in a "progressive manner."
"I've inherited the mess, and I'm going to deal with it," the mayor says. "Some people can handle the political heat, some people can't. I can handle the political heat."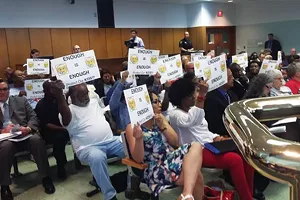 Downtown development
While Senor isn't happy about the way the Salvation Army saga has unfolded, he says that he would give the mayor between a B and B-minus grade for his first year in office.
Senor says that the mayor deserves praise for appointing the first-ever Springfield economic development commission that evaluates TIF projects before they go to aldermen for a vote. Still, he says that development proposals could have been handled better.
Early in Langfelder's tenure, the city council unanimously rejected a TIF subsidy for a downtown student housing project. The rejection came after organized labor objected – the modular housing would be built elsewhere, then trucked to town, so there would be few, if any, local construction jobs created. The project, which is proceeding without TIF money, was hatched before Langfelder took office, but Senor says he wonders whether the mayor's office could have worked with the developer to come up with a project that would have created both jobs and housing.
The North Mansion block, site of the shuttered downtown YWCA, has gotten off to a slow start. The city is already into the deal for more than $1.5 million, the price it paid for the land in 2014, and Langfelder professed surprise last year when a development consultant he wanted to hire for more than $125,000 told the Economic Development Commission that the project – whatever it might be – would require a public subsidy of $30 million or more.
During the campaign, Langfelder said he wanted to see development that would encourage people to live and work downtown, but he hasn't gotten more specific than that. One year into Langfelder's term, the city still has no plan for the property. Langfelder's administration initially said that the crumbling YWCA building would have to be demolished, but that's no longer certain as preservationists have insisted that the structure can be saved. The mayor's proposal to spend $125,000 on Stantec, the development consultant, to administer the project was unanimously rejected by the city council in January after being approved by a 5-2 vote by the Economic Development Commission. But the mayor wouldn't let go entirely and so retained the firm to help solicit proposals from developers at a cost of less than $25,000, an amount that doesn't require council approval.
The city has received just two formal proposals. Last June, the city heard from seven would-be developers who expressed interest before the mayor decided to start from scratch. Bottom line, the city appears no closer to figuring out what should be done with the property than when Langfelder took office.
"There's a misstep – I'll say the 's' word: Stantec," the mayor allows. "I took the heat on that."
Why? Surely the mayor could count votes and knew that the council would reject hiring Stantec.
"You have to support your directors – I supported my director in that regard," Langfelder explains.
Karen Davis, the city's economic development director, had worked with Stantec on projects in St. Louis and brought the firm to Springfield. Langfelder says that the city needs help and views from outside the city to make progress.
"Quite frankly, what a lot of people like is the cozy atmosphere here in Springfield," Langfelder says. "What we need to do is be more progressive on how we approach things."
While the mayor says that bringing in development experts from outside the city and opening the TIF process by having the Economic Development Commission review projects is good for the city and helps depoliticize the development process, he hasn't been able to point to any big successes during his first year in office. Economic development, the mayor says, doesn't happen overnight.
"They (critics) want to see buildings coming out of the ground," the mayor says.
The city, however, needs a "strong foundation" to attract economic development, Langfelder said, and part of that is stabilizing CWLP's finances.
The mayor wins high marks for his administration of CWLP. Similar to Senor, McMenamin gives Langfelder a B-minus when it comes to his first year as mayor, but when it comes to CWLP, the alderman says the mayor gets an A.
Between refinancing $500 million in debt and renegotiating the utility's coal contract to lower fuel costs, the mayor has charted a course to financial stability for the utility, which had needed an infusion of cash from the city's corporate fund to maintain a sketchy bond rating. Under Langfelder, bond rating agencies have improved CWLP's credit rating, and last fall's refinancing of debt incurred in building a power generator a decade ago is saving the city as much as $7 million a year in interest.
"Those are huge savings for the city," says Ward 9 Ald. Jim Donelan, who sees the mayor's handling of CWLP as one of Langfelder's biggest achievements.
The refinancing came after Langfelder pushed rate restructuring through the city council with little advance warning to the public. It was a fundamental shift for ratepayers, who previously could count on saving money if they conserved energy. Under the new rate structure, which boosted the flat monthly charge while lowering the per-kilowatt usage charge, large consumers of electricity can save money while small residential customers pay more.
Langfelder got it through the council on an 8-1 vote (Ward 5 Ald. Andrew Proctor voted no, McMenamin voted present) just two weeks after it was publicly announced. Opponents who pointed out that the new plan created a disincentive to conserve power barely had a chance to squeak. The mayor prevailed after meeting with aldermen in ones and twos, prior to the proposal's public debut, to pitch the plan that helped convince rating agencies that the city was serious about righting CWLP's listing financial ship.
To some degree, Langfelder benefited from events beyond his control. Before leaving office, his predecessor, Mike Houston, predicted that CWLP was about to turn a corner due to plummeting coal prices and low interest rates that set the stage for refinancing. But McMenamin, who criticized the mayor for fast-tracking the rate restructuring plan, praised Langfelder.
"He got it done," the alderman says.
Langfelder isn't shy about taking credit.
"It's 100 percent," Langfelder boasts. "I don't like to be cocky. I'm not sure that we would have the…(bond) underwriter's rating if I wasn't sitting in this chair."
On the campaign trail, Langfelder said that he favored CWLP getting into solar energy and pointed to Springfield, Missouri, where the public utility generates electricity with solar panels. But the city council this year rejected the mayor's request for $1 million to develop a solar-energy facility. Today, he doesn't sound nearly as cocksure about solar energy as he did while a candidate. He mentions the city building its own wind farm and talks about solar only when a reporter brings it up.
"I think you have to have the blend (between solar and wind)," Langfelder says. "If we're going to have renewable, I think solar's a way. At least, take a look at it."
Focus and the future
Donelan, who was a top aide to former Mayor Tim Davlin before becoming an alderman a year ago, says that it's easy for a mayor to lose focus.
"The hardest thing for a mayor to do, because the job is 24/7, 365 days, is to keep the vision," Donelan says. "Administrative duties interfere with that vision at times. And that's why it's good for the mayor to have people both internal and external that he can bounce ideas off."
Ward 8 Ald. Kris Theilen praises Langfelder as a mayor who returns calls and is willing to listen. While some aldermen have grumbled about communication, and the mayor admits screwing up by not giving the council early warning about the Salvation's Army's proposed move to Gold's Gym, Theilen says that communication is a two-way street.
"We don't have to wait for him to come to us, we can come to him, too," Theilen says. "He's very approachable. He's willing to listen. … The prior mayor was my-way-or-the-highway. The current mayor is more open to suggestions."
While city posts are officially nonpartisan, city hall has a history of politics that can split on party lines. Theilen, a Republican, says that he hasn't seen that from Langfelder, who is a Democrat.
"From the day I met Mr. Langfelder, there has been a mutual respect," Theilen says. "The letters in front of the name have never mattered. It's never been about parties."
While Donelan warns that it's easy for a mayor to get bogged down, Langfelder insists that he's got plenty of vision. Free WiFi, he promises, will soon be operational in downtown. He talks about Hunter Lake and a residency requirement for all city employees. Neither of those goals, he predicts, is going to happen soon. Both, he says, are part of "the last bite."
"That's why we're taking our time, trying to move everything in place," Langfelder says.
He sounds like a guy who's already decided on a second term. Langfelder doesn't deny it.
"I will go for a second," the mayor vows. "You never know. It could be two, it could be three."
Contact Bruce Rushton at brushton@illinoistimes.com.