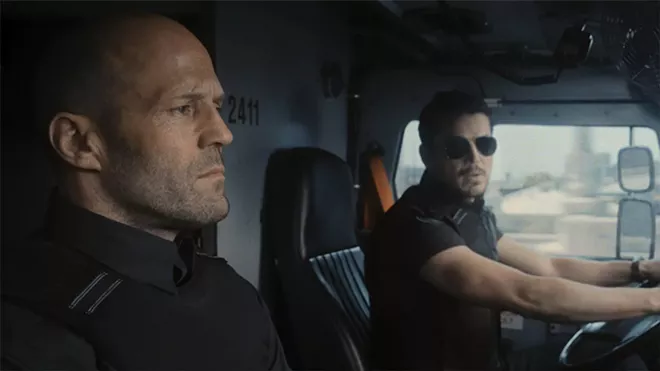 More than meets the eye in Wrath
Guy Ritchie's brutal Wrath of Man succeeds handsomely in combining the heist and revenge genres. Containing a narrative that unfolds from the inside out, it initially provides hints about what makes the key players tick, only to double back twice, filling in plot holes and providing alternative perspectives to key events.
It opens with a botched armored car heist, the crew succeeding in getting the cash, but not before three innocents are killed in the process. Weeks go by and the victimized company searches for new guards. H (Jason Statham) answers the call and proves more capable than he appears, taking down six assailants single-handedly when he and his partner are held up. We find out his son was killed in the film's opening scene. Convinced it was an inside job, H is determined to root out the rat from within. The story hooks us thanks to its engaging structure and grotesque characters it contains. Wrath is vicious, yet it's a gripping examination of what is wrought when despair and vengeance are the only two things driving a person. In the end, nothing remains but the victim, victimizing himself. In theaters.
Jolie disappoints with Dead
Ostensibly a remake of the Sylvester Stallone action film Cliffhanger, Taylor Sheridan's profoundly disappointing Those Who Wish Me Dead is a film that does little right and sports nothing very original. Obvious and dull, the movie features Angelina Jolie as Hannah Faber, a haunted Montana firefighter who finds herself trapped between a raging forest fire and two tenacious hitmen (Nicholas Hoult and Aiden Gillen) who want to kill a teenager (Finn Little) she's taken under her wing.
The circumstances surrounding this prickly situation come about through a series of hackneyed, and quite frankly, stupid set of circumstances that hold no water. Sheridan, whose past work includes Hell or High Water and Yellowstone, is surprisingly lazy as it leans into too many familiar tropes, his version of pithy dialogue consisting of his loutish characters dropping the F-bomb as often as they can. This is obviously a paycheck movie for Jolie, as she sleepwalks through it, her line readings betraying little in the way of emotion. With this and the two Maleficent films, she's gone from being one of our most intriguing actresses to being an overpaid somnambulist. In theaters.
Monster: Timely and vital
This striking adaptation of the novel by Walter Dean Myers is yet another calling card for Kelvin Harrison Jr. (Luce, The High Note), one of the most dynamic and versatile young actors working today. He plays Steve Harmon, a New York City teen who finds himself on trial after inadvertently getting himself mixed up in a robbery that leads to a murder. Director Anthony Madler effectively mixes film styles in telling the tale, employing flashbacks to Steve's before-trial-life that shows him as a young cinema student of great potential while crosscutting with scenes of him in prison awaiting trial. These moments are genuinely unsettling, Harrison conveying his character's inner turmoil in a subtle, yet genuine, manner.
The pace is never manic, the story moving steadily as it also looks at the effect these events have on Steve's parents, played by the mismatched Steven Wright and Jennifer Hudson, talented performers who are given far too little to do here. Genuinely tense and ultimately poignant, this is a cautionary, tale that serves as a bracing reminder of the power and dangers of baseless perception and just how difficult it is to cling to your true self when society has pigeon-holed you. Streaming on Netflix.