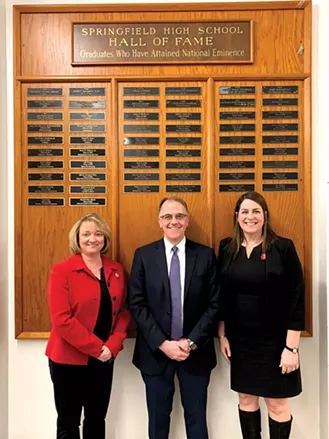 Michael Vasconcelles graduated from Springfield High School (SHS) in 1981 and went off to Northwestern University, initially terrified he wouldn't be able to hold his own. Nearly 39 years later, he returned to SHS for the first time since graduation and was inducted into the SHS Hall of Fame. At an assembly in the auditorium on Feb. 7, he shared life lessons with SHS juniors and seniors.


Dr. Michael Vasconcelles earned his B.S. and M.D. from Northwestern University. He resides in Boston and is a respected and accomplished oncologist, specializing in cancer research. In addition to working for cancer research organizations and biotech companies, he is a clinical instructor in medicine at Harvard Medical School. He currently serves as the chief medical officer for Flatiron Health, a health care technology and services company focused on accelerating cancer research and improving patient care.


Vasconcelles' decision to pursue oncology was personal, having witnessed a grandparent's struggle with colorectal cancer. Vasconcelles was also attracted to the field of oncology because it requires a holistic approach to the entire patient, in contrast to other specialties that involve a focused attention on a specific part of the body. Compassion, care for the patient and improved patient outcomes are at the heart of Vasconcelles' life's work.


Over the past several decades, Vasconcelles has witnessed and been a part of new developments related to cancer treatment. In the 1980s there were breakthroughs in understanding molecular biology, which were applied to cancer treatments for improved long-term results. Vasconcelles was responsible for a research team that developed new medicines to treat childhood leukemia, adult leukemia, Hodgkin lymphoma and other types of cancers. Their research began at the laboratory scale and continued through product licensure and approval. Cancer mortality rates have dropped over the last five years for a variety of reasons, including improved therapy and reduced risk factors. The focus in recent years is on immunological therapies – how to harness people's own immune system to fight cancer – and developing new immunotherapy drugs.


Now, as chief medical officer for Flatiron Health, he is bringing together technological innovation with the science of drug development. "We are at a defining moment in oncology, where cancer research and clinical treatment are informing one another, driving a holistic learning health care system," said Vasconcelles. With the move from paper to electronic records, a large amount of data on thousands of cancer patients can be aggregated, analyzed and used as a foundation for ongoing cancer research. Flatiron is harnessing this data (which is not identified to individual patients) to further accelerate development of cancer treatments with improved outcomes for patients.


Advice to students for creating a meaningful life


On the stage at SHS, Vasconcelles talked little about cancer. Instead, this humble and accomplished SHS grad told stories and gave an inspiring talk to guide students in "creating a meaningful life."


"Where you come from matters; where you go matters; how you get there matters," he said. He emphasized you can't change where you came from, but that background has an impact and needs to be understood. He acknowledged that most students don't know what they want to do as they graduate from high school. His advice in determining where to go is to have a compass to guide decisions. He implored students to discern their passions and pursue them; be curious, learn, read and ask questions; strive for something better; apply what you've learned and be open to new opportunities.


He also says there is no substitute for hard work. Several times in his career, Vasconcelles questioned whether he belonged. However, at Northwestern as well as Harvard Medical School, with focused, intensive, hard work he proved to himself that he did deserve to be there.


Vasconcelles emphasized the importance of being part of a team and that sometimes you may lead the team, be a member of a team or be a product of a team. "The world is too complex to embrace a hubris that accomplishments are yours alone," he said. He referenced some of the memorable SHS high school teachers who were part of the team that gave him a strong educational foundation: Bernice Rappel (English), Edith Glosecki (English and Latin) and Sherwin Kroll (Physiology). Bernice Rappel was known as a tough teacher, and many students were afraid of or intimidated by her. But Mrs. Rappel's students consistently say she taught them how to write, an important life skill. Vasconcelles also advised students to assume good intentions; be kind, fair and honest; exude humility; and, be relentlessly attentive to those closest to you.


Karen Ackerman Witter is a freelance writer who enjoys writing about inspiring people, places and organizations. She is a strong believer in public education and proud graduate of Springfield High School. She is inspired by the many SHS graduates who are having a big impact both locally and nationally.