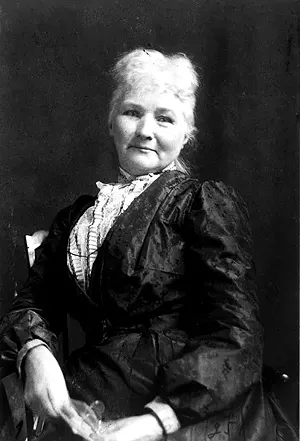 Mary G. Harris Jones, better known as Mother Jones, is an icon of the U.S. labor movement. Born in Ireland around 1837 – no one seems to know the exact date – Jones was once called "the most dangerous woman in America." She was an effective agitator and organizer who helped propel union efforts forward.
Jones investigated mining conditions in Illinois and fought for stricter labor laws, including abolishing child labor. "The machinery was low to the ground so the children could work ... their little fingers would get pinched and they would lose limbs. And sometimes their hair would get caught in the machinery and it would scalp them," said Loretta Williams during a May 25 virtual panel discussion on Jones, hosted by the Illinois State Museum in Springfield. Williams is a historical reenactor who portrays Mother Jones.
Small-town newspapers published Jones' findings and she organized labor protests and marches in several states and in Mexico. Jones wanted to "show people how we needed to have child labor laws," said Williams.
Jones is one of the women highlighted in a new effort by the Illinois State Museum. The "Illinois Women's History Trail" project entailed launching a new website that includes a map and information about notable women and the locations connected to them. Jones is buried in Mt. Olive, about an hour south of Springfield. Her grave is at the Union Miners Cemetery, established after an armed conflict between coal mine workers and coal company ownership in 1898. There's also a monument erected in honor of Mother Jones.
"Union leaders and advocates for justice of all kinds still request to be buried with Mother Jones," Joann Condellone, vice president of the Friends of the Mother Jones Museum, said during the May 25 panel. Each October, labor activists and descendants of coal miners gather in Mt. Olive to celebrate Mother Jones and to honor lives lost during the violent union struggles. The Mother Jones museum, which features information about labor strife and coal mining, is at the Mt. Olive city hall, 215 East Main St. It includes artifacts tied to Mother Jones and is open to the public, though visitors are asked to call the city hall at 217-999-4261 ahead of their arrival.
In Springfield, Eva Carroll Monroe – who started one of the nation's first orphanages for Black children, is highlighted along the trail. Jennifer Edgington is the Illinois Women's History Trail's project director. "This was something the education department decided to do," said Edgington. "We were thinking of Women's History Month and how we can celebrate women in Illinois." The Illinois State Museum elected to include 13 prominent women who represent areas from Metropolis in southern Illinois to Chicago.
Edington said the museum will continue to solicit ideas for more notable Illinois women to include along the trail. "We enjoyed finding out these stories," said Edington. "We want to make sure we give the general public the opportunity to tell us who they want to hear about."
On July 22, Edington will present another online discussion, covering Ida B. Wells' work in Illinois as an activist, suffragist and investigative reporter. The Illinois Women's History Trail website includes the biographies of the 13 Illinois women highlighted so far. Online presentations, books, photographs and handwritten letters are also available on the website, which can be found at tinyurl.com/pwctv3ha.
Contact Madison Angell at mangell@illinoistimes.com.