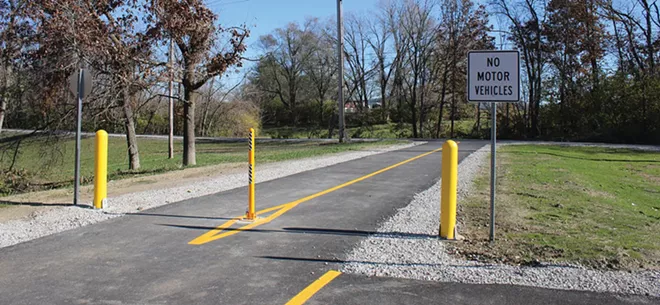 A 10-foot-wide ribbon of asphalt now joins Williamsville and Sherman, enabling residents to bike, hike and run between the two communities.
The bike path, which stretches 4.4 miles between the two villages, opened Nov. 20. A more formal opening will occur in 2022 after bike racks and park benches are added.
"We want the interconnectivity of first and foremost, the two villages, because they're literally sister communities. We have always shared a school district. We work together," Sherman Mayor Trevor Clatfelter said.
"This is a project that adds more attributes to the entire area for why you should choose to live in the village of Sherman or the village of Williamsville," he said. "One should couple that with the fact that our school district is second-to-none."
The project cost $2.8 million, of which $2 million came from an Illinois Department of Transportation grant and the remaining $800,000 was split between taxpayers in the two Sangamon County villages.
"Bike paths are really important because they give people a greater comfort level to ride," said Troy Gilmore, president of the Springfield Bicycle Club. "Sangamon County already has an extensive network of trails and this just adds to it. I can see our members taking their bikes to these two communities just to ride that trail."
Williamsville Mayor Tom Yokley said his community's trailhead is on Conrey Street, not far from Williamsville High School. An older limestone trail begins at the high school and circles Lake Williamsville for more than two miles.
"It's only a block and a half between the two trailheads, so they might as well be connected," he said.
The trailhead in Sherman is near the intersection of Andrew and Bahr roads. Clatfelter said his village is working to come up with a way to connect the trail to Sherman Village Park at 1200 Rail Fence Road.
"It's about being able to get out and be active and remove ourselves from all these electronic devices and exercise. It's an opportunity to meet other people along the trail and see nature," he said. "I want to see people pushing strollers out there. I want to see young mothers and grandparents using it. We want middle-aged individuals who live in both of our communities. But let's not stop there. We want individuals from all of Sangamon County."
Yokley said there has been talk of creating a new trail between this one and Elkhart in Logan County.
"That is at least five or six years down the road and will likely be pushed by someone else," he said.
Sherman and Williamsville have been planning for their bike path for more than 12 years.
Ted Sunder, who is the Springfield Bicycle Club's point person for education and government affairs, said that there is a grand plan to eventually link all of the bicycle paths in Sangamon County.
Rural roads with little traffic would be labeled as bicycle-friendly routes to designated paths, he said.
"For example, roads could be designated so that people on Springfield's north end could bicycle to Sherman and get on the new path," he said.
Sunder said the Sherman/Williamsville path offers an excellent alternative for teenagers to commute to school.
"They can bicycle, walk or ride their skateboard to school," he said. "It will teach healthy alternatives at a young age."
But bike paths promote interconnectivity in ways beyond connecting dots on a map.
"When you are out on a bike path, strangers are much more likely to talk to each other," Sunder said. "I have people ask me, 'Where did you buy that bike?' Or I'll talk to people when I give them a map. It brings people together."
Scott Reeder, a staff writer for Illinois Times, can be reached at sreeder@illinoistimes.com.